Candidate Marianne Williamson speaks at Ackerman Thursday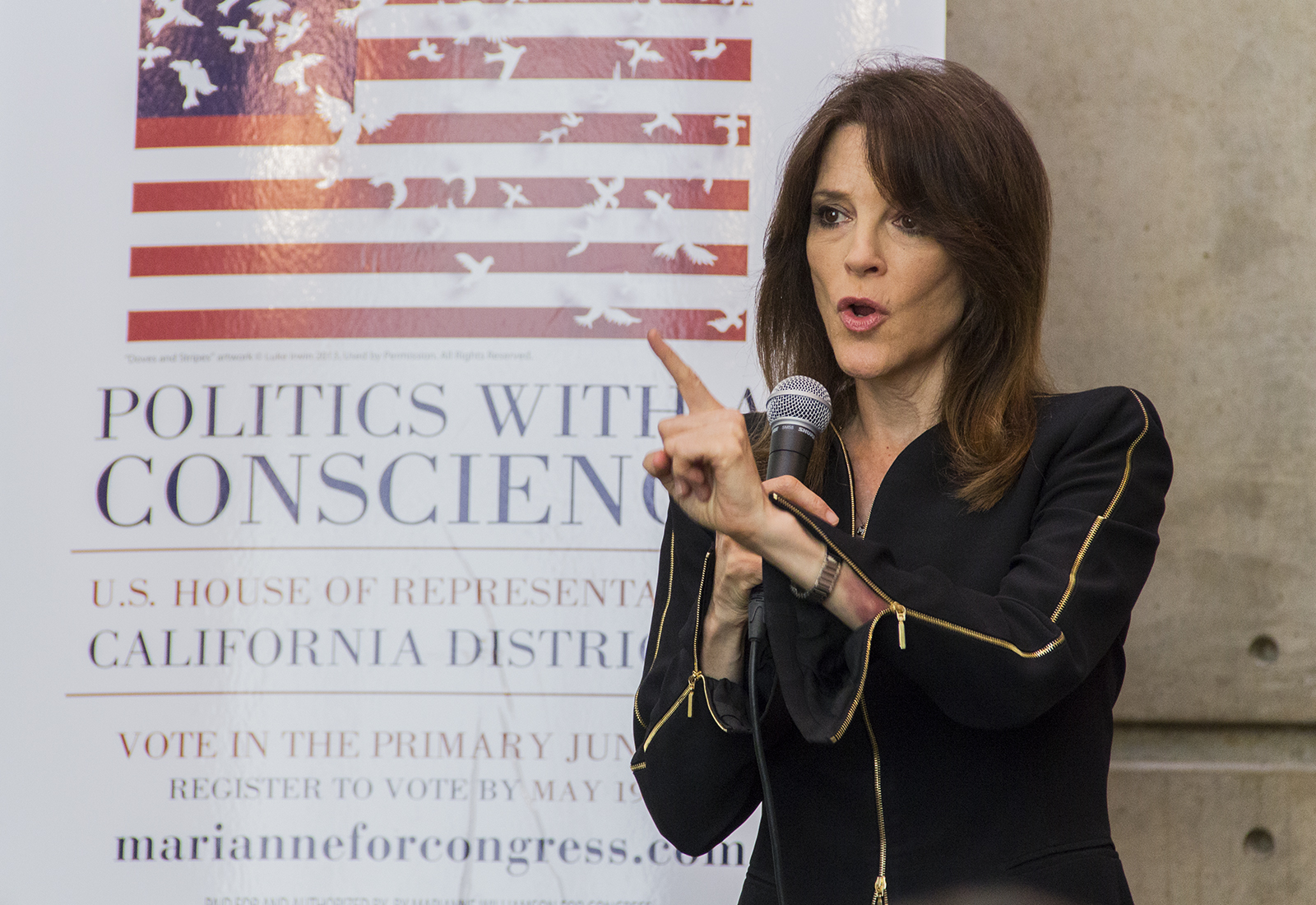 Marianne Williamson, a candidate running for a House of Representatives seat, spoke about money in politics at an event hosted by Progressive Leaders for Democratic Action. (Jessica Zhou/Daily Bruin)
This post was updated at 8:12 p.m.
Marianne Williamson, a candidate for the House of Representatives for the district where UCLA is located, talked about ways she hopes to reform government politics in a speech at UCLA Thursday night.
"Democracy is not working. It's not an expression of the American people," she said. "Money in politics is a cancer that is eating our democracy."
Williamson, who is running for office as an independent because she believes the best ideas come from outside the party system, spoke to students and attendees at Ackerman Global Viewpoint Lounge about how she thinks money has a negative influence on politics.
Progressive Leaders for Democratic Action, which has endorsed Williamson for office, hosted the event because the group thinks she is the most progressive of the 18 candidates running. The student club started this quarter because members felt other groups on campus were not promoting a sufficient amount of progressive ideas, said Hugh Tra, the club's president and a fourth-year history student.
According to its website, Progressive Leaders for Democratic Action supports increasing the minimum wage, taking action to combat climate change and extending the student loans repayment grace period from six to 18 months.
Williamson's speech focused on how she thinks the state of the economy dominates the political sphere. She said she thinks the country needs a constitutional amendment to outlaw the influence of money in politics, since it has become too expensive to run for office for the average American.
Williamson emphasized that she thinks politicians are influenced by corporations, who use lobbyists to influence policy.
"I believe we need a people's movement," Williamson said. "I'm part of the group that wants to disrupt the political status quo."
For students, Williamson said she thinks that debts that have lasted more than 10 years should be forgiven. If elected, she hopes to institute a plan in which college tuition would be covered for students who commit to one year of public service, including military service.
Williamson said she also wants to reform the prison system and help undocumented individuals obtain legal identification papers. She added that she supports the creation of a Palestinian state.
At the event, write-in candidate Theo Milonopoulos was contacted by security after Joe Cicero, the president of the Southern California chapter of Americans for Democratic Action, called university police on him for being disruptive.
Cicero said Milonopoulos handed out campaign materials during the event.
Milonopoulos said Friday that he questions whether the event was held and funded by the student group or Williamson's campaign.
Cicero, who is also an adviser for the Progressive Leaders for Democratic Action, said the group applied for funding from the Undergraduate Students Association Council for the event and that it was not funded by the campaign.
Milonopoulos said he plans to file a complaint with the Federal Elections Commission to investigate whether the event was a violation of the federal fundraising reporting requirement.
On Friday, Milonopoulos also spoke at Meyerhoff Park about mental health and gun control following the shooting near UC Santa Barbara. He said if he is elected, he wants to overhaul the counseling and psychological services on college campuses.
The primary elections will take place on June 3.
Contributing reports from Emily Liu, Bruin contributor.