EmpowHer event encourages women to pursue science careers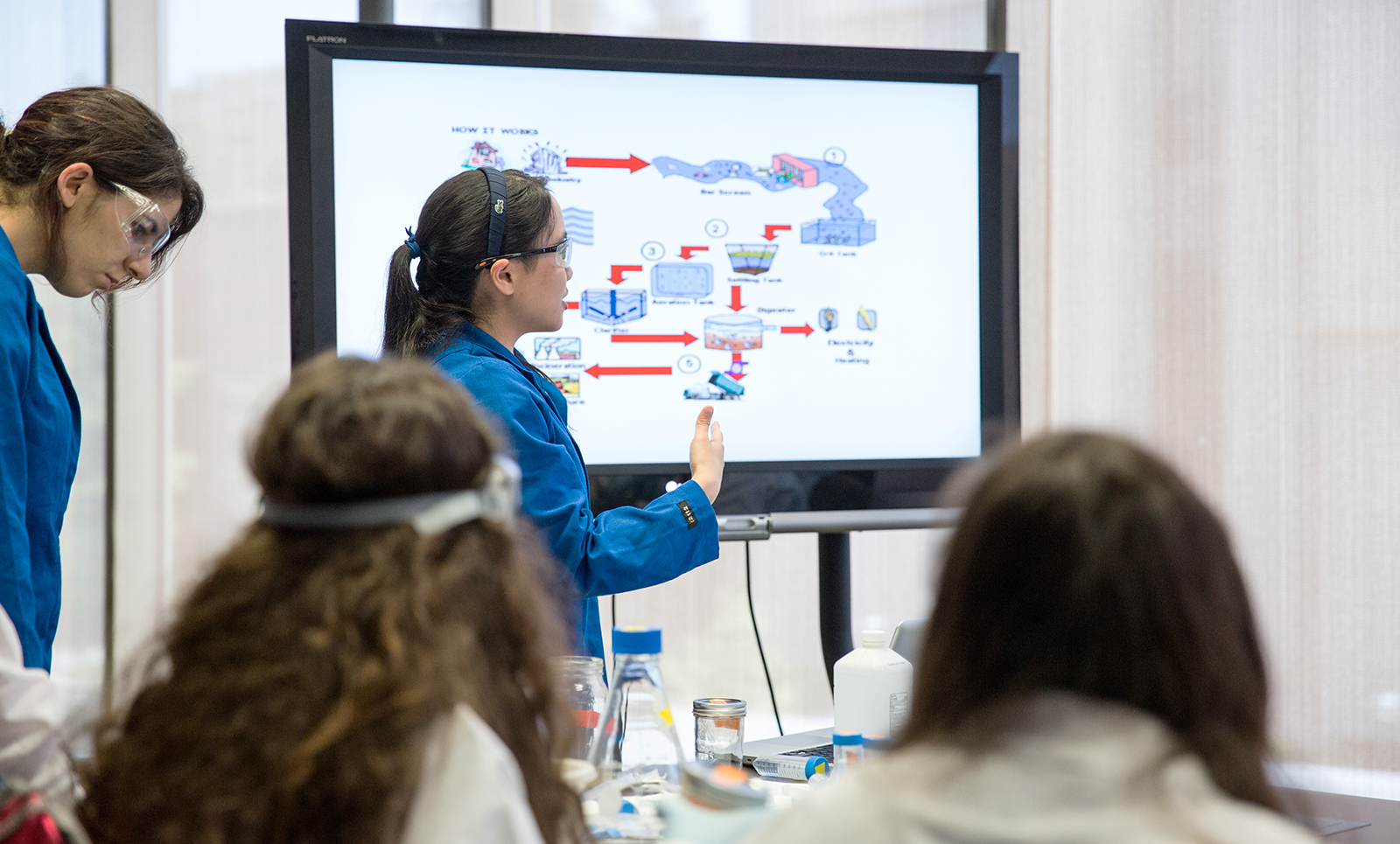 About 60 girls from Los Angeles middle schools visited UCLA Tuesday to learn about different fields in the sciences.
(Austin Yu/Daily Bruin)
The original version of this article contained information that was unclear and has been changed. See the bottom of the article for more information.
Children passed around a preserved brain in a ziplocked bag after a lesson on the organ's functional geography Tuesday during "EmpowHer STEM Day," an educational event aimed at teaching girls about careers in science and math.
"I've been waiting my whole life for this!" said Grecia, a thirteen year old, as she held the brain, garnering laughs from her peers and adults. She said seeing the brain helped her understand how its functions are generally divided by area, and touching it kept her attention.
About 60 female middle school students from low-income, underserved schools in Los Angeles attended the event at the California NanoSystems Institute and Gonda Neuroscience and Genetics Research Center on campus.
The program aimed to provide hands-on opportunities to the girls and encourage them to pursue careers in the fields of science, technology, engineering and mathematics, often called STEM, said Martina DeSalvo, a graduate student in neuroscience and coordinator for Advancing Women in Science and Engineering.
DeSalvo said she and other graduate students in the program felt a duty to participate as real world examples of women in science.
"(As) a woman in science, it is important to be a role model," DeSalvo said.
In 2010, only about 24 percent of employees in STEM fields were women, according to the U.S. Department of Commerce. About 50 percent of the nation's total workforce were women in the same year.
At Tuesday's event, organizers set up 16 stations, covering fields such as astronomy, mathematics and environmental science. The event was co-organized by Advancing Women in Science and Engineering and the EmpowHer Institute.
Demonstrations, such as extracting DNA from strawberries, making water bottle rockets and observing taxidermy birds, took place at 16 stations with about eight students at each station.
In one demonstation, students were told to pick up garbanzo beans and quinoa with a number of utensils, such as tongs and chopsticks, to demonstrate the evolution of bird beaks. The student that picked up the most in 20 seconds won and survived to pass on the genes of the bird species she represented.
Katie Gostic, a first-year graduate student in ecology and environmental sciences, ran the station. She said her goal was to emphasize that natural selection is a slow and population-scale phenomenon. Species with the right adaptations to survive and procreate will be more prevalent as generations progress.
"We wanted something that would get the girls excited," Gostic said. "This is the kind of thing that got us involved (in STEM)."
She said the bird beak demonstration was one that she enjoyed when she first encountered it in high school.
About 25 percent of students from Environmental Charter Middle School in Inglewood came to the event, said Geneva Dowdy, the school's counselor. She said she thinks the interactive presentation of scientific fields that students have learned about in school is invaluable.
Dowdy said she thinks the program helped connect what students learned in the classroom to real world occupations.
On Tuesday, Grecia participated in every station she could and asked many questions about the different topics she encountered, including the prefrontal cortex. She explained how she learned that it develops until the age of 20.
Grecia said she has always had ambitions to be successful, but she does not yet know what she wants to do as a career.
She said the event helped her know that she wanted to be "a woman of science."
Clarification: Grecia said she learned the prefrontal cortex develops until the age of 20.