Modified English major requirements drew diverse reactions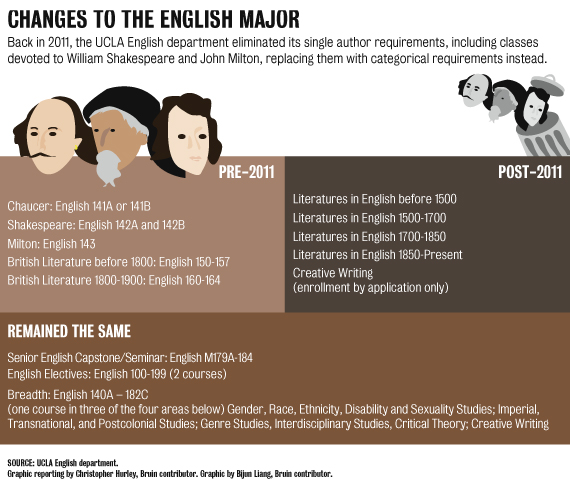 UCLA English students who took courses on Milton, Shakespeare or Chaucer saw a significant shift in class sizes in recent years, with classes decreasing from more than 100 students to barely 50 students.
The decrease is a result of a series of changes to the English major that took effect in 2011, replacing requirements to take classes on specific authors with genre-based or interdisciplinary course requirements.
The English department decided to eliminate the previous single-author requirements: two classes devoted to William Shakespeare and one each to Geoffrey Chaucer and John Milton.
Instead, the department introduced categorical requirements, literary courses on topics ranging from race and gender to post-colonialism and historical requirements covering specific time periods rather than single authors from those periods.
The changes to the English major led some around the country to believe that the study of single, historical authors was being devalued by UCLA, including the Wall Street Journal's Heather MacDonald, a scholar at the Manhattan Institute for Policy Research who criticized the change.
MacDonald claimed that the change represented an ignorance of our collective past and was made to accommodate political sensitivities rather than academic needs.
Stephen Dickey, an English professor who teaches courses on Shakespeare, said he wasn't supportive of the changes initially, but he doesn't endorse the extreme sort of discourse engaged in by the Wall Street Journal article.
In practice, Dickey said he's teaching the same classes as before, just without every English student required to take them.
Dickey said, since the change, the smaller class sizes actually pleasantly surprised him, allowing him more direct involvement with his students. He added that he hasn't seen a lack of interest in his classes from students since the changes, and his Shakespeare classes always fill up.
The somewhat controversial change to English students' curriculum came after years of discussion.
English departments in many universities moved from single author to categorical requirements about 20 years ago, but this sort of change has become increasingly rare since then, said Claire McEachern, a UCLA English professor who teaches 16th and 17th century English literature.
In 2006, the department formed an initial committee to look into the possibility of changing the requirements, prompted by certain faculty member concerns about the relative lack of visibility of their subjects, such as race or sexuality, in the major track. The results were inconclusive.
Changes were also made in part to reflect the overall changes in the world of higher academics, which has been slowly moving away from study of the classics to a broader study of literature, especially its historical context, said Lowell Gallagher, vice chair of the English department.
Over the next two to three years, the issue was reopened and discussed at many faculty forums and, after a solid majority voted in favor of the changes in 2011, they were implemented, Gallagher said.
While inevitably some faculty members expressed apprehension leading up to the change in 2011, most were supportive, Gallagher said. But even the supportive faculty members did not approve of every aspect of the changes, he added.
While one of the impetuses for change came from professors of courses that are within the new requirements who felt their work wasn't visible enough, significant support also came from professors interested in designing a more holistic track, even some professors of subjects that lost their requirement, Gallagher said.
He added there hadn't been any changes or alterations made to the major in the previous 20 years, ever since a separate American Literature and Culture major was created.
English requirements have been changing for as long as there has been an English major, and changes should be expected every so often, Dickey said.
"We still have historical requirements, we just also have these other genre requirements as well," Dickey said.
Students now taking courses about a specific author appear to be more engaged because they are choosing to take the courses rather than being forced to, McEachern said.
Much to her surprise, the students' energy, engagement and attendance hold, even for her 8 a.m. classes, she added.
While she liked some of the changes, McEachern said she fears students won't get the exposure to authors like Milton they might otherwise have had.
Maritza Garcia, a fourth-year English student who entered the major after the change, said she doesn't think she would have enjoyed the single author requirements were she subject to them.
Though she enjoyed both courses she took devoted to a single author – one on Shakespeare and one on Chaucer – she said she did not enjoy them as much as classes that blended authors and included other mediums like film.
The interdisciplinary method of study in these courses, bringing in history and even film, brings a contextual understanding she said she felt was lacking in the single author classes.
Many of the students who used to take these classes were spring quarter seniors who put off the "terrifying" subject of Milton only to find the material much more interesting than they thought it would be, McEachern said.
She added authors with infamous reputations like Milton may need protection through requirements.
Gallagher said there have been legitimate concerns over lack of exposure to certain authors, but there are a lot of other courses that students find fulfilling.
"There are some losses, but we made some significant gains (in terms of student options on their path to graduation)," Gallagher said.
Single author courses often missed out on context that would provide a more in-depth understanding of the author's place in time, Gallagher said.
Gallagher said he wishes that some sort of single author requirement remained, but doesn't know if he would have it be about a specific author such as Milton.
Students will still encounter Chaucer, Milton and Shakespeare throughout much of their upper division coursework, even if they are no longer taking classes devoted to them, Gallagher added.
It is too soon to measure the effects the change has had on students pursuing the major because students who began with the new English major are only just starting to graduate, Gallagher said.
Faculty members plan to keep track of how students fare under the new regime and create modifications to the major in the future accordingly, since how students fare under the change is more important than the time of the change relative to other universities.
"It's always important to remember that it's an ongoing process of refinement and searching for areas where one can improve," Gallagher said.