UCLA softball says camaraderie is vital to its success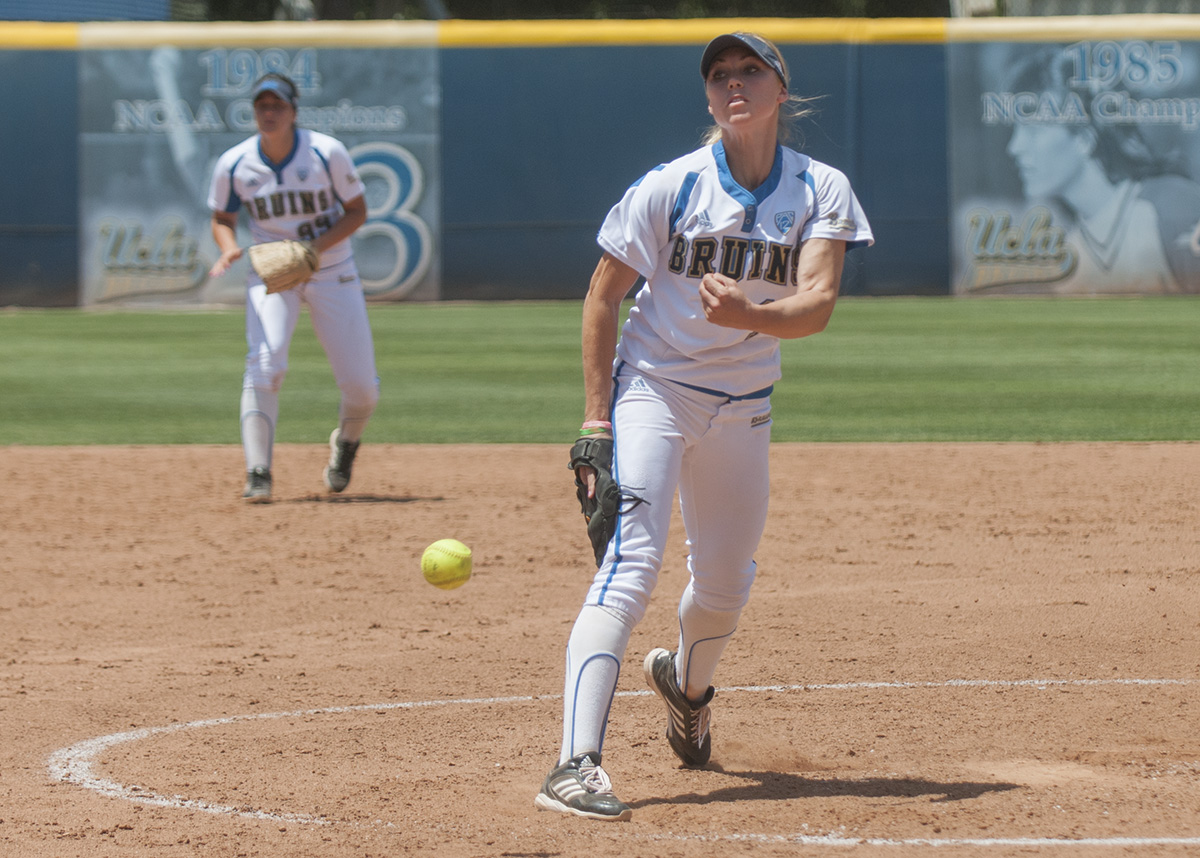 Senior pitcher Jessica Hall said that she believes the softball team is the closest team at UCLA and that chemistry has helped them with their success this season. (Agnijita Kumar/Daily Bruin senior staff)
UCLA is having one of its most successful seasons in Bruin softball history, earning the No. 3 seed in the NCAA tournament.
The Bruins say they owe a large portion of this success to true camaraderie.

Junior infielder Gracie Goulder believes the Bruins' maintenance of friendships within the team is an important UCLA strength. Friendships off the field are known to translate into chemistry on the field.
"We all get along … and that's a really good thing," Goulder said.
Last week, Goulder made plans to watch "The Other Woman" with her roommate at the Westwood Village Theatre.
"I texted a couple girls, then they texted a couple other girls, and almost everyone on the (softball) team ended up showing up," Goulder said.
Events such as these are not mandatory. The players are not required to organize hangout sessions with their teammates, but when senior pitcher Jessica Hall received her invite to the spontaneous "girls' night out," she went.
"We love hanging out with each other, even outside of softball," Hall said. "I feel like we're one of the closest teams on campus."
The fact that Goulder's single text resulted in a chain reaction that brought nearly the whole team together – for something other than practice – is representative of the close bond the Bruins share.
"We just really care about one another and I think that's why it makes it so easy for us to play behind one another," Hall said.
Senior utility player Alyssa Tiumalu said that it is the small things that Bruins do on the field that contribute most to UCLA's success in the game of softball.
"It could be communicating prior to the play (or) backing up a bag that nobody sees you backed up," Tiumalu said.
Tiumalu says these "little things" often go unnoticed, but are most important.
"It's not just the big things like hitting a home run – it's about the process and how we get to those big things," Tiumalu said.
Communication and instinctually backing up your teammate inevitably ties back to trust built off the field.
"When you can trust a girl behind you it definitely gives you a lot of confidence," Hall said. "It helps knowing that (your teammates) want you to succeed."
Goulder said hanging out with her teammates outside of the sport helps her build greater chemistry with them in the stadium.
"I think that if the team is getting along, it keeps us loose on the field, to walk around and not be so serious," Goulder said.
Speaking of seriousness, the Pac-12 is known as one of the most competitive softball leagues in Division I softball, making it one of the toughest to play for. With this sort of pressure, and the pressure that the Bruins face as they enter the NCAA Regionals this weekend, Hall said she is grateful to play alongside teammates that care for one another in or out of uniform.
"They really care," Hall said. "And it just gives that feeling that you're playing for something bigger than yourself."