Over $25,000 spent in USAC election campaigns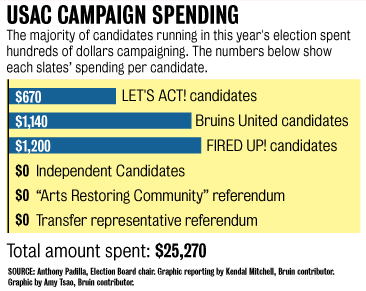 Campaign supporters and the majority of students running for undergraduate student government offices spent more than $25,000 to promote candidates and engage the student body in the spring election this year.
Three main slates ran candidates in the Undergraduate Students Association Council election. Bruins United spent the most, with a total of about $10,200, or about $1,140 per candidate. FIRED UP! spent about $8,420, or about $1,200 per candidate and LET'S ACT! spent about $6,650, or about $670 per candidate.

Last year, campaign contributors collectively raised more than $23,000 for the 23 candidates and two ballot measures for the Undergraduate Students Association Council election. This spring's election is particularly contested, with 30 candidates running for office.
Most of the slated candidates running for contested positions spent hundreds of dollars on their campaigns. The uncontested, independent candidates and advocates of the two measures on the ballot did not use money for their campaigning. Sachin Medhekar, a single candidate running for General Representative 1 under the ¡Bruin Satayrists! slate, did not spend any money on his campaign.
The USAC Election Board sets voluntary spending limits, ranging from $400 to $600 per candidate depending on the office. Candidates have the option of signing a non-binding spending limit agreement, but only three candidates, all of whom are uncontested for their respective offices, signed the pledge this year.

The majority of money spent in this election was used to purchase T-shirts, signboard materials and fliers to promote each slates' campaign.
Bruins United receives a majority of its finances from corporate sponsorships, including Westwood Apartments, Manhattan Stitching Company, Dria's Beach Club and Nightclub and Blueprint LSAT Preparation, said Joseph Hassine, the Bruins United campaign manager.
Corporate sponsors helped cover costs for things such as cookies and bagels given to students during election week, Hassine added.
Hassine said each Bruins United candidate is expected to contribute about $200 to $400 to make up the difference between corporate sponsorships and the final cost of the entire slate's campaign by self-raised donations.
"It is up to candidates on how to handle the difference," Hassine said.
Hassine said Bruins United campaign managers looked to keep costs down by buying merchandise – including door hangers and tote bags – at discounted prices. Last year, Bruins United spent around $1,160 on each of its eight candidates.
Candidates from FIRED UP! reached out to community groups both on and off campus for funding, said Anh Nguyen, a campaign manager for FIRED UP!.
Nguyen said each candidate reached out to family, friends and their local communities to fundraise around $300 to $500 for the campaign.

Campus organizations, including the Vietnamese Student Union, the Asian Pacific Coalition and the American Indian Student Association, also donated to the slate, Nguyen said.
Members of LET'S ACT! decided to pool together their resources and split the costs evenly among the 10 candidates running for the slate, said Tyler Cherry, the campaign manager for LET'S ACT!.
"(Splitting the cost) was the most cost-effective way to finance the campaigns," Cherry added.
Cherry said the slate received most of its financial support from alumni or the candidates themselves. Each candidate contributed around $100 to purchase his or her own signboard poster currently lining Bruin Walk. Other campaign costs included sunglasses, stickers and materials for the signboards.

"Like our belief in student-centered government, we believe in student-centered financing – we don't rely on corporate sponsorship," Cherry added.

Groups promoting the Transfer Student Representative amendment and the "Arts Restoring Community" referendum did not spend any money campaigning.

Carlos Quintanilla, the finance director of the Social Awareness Network for Activism through Art, said the art activism group originally planned on going to USAC to help fund the campaign. Because the "Arts Restoring Community" referendum was a USAC initiative, council could contribute funding to the group, said Quintanilla, who is the Bruins United candidate for facilities commissioner.
But Quintanilla said he thought it would be inappropriate to reach out to USAC for funds while he was actively personally campaigning.

Some independent candidates voiced concerns about the motivations behind the spending expenses for the slates.

Greg Kalfayan, the uncontested independent candidate for Campus Events commissioner, said he thinks slate spending could potentially hide unqualified candidates because of a slate's ability to spend money promoting all its members at once.

But other students say that spending money is an important part of the election process.
Hassine said he thinks giving tangible items to voters, like T-shirts, food and sunglasses, makes it easier to reach apathetic voters and educate them.
Students can vote for USAC candidates and the two referendums through MyUCLA until noon Friday.