Close races culminate in emotional reactions to election results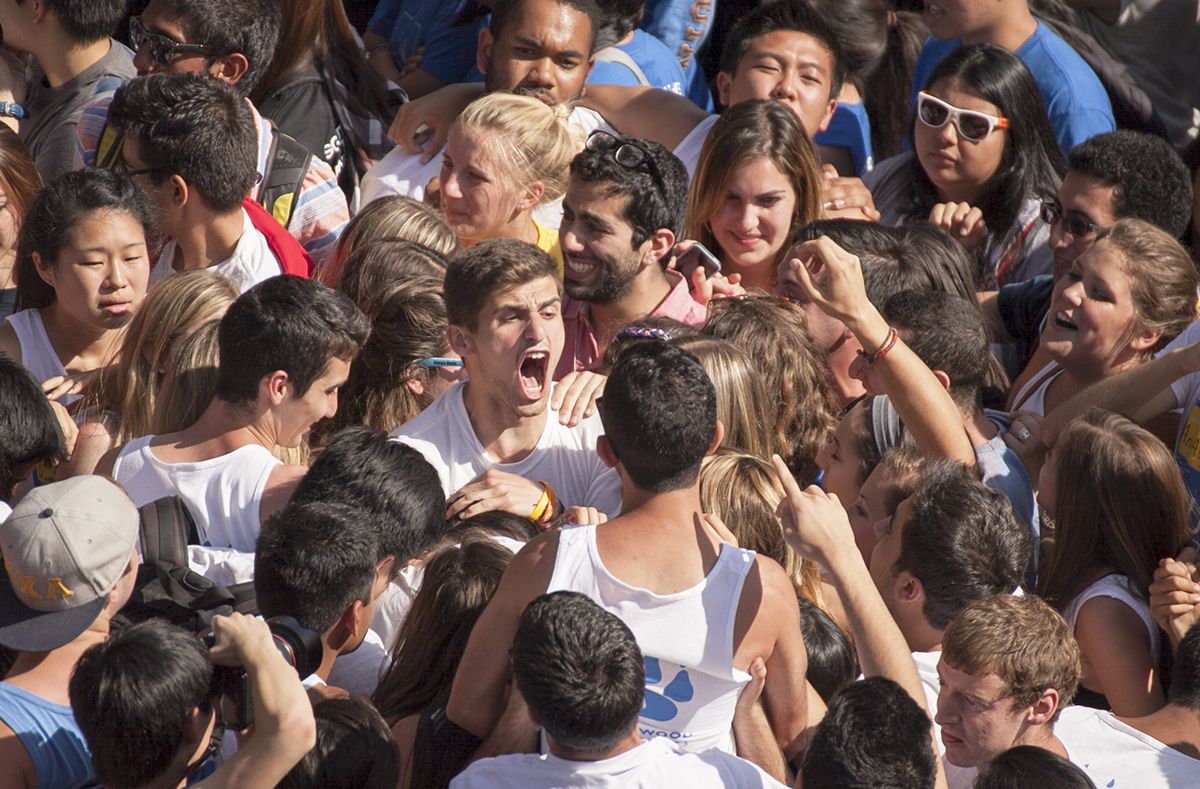 The original version of this article contained an error and has been changed. See the bottom of the article for more information.
LET'S ACT! candidate Devin Murphy was elected by a slim margin Friday as next year's undergraduate student government president, and will lead a council with a Bruins United plurality.
"I feel like I have overcome the greatest obstacle of my life," said Murphy, a third-year political science and Afro-American studies student.
Bruins United took six of the nine contested seats on the 2014-2015 Undergraduate Students Association Council, while LET'S ACT! claimed three positions. None of the candidates from the FIRED UP! slate or the satirical slate ¡Bruin Satyrists! were elected into office.
The council's slate composition next year will mirror that of this year's council, with six Bruins United members, four LET'S ACT! members and three independents in office.
Some students from all slates cried after the results were announced in the middle of Bruin Plaza, and many members of LET'S ACT! and FIRED UP! were visibly upset with the results.
Both the Transfer Student Representative Constitutional Amendment and the Arts Restoring Community Referendum passed, receiving about 75 percent and a little more than 50 percent of the votes, respectively.
This year's voter turnout was 30.3 percent – a 6.3 percent decrease from last year's rate of 36.6 percent. In recent years, voter turnout has averaged about 35 percent of the undergraduate student body.
The majority of runoff votes differed by just a few percentage points, after candidates from the FIRED UP! slate were eliminated first in every contested race. FIRED UP! lost by large margins in every three-candidate race they competed in.
Murphy took the presidency with 3,657 votes, or 50.2 percent of the vote.
Sunny Singh, the Bruins United candidate for president, declined to comment on the results.
Avinoam Baral from Bruins United was elected as next year's internal vice president. He said he plans to work across slate lines next year to ensure council unity.
"We'll form a very strong collaboration and communication from the start," Baral said. He said he plans to call Murphy the first thing Saturday morning.
Conrad Contreras, a LET'S ACT! candidate, secured the position of external vice president, receiving about 55 percent of the vote.
"I think that you should always come to this process expecting the worst," he said about the election season. "Throughout the process, it was a very draining experience. I'm happy that it's over and I'm happy that we can get back to work."
Bruins United candidates Allyson Bach and Carlos Quintanilla won the seats of Academic Affairs Commissioner and Facilities Commissioner, respectively, against LET'S ACT! candidates by narrow margins. Bach won with 50.38 percent of the vote and Quintanilla with 50.15 percent.
Bruins United candidate Heather Rosen won Financial Supports Commissioner with 55 percent of the vote.
Nihal Satyadev and Fabienne Roth, both Bruins United candidates, took the General Representative 2 and 3 positions, while Manjot Singh, one of three LET'S ACT! candidates to win a contested position, took General Representative 1.
Sachin Medhekar, the ¡Bruin Satyrists! candidate who ran for General Representative 1, said he assumed there was a voting error when he heard he was not elected.
Three of the four uncontested positions went to independent candidates this year, continuing a trend from last year. The uncontested candidate for Cultural Affairs Commissioner ran with LET'S ACT!.
Many of the elected officers said they plan to prioritize collaboration with their fellow councilmembers next year.
This year, USAC councilmembers struggled at times to collaborate and reach decisions because of divides caused by slate politics.
Satyadev said one of the first things he hopes to do is reach out to the LET'S ACT! members who were elected and see how they can work together as a council.
"It's not about representing our slates well from now on," Satyadev said. "Now we need to represent ourselves as a council."
Manjot Singh said he is disappointed that more LET'S ACT! candidates were not voted into office, but he hopes to build coalitions between councilmembers from both slates to deal with campus issues next year.
"I hope (we) understand that we're all just humans," Singh said. "We're all here to make UCLA a better place, no matter what (our) beliefs are."
Miriam Rodriguez, who was the presidential candidate for FIRED UP!, said she does not have plans to officially join USAC, but she hopes to talk to Murphy about ways to deal with racism on campus. Although all FIRED UP! candidates were eliminated, some received more than 1,000 votes.
"The amount of votes we got says that there (are) people out there who care about our issues." Rodriguez said. "Now we have to think about what's going to happen next."
After all the election results were announced, members of Bruins United, LET'S ACT! and FIRED UP! gathered at different locations on campus to console candidates who ran unsuccessfully and celebrate the victories of the students who will lead next year's undergraduate student government.
Contributing reports by Janet Nguyen, Alex Torpey, Jeong Park, Kendal Mitchell, Jasmine Aquino and Norma Reyes, Bruin contributors.
Correction: Contreras received about 55 percent of the vote.