Angela Davis returns to speak at Royce Hall after almost 50 years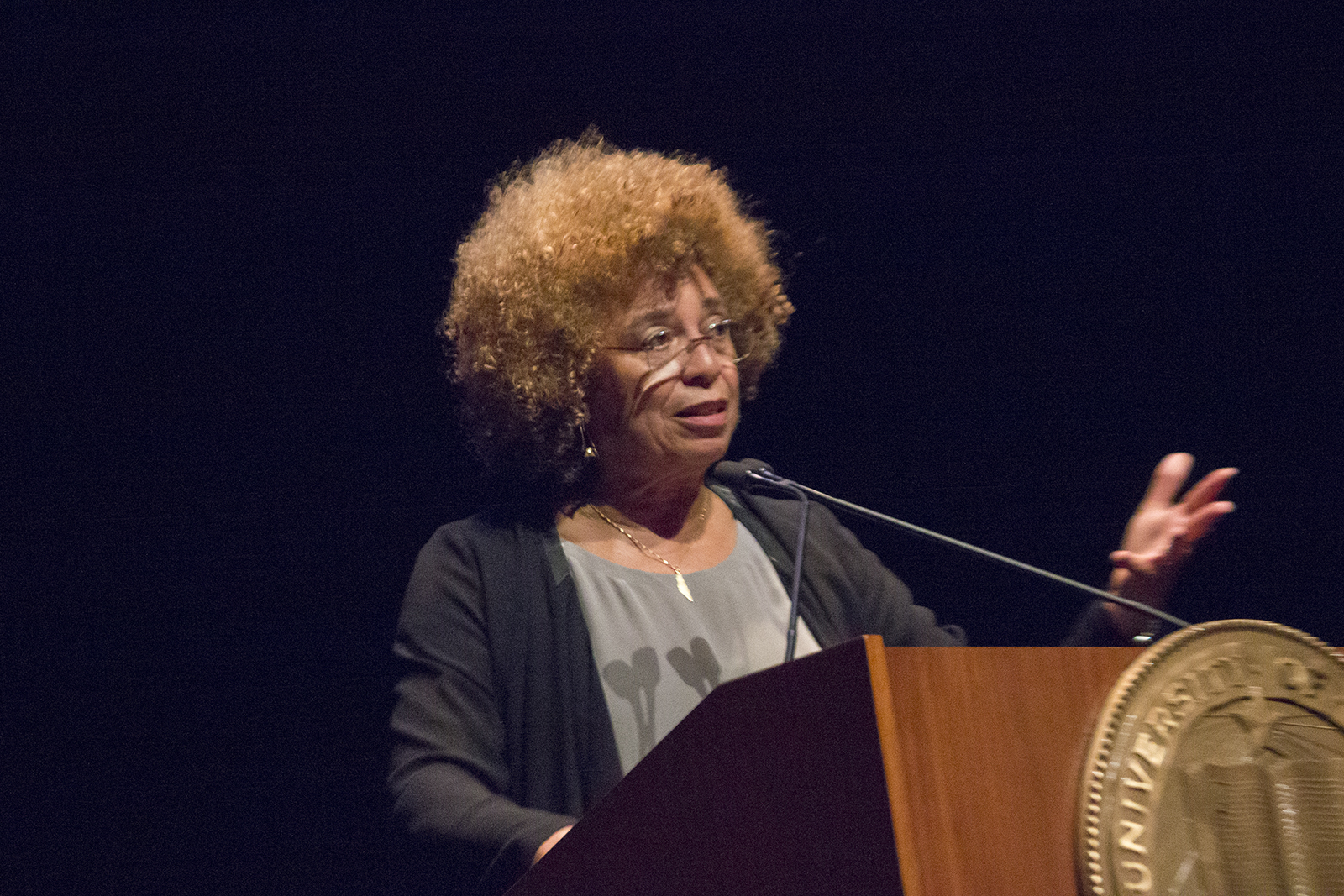 Angela Davis, a renowned activist who was fired for being in the Communist Party in 1970, spoke on Thursday about institutional racism in the prison system. (Felicia Ramirez/Daily Bruin staff)
More than 45 years after being fired from her UCLA professorship for being in the Communist Party, renowned civil rights activist Angela Davis returned to speak about institutional racism Thursday at Royce Hall, where she had given a speech on freedom almost half a century ago.
Davis is known for her work in advocating for freedom of speech, women's rights and the end of racism. She was hired as a professor of philosophy at UCLA in 1969 and gave a speech to 2,000 people in Royce Hall about freedom in black literature.
"There is a particular historical resonance in her presence here tonight," Chancellor Gene Block said in his introduction of Davis.
But she soon became a controversial figure. In 1970, the University of California Board of Regents fired her for her acknowledged membership in the Communist Party. She was once on the FBI's 10 Most Wanted List and served 18 months in jail. On Thursday, she joked that, though she was hired to teach about Marxism, she was fired "perhaps because (she) took the link between theory and practice a little too seriously."
"I was happy to contribute to the development of a movement which required us to think of academic repression as complexly articulated with prison (racism)," she said.

Davis said Thursday night that she hoped that UCLA would be celebrating the 30th or 40th anniversary of a black studies department by now. Instead, she said she found that a new African American Studies Department is celebrating its founding, to applause from the audience.
In her talk Thursday evening, Davis focused on the issue of incarceration, criticizing the growth of the prison system and how it disproportionately affects black people. She said she thinks it's contrary to democracy to disenfranchise people who have been convicted of felonies and released from prison, and she thinks the prison system is the starkest example of state-enforced racism.
"The prison project has entirely outgrown its effectiveness," she said.
Davis spoke to a large and affectionate crowd that often erupted into applause and deep vocal agreement.
Sarà Benin, a doctoral student in education at UCLA, said attending Davis' lecture was particularly significant for her. Like Davis, her mother was a member of the Black Panther Party. Her mother was also friends with Davis' sister, so Benin grew up listening to stories about the civil rights leader. She called Thursday a "historical moment."
"(Davis) inspired me to want to go to college and to be an activist," Benin said. "This really feels full-circle. She's a historical figure, standing in front of us and speaking to us from the past."