USAC Presidential Candidate: Miriam Rodriguez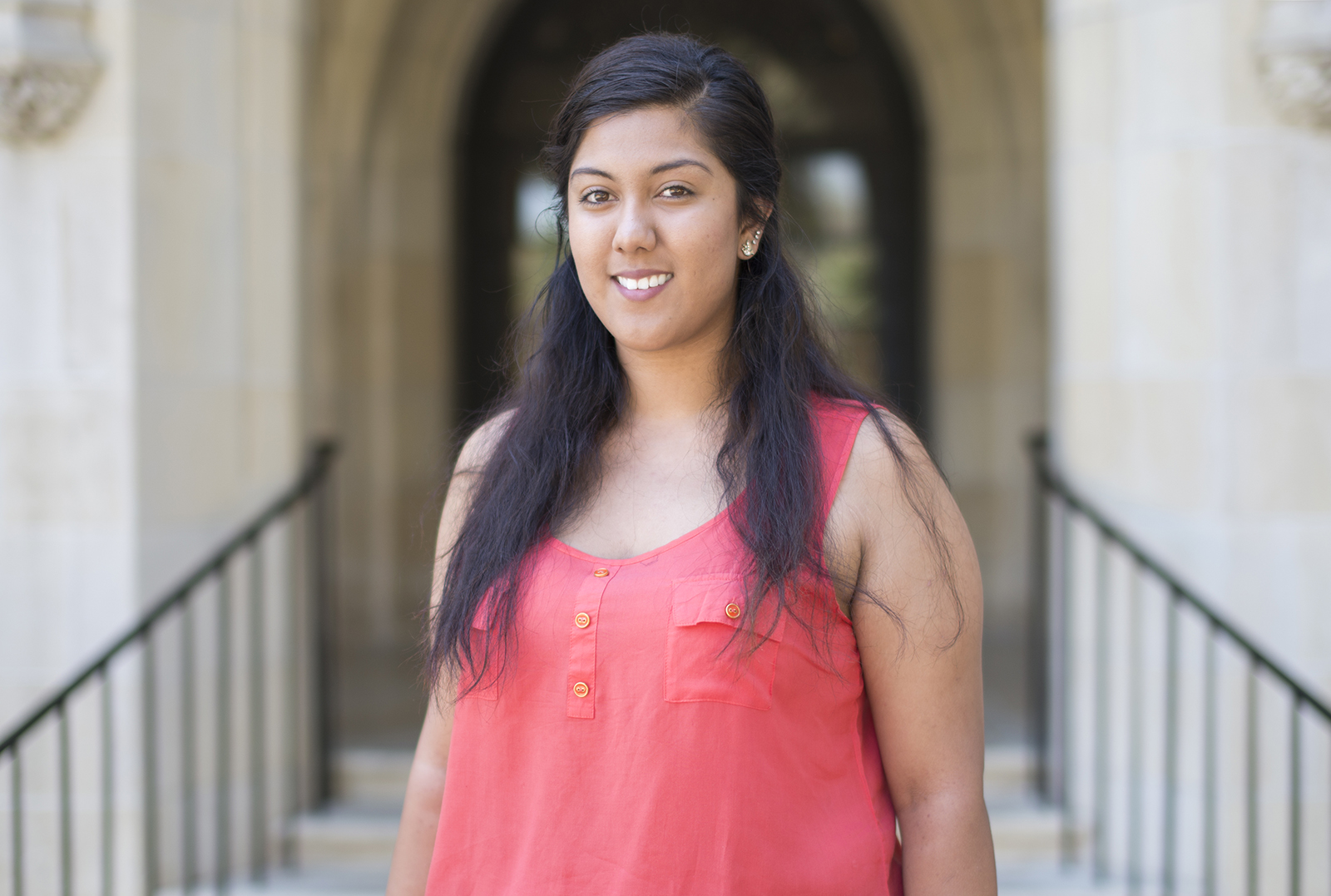 (Brandon Choe/Daily Bruin senior staff)
Miriam Rodriguez travels across the border to Mexico every three months to help reconstruct children's smiles in low-income communities.
Representing underserved communities is her passion and why she wants to be involved in student government.
Rodriguez's commitment to the community is the main reason she is running with the newly created slate FIRED UP! for president of the Undergraduate Students Association Council this year, she said. As president, the fourth-year Chicana/o studies and Spanish student wants to ensure that USAC better serves student organizations through funding and other means.
Rodriguez is the current vice chairof the Student Initiated Outreach Committee, and said she has been highly involved in learning about the Chicano movement and the racial inequalities on college campuses across the country.
"Thinking about how the system is, we're so blind and unaware of our surroundings and those who dictate us," Rodriguez said.
As one of the leaders of the American Indian Student Association, Rodriguez has volunteered with the American Indian Recruitment, a project that encourages higher education by providing educational guidance and support to American Indian youth in the Los Angeles area.
If she is elected USAC president, her goal is to give back to and serve the many student organizations on campus.
Candidates running with the FIRED UP! slate are pushing for electoral reform during USAC election as part of their platform. Rodriguez said she wants to make the process for student groups to endorse candidates easier by lessening requirements for students and opening up the application for endorsements for a longer period of time.
"Students have been shut out (of USAC)." Rodriguez said. "That's where (the problem) stems from."
Rodriguez said she will not use any student fees to fund USAC initiatives if she is elected. Instead, she promises to use the money to support and finance student organizations and events. FIRED UP! members have criticized the way USAC allocated some student fees this year.
"There needs to be a reform in USAC," Rodriguez said. "Any student can run and I'm not afraid to stand up for what I believe in."
Although Rodriguez is often away from her family in Madera, Calif., she said she credits her mom with teaching her to stay grounded.
At UCLA, Rodriguez has also been part of the Pre-Dental Student Outreach Program since her freshman year and has helped conduct clinical dental research with Dr. Sushma Nachnani, a microbiologist at UCLA, for more than two years.
"She's very dedicated and works very hard," Nachnani said. "She solves problems and comes up with solutions."
Nachnani said the type of clinical trial research Rodriguez is helping conduct is very time consuming, and she remembers one time when Rodriguez drove back from visiting family in the middle of the night to be at the clinic the next day.
Yahaira Navarro, a fifth-year psychology and classical civilizations student, became one of Rodriguez's best friends after they worked together with the American Indian Recruitment project and the Temporary Assistance for Needy Families program and tutored high school and college students at local schools.
"She always puts other people first," Navarro said. "She's become a mentor and role model for a lot of these students."
Rodriguez said she wants to learn what students need from USAC by reaching out to student groups. She said she hopes to understand the issues affecting the UCLA community and collaborate with students to determine how to best address their problems.