UCLA's yield rate explained by location, competition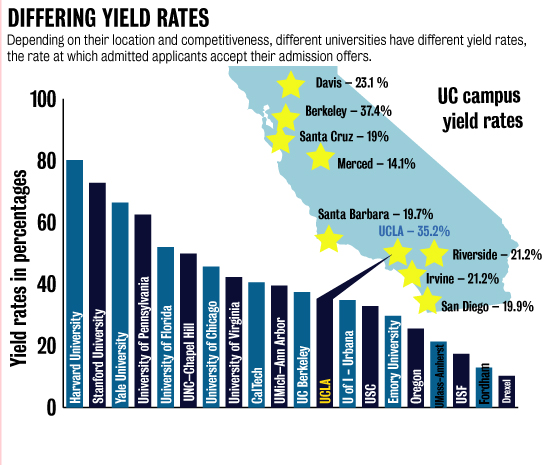 UCLA has been the most applied to school in the nation for several years, but only about a third of its admitted applicants actually decide to attend the university.
UCLA's yield rate, or the rate at which admitted students accept their admission offers, was about 35 percent in 2012, which is high for UC campuses but low compared to similar public institutions and West Coast private colleges.

This year's deadline for admitted students to commit to University of California schools is Thursday.

UC Berkeley topped out the UC system with an about 37 percent yield rate, but Berkeley's rate is low compared to many comparable colleges.
The University of Michigan at Ann Arbor had an almost 40 percent yield rate in 2012. The University of North Carolina at Chapel Hill retained almost 50 percent of their admitted students. Stanford University led the West Coast with a more than 72 percent yield rate, and Harvard took the number one spot in the country with more than 80 percent of admitted students committing to attend the school.
The UCLA yield rate isn't unnaturally low, said Sylvia Hurtado, a professor of education and the director of the Higher Education Research Institute at UCLA.
"We are competing with Stanford, USC, and (a) number of other private choices," she said. "In a sense, (other public university systems) compete with a different market and that depends on what state."
The 2012 yield rates for USC, about 33 percent, and New York University, about 34 percent, are lower than UCLA's.
Other public university systems, like Michigan's and Virginia's, have fewer campuses than the UC, which makes for less competition, she said.
There are also fewer elite universities for locals to choose from in places like North Carolina than there are in California, which could explain their higher yield rates, said Stephen Handel, the associate vice president of undergraduate admissions for the UC.
The UC has nine undergraduate institutions, and options for Californians are expanded by private colleges like Stanford and the Claremont Colleges, Handel said.
If students want to be a part of the UC system, the Office of the President encourages them to apply to several campuses that could suit their interests, Handel said. He said the average student who applies to the UC will apply to four campuses.
In part, this approach also increases competition between UC campuses, especially for in-state applicants, he said.

Kya Williamson, a high school student from San Diego, was accepted by UCLA and UC Riverside. She committed to UCLA the day after she was accepted because she is interested in UCLA's art program.
The in-state admit yield rate is about 90 percent for the whole UC system, Handel said. International students have a lower yield rate because the UC is still developing outreach to those students, who also typically have more comparable options.
Yield rates differ across campuses for both categories of student. At UCLA and UC Berkeley, the yield for in-state students is lower than the system average, and the international yield rate is higher.
Handel said while no ideal yield rate exists, admissions directors want something predictable they can rely on.

If admissions directors can make a good model for how many students will decide to accept their offers, they can gauge how many offers they should extend, he said.
"We know that those students simply have other
choices," he said.
Relatively, he added, the UC system is competitive in the university market nation- and state-wide.

Joey Jordan from Fallbrook, Calif. said he was admitted to UCLA as a transfer from San Diego Mesa Community College.
He said one year ago UCLA was his top choice, but he was unsure if he would get in when he applied. He visited UC Santa Barbara because he felt more confident he would be accepted by the school, and fell in love with the beach and the atmosphere there.
In the end, he chose UC Santa Barbara.
"It was a hard decision, but I denied UCLA," he said.