UCLA's admission of Latino students lags behind UC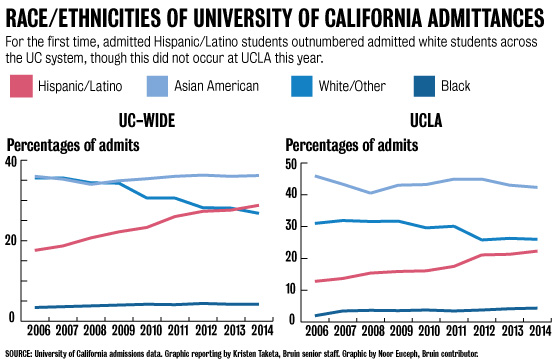 April 29, 2014 12:36 a.m.
Although there was a recent rise of Latinos admitted to the University of California, UCLA is slower than other campuses to admit a larger percentage of Latino students.
Hispanic students have surpassed white students admitted to the UC for the first time this year, an increase officials attribute to a growing number of Latinos living in California as well as increased outreach by the UC. Latinos now comprise 28.8 percent of the admitted class compared to white students, who comprise 26.8 percent.
But the growing number of Latino students is less visible at the most competitive universities in the UC system: UCLA and Berkeley. About 20 percent of students admitted to ULCA this year were Latino, although they made up about 30 percent of the applicant pool.
"(UCLA has) among the highest standards among the UC system," said Youlonda Copeland-Morgan, UCLA associate vice chancellor of enrollment management. "So while we are seeing more Latino students taking challenging courses and preparing themselves for admission, we have not seen the kind of growth some of the other campuses have seen."
Students from different backgrounds don't have the same opportunities said Robert Romero, associate professor of Chicana/o Studies at UCLA.
"Students from richer suburbs have a competitive advantage, access to better public schools and AP classes," Romero said. "Many Latinos were priced out of those districts."
According to Los Angeles Times statistics, Los Angeles County schools that have the lowest SAT scores tend to have more than 50 percent Latino students, whereas the highest scoring schools were predominantly white and Asian. More students in these low scoring schools also tend to qualify for free or reduced lunches.
Dianne Klein, a UC spokeswoman, said the UC works to address this issue by reaching out to underrepresented high schools to encourage students to apply for college.
"Yes, they are applying and increasing in numbers," Klein said. "But they are not necessarily admitted. UCLA is among the most selective of the UC campuses, with this year only a 18.2 percent admission rate. It's difficult to get into (UCLA)."
According to UC admissions data, UCLA accepted almost the same amount of Latino students it did last year. This is significantly less than other campuses, such as UC Irvine and UC Riverside, and a University-wide increase of almost 1,000 students.
The University, by law, cannot take ethnicity into account during its admissions decisions, but it reaches out to first-generation high school students and students from underrepresented schools to encourage them to attend college, Klein said.
"We put the message out there that (the) UC is accessible," Klein said.
Although the growing number is a positive start, Latinos represent about half of the K-12 population, and that does not yet reflect in enrollment rates in the UC, said Audrey Dow, community affairs director for The Campaign for College Opportunity, an organization that focuses on changing legislation to promote equality in education.