Students meet Bruin Plate food producers in Earth Day event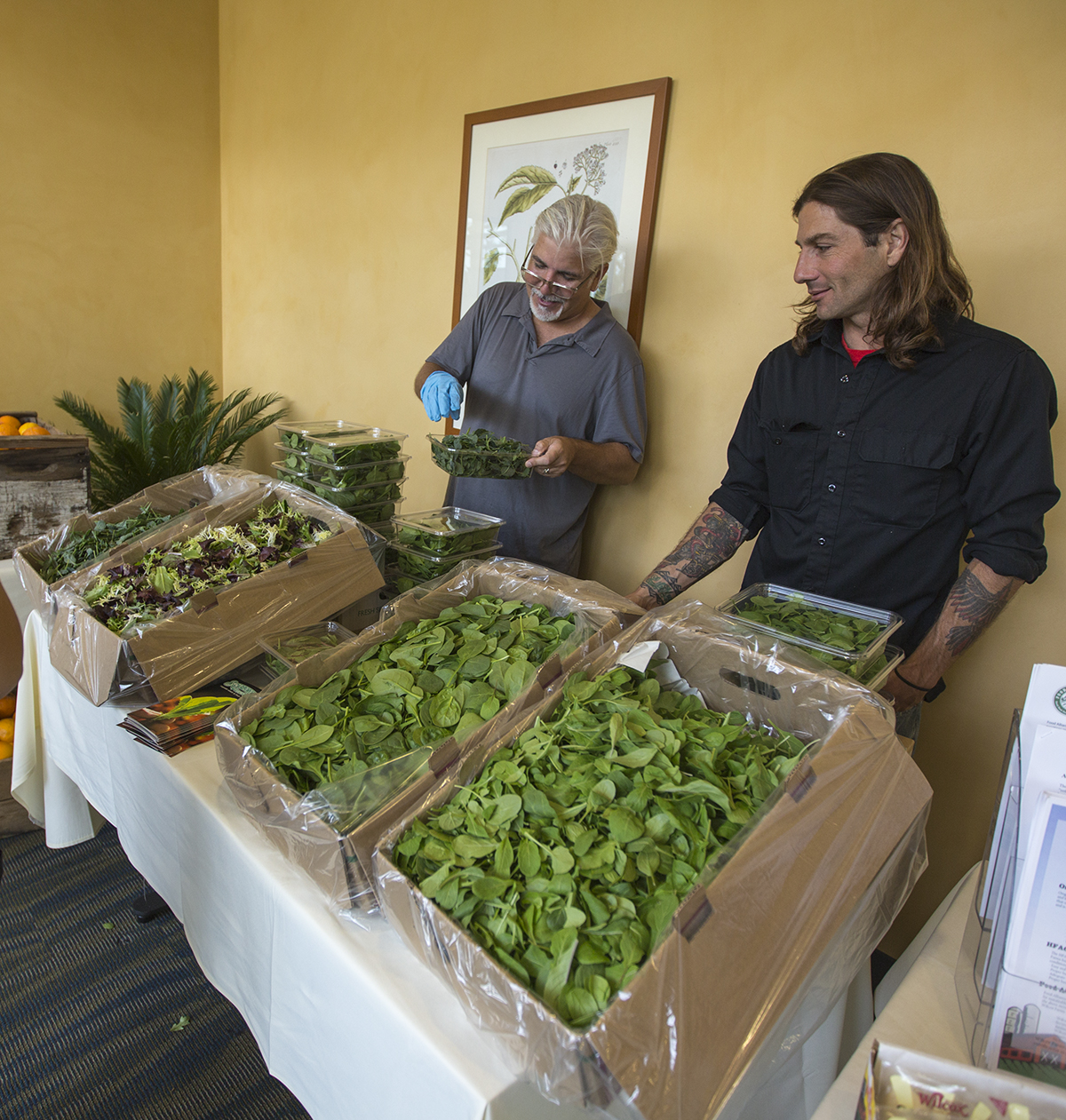 Jeff Stein (left), the restaurant account manager at Scarborough Farms, came to Bruin Plate Tuesday afternoon to talk with students about the food he helps produce. (Austin Yu/Daily Bruin)
April 23, 2014 12:56 a.m.
Mozzarella dipped in olive oil and an orange-grapefruit hybrid were a few of the samples local farmers provided for students at Bruin Plate for Earth Day.
On Tuesday afternoon, students met the farmers who provide the food for Bruin Plate, the Hill's newest dinning hall, which focuses on sustainable practices and student education about food.

The event was intended to give students a chance to speak with farmers and get a better understanding of where their food comes from, said Aliana Lungo-Shapiro, sustainability manager for Housing and Hospitality services.

"It's very important for people to know how food is grown," said Kathleen Phillips, the supply chain sustainability manager for Greener Fields Together, a program that works with farmers to increase environmentally friendly food production. "It's the dawn of a new age in food. It's beyond local. It's a true connection with the land."
Two of the vendors at the event, brothers Jeff Stein and Brandon Stein, help operate the family-run Scarborough Farms, which provides the salad ingredients for the dining hall. At Tuesday's event, they told students about how their herb and vegetable farm began in their mother's backyard.
"It's all about pride," Jeff Stein said, gesturing to nearby boxes filled with fresh herbs. "It comes from the standpoint of love and giving back as much as we can."
The brothers have taken measures to become more sustainable, including creating their own compost and remineralizing the ground.
This demand for healthier food from students was one of the reasons for the creation of Bruin Plate in the first place, said Kevin Aiello, head chef of Bruin Plate.
"It's the trend students are asking for. They want healthier dining," Aiello said. "So we want to educate students on the quality and value of what is on their plate."
Second-year history student Peter Boldt, whose family grows organic peaches in the Central Valley, said it was important to him to meet the people who grow the food he eats.
"Everything has a story, and it's important to know where (my food) came from," Boldt said.