Westwood to be included in Great Streets initiative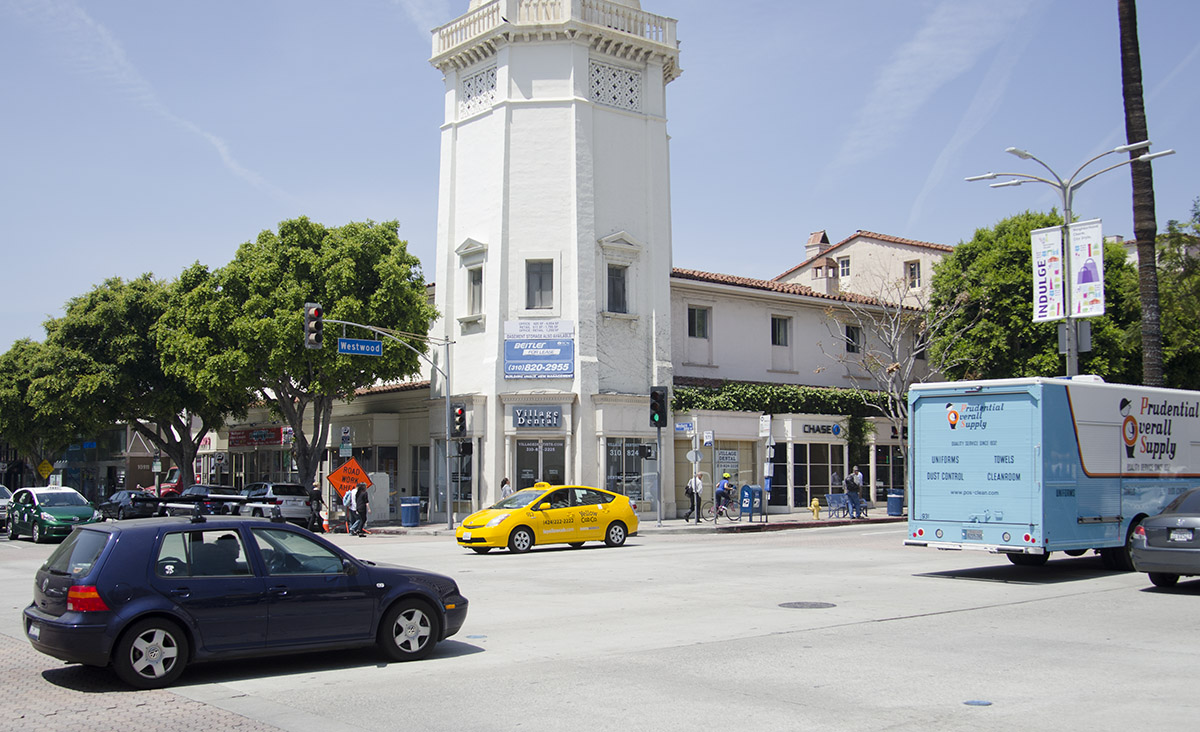 Westwood Boulevard is one of the streets that Mayor Eric Garcetti plans to improve as part of his Great Streets Initiative. (Jennifer Lin/Daily Bruin)
April 22, 2014 12:14 a.m.
Westwood Boulevard is one of 15 streets Mayor Eric Garcetti hopes to renovate and improve economically as part of his Great Streets initiative.
With the plan, Garcetti said he aims to bring new businesses into neighborhoods, help current ones expand and make neighborhoods accessible to pedestrians as well as cars. The plan is generally welcome by businesses and student groups in Westwood, though there are some questions on how Garcetti will approach bike accessibility in the village.
Garcetti's initiative hopes to use existing resources to make changes, rather than bring in more money from the mayor's office, said Vicki Curry, associate director of communications for the mayor' office.
Local organizations have already put certain services, such as street cleanups and beautification projects, in place to improve Westwood Boulevard. The mayor's initiative plans to coordinate those services to benefit neighborhoods, Curry said.
The initiative began in October in a directive to revitalize and support the economies of certain neighborhoods. Garcetti announced on April 10 that he plans to include Westwood Boulevard.
Lisa Chapman, chair of the Westwood Neighborhood Council, said the council is supportive of Garcetti's assistance in bringing businesses into Westwood. But she said she thinks the new bike lanes on Westwood Boulevard would be dangerous for bicyclists and decrease much-needed parking.
The council hopes to find alternate areas for bike lanes, especially with the proposed 2015 addition of the Expo Line station on Exposition Boulevard, just east of Westwood Boulevard, Chapman said.
She added that she thinks the most successful outcome for the initiative would come if the mayor's office worked closely with local groups already in place in Westwood.
"We're all for making Westwood as successful as it used to be. To me, we need councils, we need the (Business Improvement District) and you need the city backing you to make that happen," she said.
Hyeran Lee, the advocacy chair for the UCLA Bicycle Coalition and a second-year graduate student in the Luskin School of Public Affairs, said the organization has been advocating for bike lanes in Westwood for more than two years.
She said she thinks bike lanes in Westwood would help keep cyclists safe, but the plan would need local, as well as mayoral, support to ultimately go through.
"If the mayor really takes initiative and intervenes in the local decision-making process then I think there's a hope for building something really great in Westwood," she said.
The idea of bike lanes on Westwood Boulevard was not welcomed by some business owners, though other aspects of Garcetti's plan were attractive.