Men's volleyball falls in MPSF quarterfinals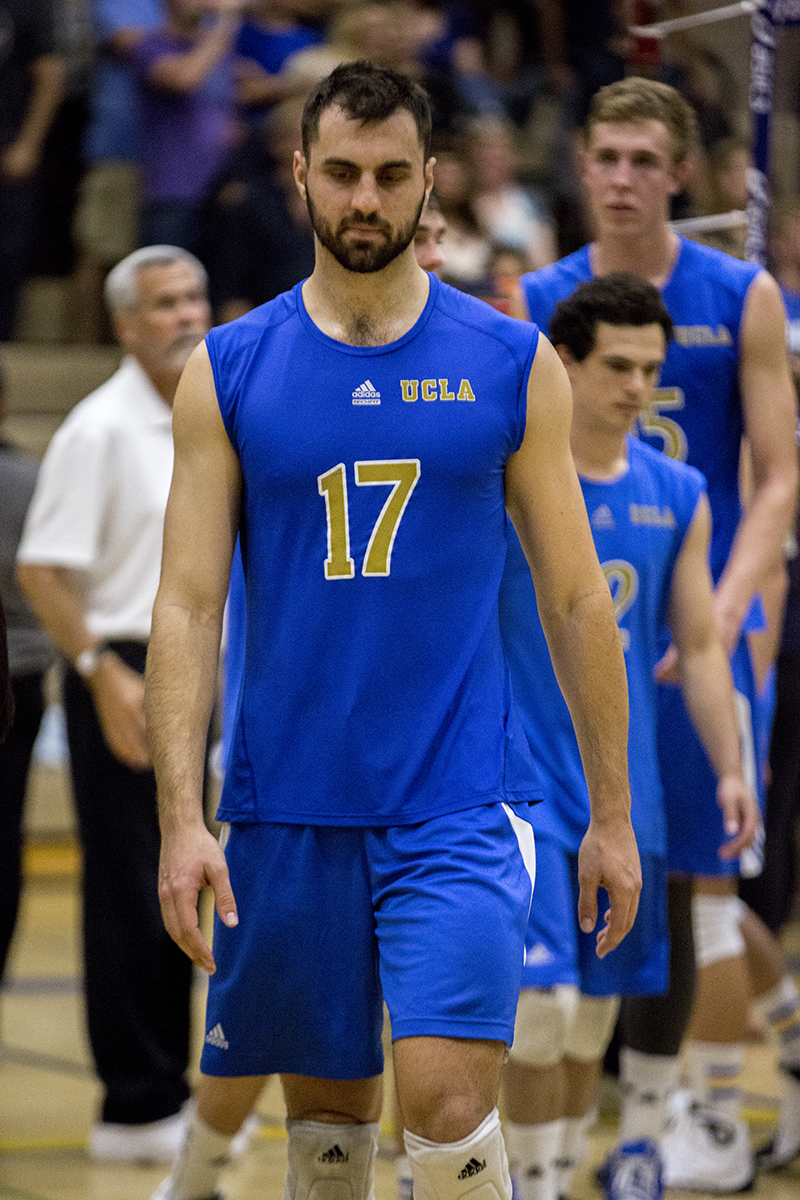 Senior middle blocker Spencer Rowe and the Bruins' season ended in a close loss Saturday.
(Jose Ubeda/Daily Bruin)
April 21, 2014 12:56 a.m.
SANTA BARBARA, Calif.—In the end, coach John Speraw only had one regret. The Bruins had finally found the right lineup after a season plagued by a multitude of injuries. Unfortunately for UCLA, it was a little too late.
"We had such a challenging year and we were playing good volleyball at the end, but what I told the team in the locker room is that we ran out of time," Speraw said. "I might regret not getting to this lineup earlier. … We couldn't go through enough experiences with this lineup to grow from them."
The new lineup was based around moving senior middle blocker Spencer Rowe to opposite hitter and freshman outside hitter Jackson Bantle to libero. The changes helped UCLA win the last three games of the regular season to make the playoffs, but it wasn't enough on Saturday against a UC Santa Barbara team that twice came back from a one-set deficit to win in five in the Mountain Pacific Sports Federation quarterfinals.
"I thought we had them on the ropes there but we didn't finish them," Speraw said. "We played as hard as we could and we literally left it all out on the court, … we just got beat by a team that played better than us tonight and finished stronger than we did."
The turning point came with the Bruins up 14-7 in the fourth set. Winning the set would have given the Bruins the match, but the Gauchos never stopped coming.
"Their serving was relentless, they went on a few runs and when the pressure was on them, they were just ripping away, they didn't have a fear in the world," said senior outside hitter Robart Page. "The interesting part of that team is that none of them were superstar recruits, they just play well together and they ball out."
The match was littered with subplots and talking points. There was an epic rally that the Bruins (18-11, 15-9 MPSF) won at the end of the first set to stave off a Gaucho (18-8, 16-8) comeback. There was – unsurprisingly by the way the season had gone – an injury early in the second set that took sophomore middle blocker Trent Kersten out for the remainder of the match. There were a bevy of controversial points; coaches and players on both teams were taking turns appealing to the officials after a countless number of puzzling calls.
"There were a lot of bad calls tonight but they went both ways … we played through it and tried to move on but some of them were really big points," Page said. "At the end of the day, it happens. I don't want to blame the refs because I think we had an opportunity and we didn't finish ourselves, so that's not the refs' fault."
For a moment it looked like the Bruins were going to somehow pull off the win even after letting the fourth set slip away. But down 6-4 in the fifth, the Gauchos once again made a run behind some nasty serves.
The Bruins couldn't keep up. The season was over, as were the college careers of their seniors, most notably leaders Rowe, Page and outside hitter Gonzalo Quiroga. These players will be sorely missed, not just for their abilities on the court but also for their leadership and personality off of it.
In a testament to his character, Quiroga wasn't even thinking about his own future immediately following the match. He was more preoccupied with the future of the program he had been a part of for four years.
"There're a lot of young players on this team, a lot of good players coming in and a great coaching staff," Quiroga said. "Unfortunately, it wasn't enough this year, but I'm pretty sure in the next year or the year after they'll get a championship."
Ultimately there were too many obstacles to overcome this year, too many injuries to maneuver past. After a promising start and a heap of lofty expectations, fortune turned its back on the Bruins.
"I'm sorry we didn't win," Speraw said. "If we had gotten through this, we would've learned quite a bit and it would've helped us in the long run, but it just wasn't meant to be."
The loss will sting, perhaps for a while. And although Speraw might be left with a tiny regret, he has nothing to be sorry about.