Westwood Thai restaurant the result of family's journey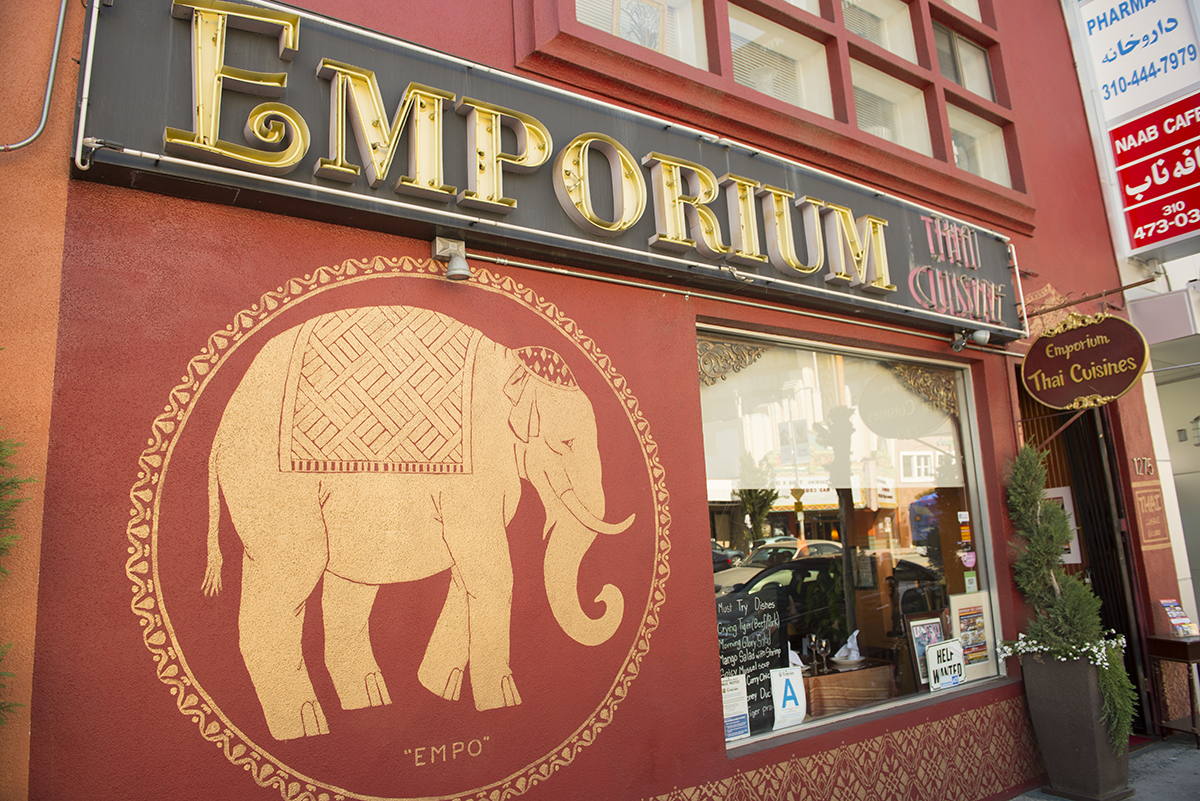 At the Emporium Thai Cuisine on Westwood Boulevard, siblings from the Sungkamee family cook up Southern Thai specialties. The restaurant is well-known for its one-to-10 spiciness rating scale. The Sungkamee family, which immigrated to America by chance, specializes in the food business.
(Evaneet Sidhu/Daily Bruin)
John Sungkamee struggled to adapt to his new surroundings when he first arrived in the U.S. from southern Thailand more than 20 years ago.
It was his start working in restaurants that taught him how to interact with customers and gave him insight into how the business operated, he said.
Now, Sungkamee is the owner of Westwood's Emporium Thai Cuisine, a family-run restaurant which he took over in in 2000. The restaurant specializes in southern Thai delicacies and is located on Westwood Boulevard, just south of Wilshire Boulevard. It is well-known for its spicy scale rating, which allows customers to customize the spice levels for their dishes on a scale from one to 10.
The Sungkamee family came from Thailand to America by chance.
Sungkamee's mother was among the small percentage of applicants to receive a green card through the Diversity Immigrant Visa Program which randomly provides green cards to eligible candidates.
The youngest of the family's 12 children, Sungkamee returned home from work and spotted a yellow envelope lying on the dining table.
But the contents were in English, a language that no one in the household could read at the time. A translator later informed them their mother had received the documentation she needed to go to America.
Sungkamee was the only one of his siblings who could immigrate to America at the time, because immigration laws only allowed children under the age of 21 to accompany their parents.
He was also the first in his family to pursue higher education and obtained a bachelor's degree and MBA. After he finished school, he worked full-time as a software engineer while managing Emporium Thai Cuisine on the side.
Eventually, eight of Sungkamee's 11 siblings immigrated to America – and all of them are involved in food-related businesses today.
His older brother, Sathraphong Sungkamee, the sous-chef at Emporium Thai Cuisine, said growing up in such a large family helped teach him how to cook.
"The 12 of us would stand in height order outside the house and people passing by would point and laugh at the size of our family," he said. "But being part of a big family played a role in all of learning how to cook. We had to cook for our younger brothers and sisters and cooking became a sort of family affair."
His father would throw large parties in Thailand and invite people to showcase their "special" recipes. This tradition became a kind of celebration of food and hospitality among the village community, Sathraphong Sungkamee said.
The executive chef and John Sungkamee's older sister, Rapeepun Sungkamee, said she cultivated her culinary talent by helping her parents in the kitchen.
"We just needed to step out of the house for ingredients," she said. "The pond in the back yard had fresh fish that we could just pull out at any time, and the garden had all the vegetables we needed."
She said she aims to replicate the freshness and authenticity of the dishes that she cooked as a child in Thailand when preparing them for customers.
Rapeepun Sungkamee is the only one of her siblings to attend culinary school and is the most passionate about cooking in her family, she said.
"Rapeepun is in kitchen until three or four in the morning and we have to pull her out of there sometimes," John Sungkamee said, laughing as he nodded in agreement.
Since he took over the restaurant almost 15 years ago, Emporium Thai Cuisine has also undergone financial difficulties.
"At one point I considered selling the business," said John Sungkamee. "But I couldn't. I wanted to keep the family together."
In 2012, Sungkamee decided to focus all his energies on the restaurant in an attempt to retain Emporium Thai Cuisine and began managing the restaurant full-time.
Incorporating suggestions of customers who frequented the restaurant, he decided to remodel the interiors and feels this decision gave the restaurant a new energy and helped it survive.
Sungkamee looks back, his eyes wandering around the restaurant as he glances at the candlelit walls behind him before smiling at his sister seated beside him.
"It's all finally coming together," he said.