UCLA alum, former NFL player Chris Kluwe talks social change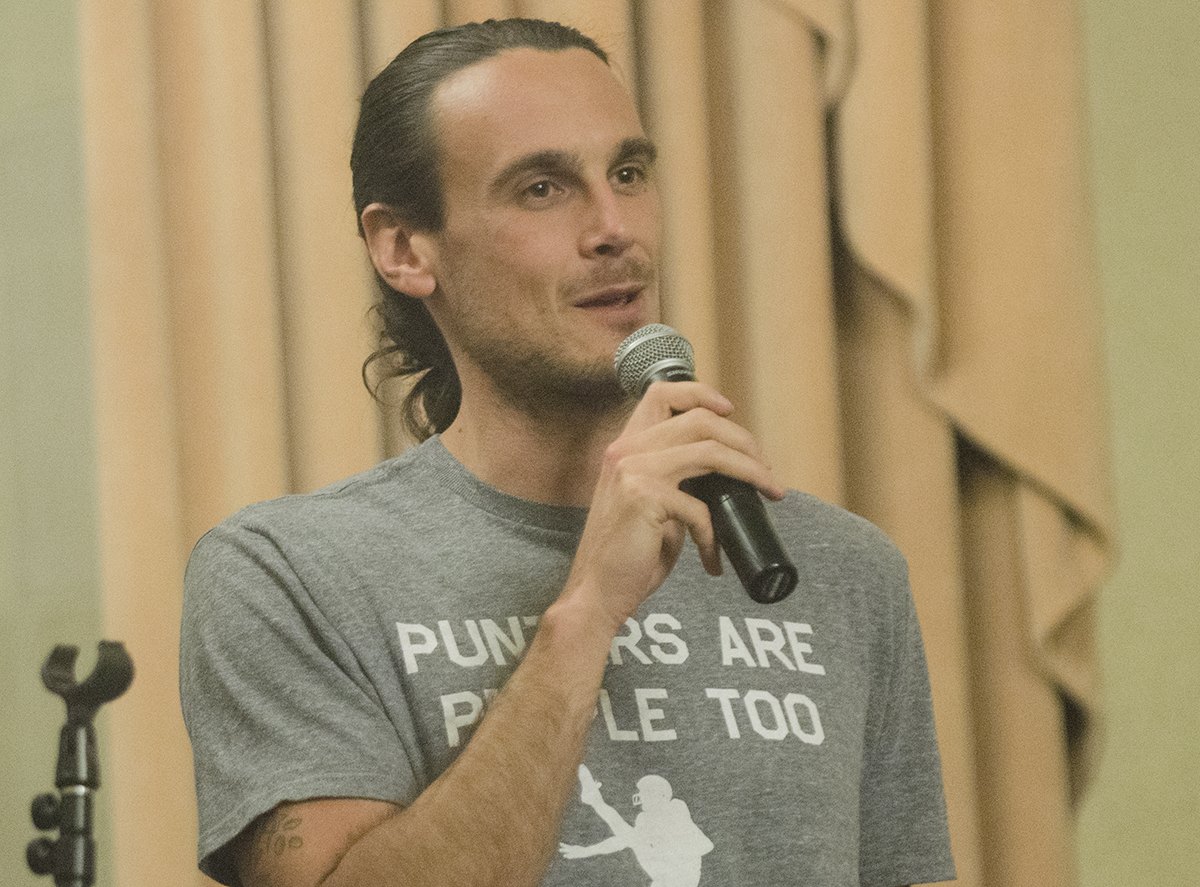 Former NFL player and UCLA alumnus Chris Kluwe spoke at an event on campus Wednesday.
(Neil Bedi/Daily Bruin senior staff)
For eight seasons in the NFL punter Chris Kluwe was a cult figure on the Minnesota Vikings.
The UCLA alumnus drew the attention of many fans through his participation in popular video games like World of Warcraft and League of Legends – all while juggling a demanding schedule of a professional football player.
In January of 2014, Kluwe once again found himself in the limelight, this time, as a former NFL player-turned activist.
Kluwe was released by the Vikings in May of 2013 and believed his axing had more to do with just being replaced by former UCLA punter Jeff Locke; he maintains that he was cut because he spoke out in support of gay rights – and publicized his thoughts in an article for Deadspin.com this past January.
It didn't take long before Kluwe addressed the elephant in the room when he spoke to the crowd of students in Kerckhoff Grand Salon on Wednesday night.
"I got my measure of notoriety for writing a letter that went slightly viral in which I defended the rights of gay people," he said in his opening statement.
After a brief introduction about his two published letters on Deadspin, Kluwe opened questions to the audience.
The topics he discussed included how he first got the idea of playing football after he discovered he could kick a soccer ball really far, to an anecdote of how he originally came to UCLA as a computer science major, but made a serendipitous switch to a political science and history double major.
The self-professed "nerd who happens to be good at football" also disclosed a list of video games he's currently engaged in, while also pointing out his ironic lack of affinity with sports games, and how his history of playing video games and subsequent trips to online video game message boards developed his comedic writing style.
As a former collegiate and professional athlete, the inevitable topic of the state of both industries also became one of the discussion points that members of the audience touched on.
The former punter brought forth his proposals to change the NCAA system, starting with the idea that student-athletes should have separate phases to their education – first, they would finish their years of playing eligibility before moving on to becoming full-time students.
Kluwe also proposed that student-athletes should gain a form of compensation via the NCAA's earnings in the form of a medical fund. The fund would mostly benefit the majority of student-athletes who realistically won't get the chance to play sports professionally, but still sacrifice their health and bodies for their schools and their sport. Kluwe also voiced his support for the recent unionizing of student-athletes at Northwestern University stating that it was a good first step.
"He referred to players as products a lot, I didn't really think about that perspective, so that's a good change of view," said fourth-year aerospace engineering student Raymond Chang.
One topic that seemed to leave a lasting impression on some students in attendance was the corporatization of the NFL.
"I think what he said about the NFL not being in a bubble was really interesting," said first-year economics student Graham Garratt. "How the NFL interacts with society and that how it's molded by how much money goes into the NFL."
The former NFL player brought the issue up on several occasions, each time relating it to a recent controversy surrounding the league.
Kluwe pointed out his belief that Washington Redskins owner Dan Snyder's resistance to giving his team a less offensive name was motivated by the potential costs he would have to incur as a result of reprinting jerseys, redoing advertisements and changing signs in stadiums.
He also addressed the controversial proposed NFL rule change that if passed, would incur a 15-yard penalty on the team of a player who utters a racial slur during games. Kluwe pointed out the hypocrisy of the NFL using the side of social justice to veil the league's ambition to mic every player as a form of additional revenue and how inappropriate words could deter its implementation due to issues with the Federal Communications Commission.
"It's great from a societal standpoint, but the NFL's bottom line is always going to be about profits," Kluwe said.
Kluwe also said the recent emphasis of money and pleasing a larger base of fans has stymied opportunities for athletes to express controversial viewpoints, much like the events that he believes led to his firing, citing that athletics used to be an impetus for social change before the monetization of the sports world.
But despite resistance from the powers that be, Kluwe maintained optimism for the side of social justice. He believes that he was only one of several athletes to speak out against bigotry, and the number of athlete allies who follow suit can only increase with the advent of social media.
"As Martin Luther King Jr. said, the arc of history is slow, but gradually bends towards justice," Kluwe said. "We'll get there eventually."