Jon Huntsman, former ambassador to China, speaks at UCLA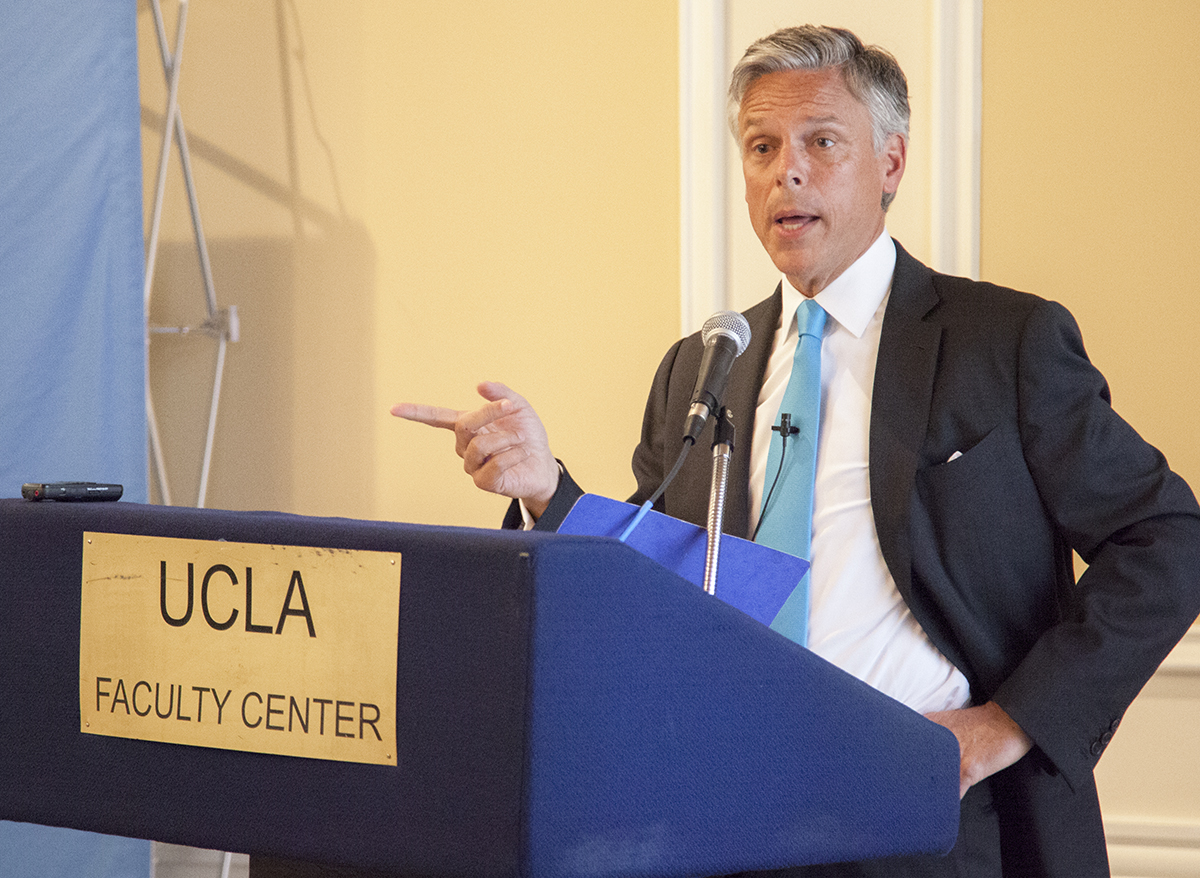 Former Utah Governor Jon Huntsman Jr., who also served as an ambassador to China, stressed the importance of a cooperative relationship between China and the U.S.
(Dang-Co Vu/Daily Bruin)
Former Utah Governor Jon Huntsman Jr. urged UCLA students Wednesday night to become more involved in the American political process and to not let the U.S. government's partisanship disillusion them.

"This country does not have problems it cannot fix. But we have had human failure," Huntsman said.

The former ambassador to China and 2012 Republican presidential hopeful was chosen to deliver Wednesday's Burkle Center for International Relations' annual Bernard Brodie Distinguished Lecture on the Conditions of Peace.
Huntsman's lecture, "U.S.-China Relations, Challenges and Opportunities," was focused on a discussion about the current political state of the U.S. and China.
Huntsman, who was born in California, outlined five specific issues he hopes members of the millennial generation will address in their lifetimes: to get the American populace more involved in politics, enforce campaign spending limits, redistrict counties, consider term limits for Congress and focus on public policy reform.
"The apathy among young voters scares me. You have to engage, participate and be a team player," Huntsman told the audience. "We get policies from people who run. If you chose not to run, then who is going to do it if not you?"
For the second half of the lecture, Huntsman focused on the efforts the current Chinese President Xi Jinping has made to smooth China's transition into a superpower.
Huntsman said he believes Jinping acknowledges that China's main issues, such as dealing with debt and transitioning into a consumption economy, must be resolved in order to prevent a collapse of the Communist Party of China.
"He brings with him a different orientation that we haven't seen before in Chinese leaders and he surrounds himself with like-minded people," Huntsman said.

Huntsman did acknowledge that a joint effort between the U.S. and China will be necessary in order to determine how the global power structure will shift as China's relevance continues to rise.
"We know the rise is occurring, but we don't know how it ends," Huntsman said. "How it ends will have implications for the next century."
Huntsman predicted that the U.S.-China rivalry could end in either a peaceful balance of power or with instability, bloodshed and chaos.
Huntsman spent considerable time working and living in Asia as the U.S. ambassador to China and Singapore, deputy assistant secretary of commerce for Asia and deputy U.S. trade representative.
"He has lived and traveled internationally so he really understands the implications of peace and what is needed to achieve it," said Alexandra Lieben, deputy director of the Burkle Center for International Relations who helped coordinate the event. "He is not only just talking about what should happen but has also practiced it successfully."
During his tenure as the ambassador to China from 2009 to 2011, Huntsman's main focus was building trust between the two superpowers that find themselves frequently at odds, Huntsman said in an interview with the Daily Bruin.
"The U.S. and China relationship finds itself lacking trust," Huntsman said in the interview. "We need to be able to work together on issues like health, technology and climate change. And right now we are barely scratching the surface."
There has been some talk about him potentially running for the 2016 presidential election.
Julie Chiu, who works in the UCLA Alumni Association and attended the lecture, said she would vote for him in 2016.
"I lived in China during his ambassadorship so he was very relevant to my experience," Chiu said. "He represented the country really well and he is much more knowledgeable than the most recent ambassadors."
When asked if he would consider a bid for the 2016 presidential election, Huntsman said with a smile, "You can never say never in politics."