GSA elections' turnout reaches all-time high since 2009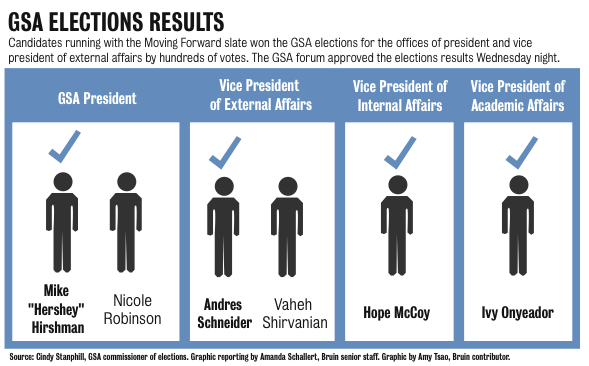 Candidates from the Moving Forward slate swept the two officer seats they contested in this year's unusually competitive graduate student government elections.
Mike "Hershey" Hirshman, a UCLA Anderson School of Management student, was elected GSA president with a 963-510 vote.
"Overall, I think we had strong turnout, which indicates that our community was involved in these elections," Hirshman said. "I think that it's going to be a busy year – we have a lot to work on."
Hirshman said that one issue he plans to focus on is increasing the pay for teachers' assistants so that they are fairly compensated for the amount of work they do. He also wants to increase social and professional interaction between the different graduate schools.
Hirshman ran against Nicole Robinson, the current GSA president and a member of the Diversity in Action slate, who has been involved with GSA for multiple years.
"I've been in this organization for a long time. I've worn a lot of different hats," Robinson said. "I'm already committed to a few committees next year. … Losing elections is not going to get rid of me."
Andrés Schneider, a member of the Moving Forward slate and a former GSA discretionary funding director, won the office of vice president of external affairs against philosophy graduate student Vaheh Shirvanian by hundreds of votes.
Graduate Students Association forum members unanimously approved the results at their meeting Wednesday night. The polls closed Monday at noon.
Graduate student voter turnout also increased to 13 percent this year. The last time voter turnout reached 13 percent was the 2009 elections. Since then, the number of eligible graduate students has fluctuated each year, at one point dropping to about 5 percent in 2011.
The other two GSA officer positions won by members of the Diversity in Action slate.
Hope McCoy, the current GSA vice president of external affairs, and Ivy Onyeador, a psychology graduate student, both ran uncontested. McCoy will serve as the vice president of internal affairs next year and Onyeador is set to be the next vice president of academic affairs.
At the GSA meeting Wednesday, Elections Commissioner Cindy Stanphill presented several Elections Board suggestions for updates to the GSA Elections Code.
Namely, the Elections Board recommended that the codes should be more specific about the allowed uses of electronic communications and that the elections commissioner should be able to take action on formally filed complaints during the elections period, Stanphil said.
Right now, the GSA codes prohibit the Elections Board giving penalties or responding to complaints while polls are still open, so code violations can go unchecked while the elections are happening.
Stanphill said the Elections Board's suggestions reflect concerns members had noticed prior to the elections, but did not have sufficient time to address.
During the elections, a law student filed a complaint against Robinson, saying that she had violated the GSA Elections Codes by sending out an email with the Bruin's endorsement of her in it. Robinson said she thought the complaint was part of a negative campaign against her.
"I think that it was not in the spirit of GSA (nor) in the spirit of fair elections that a strong campaign was developed against me," she said.
She thinks the election codes should be modified to address smear campaigns.
After expressing some confusion over how to interpret the codes Tuesday, the GSA Elections Board decided that Robinson had violated the codes, but did not give her any penalty.
The new GSA officers are set to be sworn into office during the week nine forum meeting. At that time, the forum may also vote on other potential changes to the elections code, such as decreasing the signatures required for candidates to run for office.