UC's Lick Observatory might soon shut down operations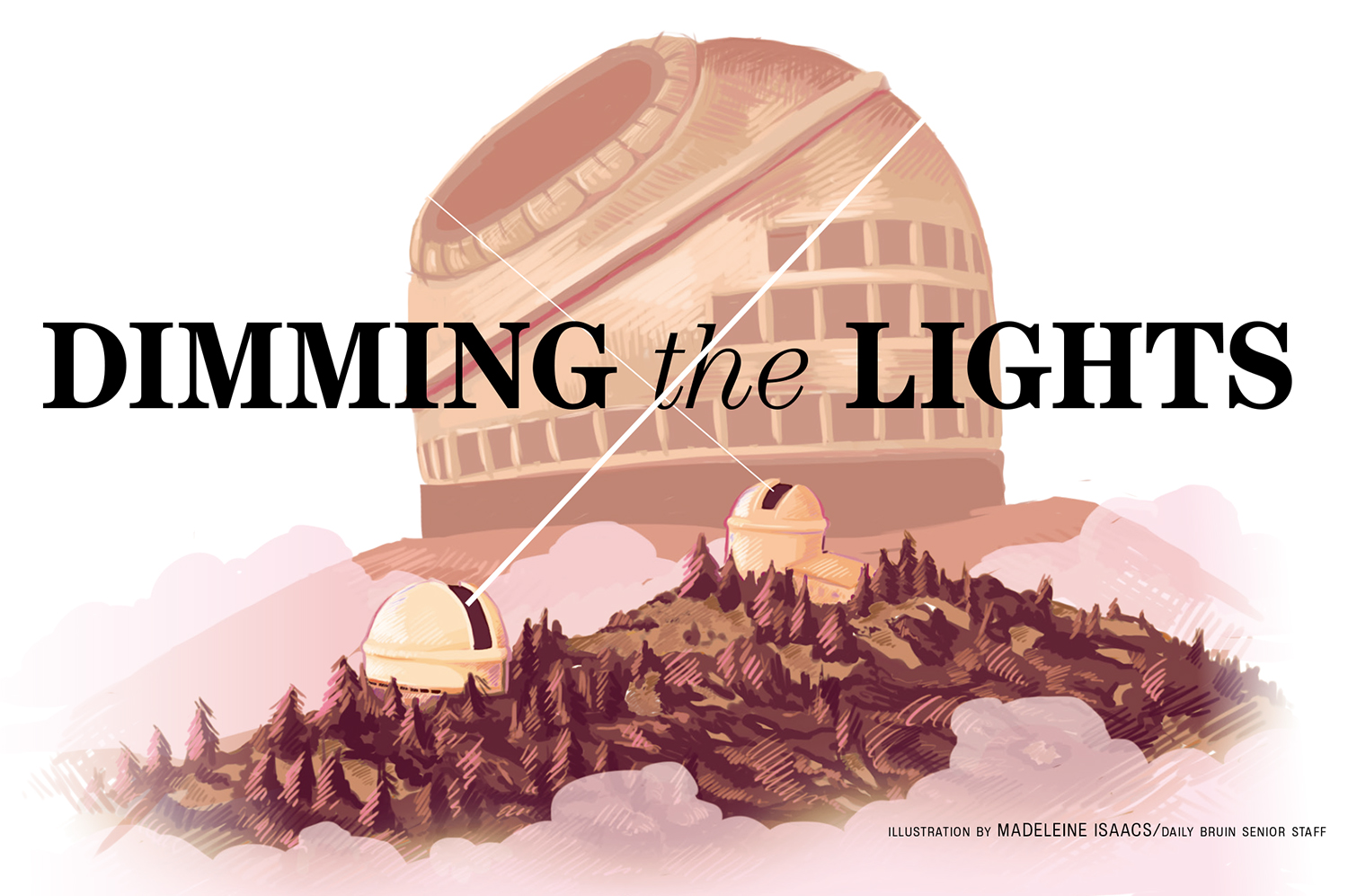 April 15, 2014 12:52 a.m.
Drive about 20 miles east of San Jose, Calif., wind through the isolated foothills until you reach the University of California's Lick Observatory on Mt. Hamilton.
The once bustling mountain center is now noticeably empty, with only a handful of scientists and administrators scattered across the property.
The community on the mountain has shrunk as a result of UC budget decreases and now faces a total loss of UC financial support starting in 2018. In the event that not enough funding is found elsewhere to continue to operate the observatory, the telescope domes may only have each other for company.
***
Lick Observatory opened for operation in 1888, two decades after the UC's founding. The University's first observatory was funded by a donation from James Lick, a wealthy real estate owner in San Francisco. Lick's telescope was the most powerful in the world when it was built.
Fifteen full-time staffers currently live on the mountain and keep the facility running, including supporting astronomers, technicians, mechanics, an administrator and one visitor center and gift shop cashier. They work every day that weather allows except for Christmas Eve and Christmas Day.
There are nine telescopes on Mt. Hamilton, five of which are used for research. Two are retired and two are only used for educational purposes, said Elinor Gates, support astronomer at Lick.
The newest telescope is the Automated Planet Finder, commissioned in 2012 to find planets around stars. The Katzman Automatic Imaging Telescope, painted in bright UC Berkeley colors, identifies supernovae and in the past has contributed to Nobel Prize-winning research.
Lick Observatory was also the first facility to measure the distance from Earth to the moon.
"We're good at firsts here," Gates said.
***
A tour around the Lick facility reveals a pattern of tangible changes resulting from multiple funding cuts in recent years.
Lick's Crocker Dome, which once housed a prototype for the Kepler space telescope, now sits empty and is available for lease, Gates said.
A patrol car parked along the road to the observatory is rarely driven. The officer who once patrolled the area was recalled by UC Santa Cruz because officials deemed it an unnecessary cost, Gates said.
Gates added that, because more researchers are viewing results from their telescopes over the Internet, fewer astronomers visit the mountain. As a result, full-time cooks were no longer cost-effective, and now the dining hall is only used when staff decide to cook their meals there.
The Lick community was especially affected when the one-room K-8 schoolhouse closed about eight years ago. Gates said the nearby Alum Rock Union Elementary School District decided the schoolhouse teacher would be better utilized directing a full classroom of students in town rather than the 10 students on the mountain.
"It really sort of destroyed the community when they closed the school," Gates said.
Over the past three years, staff levels at Mt. Hamilton have been reduced by 30 percent, said Kostas Chloros, superintendent at Lick. Even now, with 15 full-time staffers, the crew is short three positions, including the job of telescope mechanic.
It is hard for Chloros to hire people to fill these positions. Because it is uncertain whether new employees will meet the five-year requirement to secure employee benefits, not many people have said they want to work at Lick.
A telescope technician/mechanic hired late last year quit within two months, Chloros said. He added that the former worker's main concern was uncertainty regarding his security as a UC employee.
***
The UC Office of the President said last year it does not plan to provide any systemwide funds for Lick Observatory after 2018.
The UC is currently paying $1.3 million a year to support Lick Observatory through the 2016 fiscal year, said Sandra Faber, interim director of UC Observatories, an umbrella body that manages systemwide research and funds for astronomy.
For five years, the UC has not increased Lick Observatory's budget at the recommendation of several reports, including one from the UC Observatories Board.
The UC Observatories Board told the UC Office of the President that alternative revenue for Lick would allow the University to concentrate resources on newer facilities, said University spokesman Steve Montiel. These include the W. M. Keck Observatory in Hawaii as well as a new $1.2 billion plan to build a new Thirty Meter Telescope.
The question of how Lick should be funded in the future is a topic of debate in the astronomy community, andis emblematic of larger changes toastronomy research at the UC.
"Not every one agrees. There will be controversy," said Steven Beckwith, UC vice president for research and graduate studies. "I believe our job is to make sure that any decisions are as broadly informed by the people involved."
Recent declines in state funding and shrinking federal funding from organizations like NASA and the National Science Foundation have contributed to the strain on the UC budget for astronomy research, said Robert Kibrick, retired research astronomer at the UC Observatories and member of the Lick Observatory Council.
"There is a horrible budget problem now (at UC Observatories) going forward," Faber said.
***
The Office of the President is conducting a study to evaluate how best to repurpose and fund Lick in the future.
"(The UC's goal is) that the (observatory's) historic value be maintained," Montiel said. "(And) that there be continued educational and research opportunities available to the UC astronomy and astrophysics community and that the public outreach capabilities be improved."
But some argue Lick should continue to be a facility for UC research.
The financial uncertainty spurred the formation of the Lick Observatory Council, which oversees the fundraising group Friends of Lick Observatory, said Alexei Filippenko, a professor at UC Berkeley who worked with the observatory.
But the search for alternative funding has been complicated by several factors.
"A lot of us have technology background, but none of us are professional fundraisers," Kibrick said.
He added that the council is reaching out to other entities, like the Tech Museum of Innovation in San Jose, research institutions and individuals in Silicon Valley who might be interested in buying observing time.
But without the promise of matching funds from the UC, potential partners and donors may not be interested in Lick as a viable and stable place to do research, Kibrick said. He added that matching funds are typical expectations for most research investments.
One current donor recently decided to significantly decrease planned posthumous donations to Lick because of uncertainty about whether the observatory would still be operational when it receives the money, Kibrick said.
Also, if another organization interested in using Lick for its own research takes over the observatory, there is no guarantee that UC faculty and students would still be able to use it, Chloros said.
Sixty percent of principal investigators at Lick are graduate students and post-doctoral researchers, Faber said. But only faculty are allowed to apply for time at other telescopes, she added.
Geoffrey Marcy, a professor of astronomy at UC Berkeley, said that if Lick becomes unavailable to UC graduate students, they could learn just as well at Keck Observatory, a newer UC-owned facility, by participating in projects their advisers apply for.
But that still does not mean Lick Observatory has no chances of staying open, Marcy said.
"We're going to do whatever it takes, that's for sure, to keep it open," Marcy said. "I still feel an obligation to make sure that we are prioritizing properly and moving on."
Contributing reports by Emily Liu, Bruin contributor.