LA Hacks gathers about 1,300 participants at UCLA for hackathon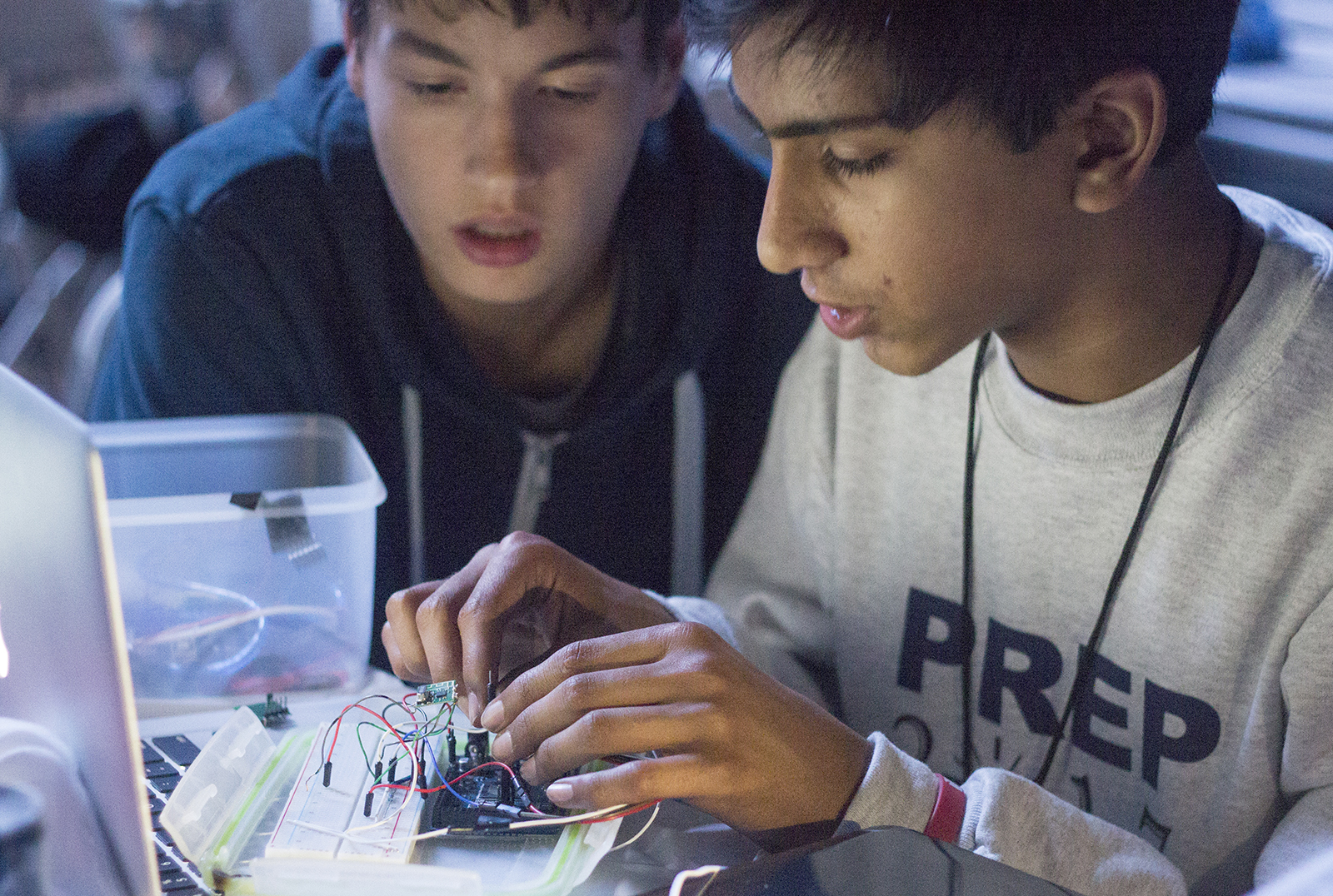 Fourteen-year-old Ankur Jain works on his project during LA Hacks. (Felicia Ramirez/Daily Bruin staff)
Aspiring web producers and app developers exclaimed as they held their smartphones up to capture the impressive scene of having more than a thousand hackers gathered in one space to spend the next 36 hours innovating and developing new ideas together.
About 1,300 people from across the country convened at Pauley Pavilion last weekend for the second annual LA Hacks – a hackathon which began at UCLA and is the largest hackathon ever held in the United States.
A hackathon is an event where computer programmers or those in related fields collaborate exclusively on creating software or hardware over a short period of time.
This year's hackathon had about 275 teams that competed for the winning prize of $5,000 sponsored by Tinder, a dating app company.
A team of three undergraduates from University of Maryland won first place with a platform that detects the user's movement and allows the user to move within a virtual reality.
The team had worked on virtual reality projects at previous hackathons, and one of the members, Shariq Hasine, a third-year electrical engineering and computer science student, said he has been to about 20 hackathons.
"I think we had (about) 50 percent done two hours before the time ended, so we had the (other) half done in two hours," Hasine said.
The team plans to continue investing in virtual reality devices because they believe in the industry's potential even though there are very few people working on it.
LA Hacks was organized by Bruin Entrepreneurs and Sigma Eta Pi, an entrepreneurship fraternity. More than 50 information technology companies funded the event with about $250,000, and awarded up to $1,000 cash prizes and shares of their companies to distinguished projects.
Career talks and question and answer panels from sponsors including Microsoft and Cisco were interspersed throughout the event.
Evan Spiegel, the founder of Snapchat and the keynote speaker at the opening ceremony, shared his keys to success and advised the young programmers to build thoughtfully with respect for individualism and privacy.
"Privacy is the understanding of context – not what you said, but where you said (it) and to whom," Spiegel said.
Companies sponsor hackathons for various reasons, such as recruiting and branding, but most importantly, they are aligned with the vision to contribute to building the community of developers and creating a movement, said Tomer Kagan, CEO and co-founder of Quixey, a search engine for apps.
"When you are in classes, you are in your own world. Here, you meet the community," Kagan said.
Hadar Dor, the founder of LA Hacks and a fourth-year cognitive science student, also emphasized the importance of building a community of talents and said that those living a hackathon lifestyle often participate in hackathons and regularly keep in touch with programmers they have met.
"Ninety-nine percent of the reason for joining a hackathon is to make new friends," Dor said.
He added that he hopes to make UCLA one of the first institutions that comes to mind for future programmers and engineers. LA Hack's mission is to contribute to this goal, he said.
Previous knowledge in coding is not necessary when it comes to joining a hackathon, unless the team wants to place among the top, Dor said.
Alongside the experienced hackers, beginners participated in HackCamp where professionals provided mentorship to teams that have set an attainable goal for themselves over the weekend.
Having taught herself basic coding, second-year business economics student Maddie Kurtz, said she planed to spend her time at HackCamp learning how to create a website.
As an ASK peer counselor at the university, Kurtz said she will continue programming even after HackCamp to build a smartphone application that provides real-time updates of counseling appointments.
Experienced developers built projects with ideas to introduce something new or to make changes to a software to improve the user experience.
Ashvin Vinodh, a first-year electrical engineering student, created a Google Chrome extension called Obsecurity that allows the user to hide websites they have visited from their history.
"I wanted to do something along private browsing, which is a big issue these days," Vinodh said.
He said that the value of Obsecurity is that it allows users to customize their data history and protect their data from being lost.
"Shit Happens" from Foothill College created an app that keeps track of the user's health by analyzing the information from their excrement. The user records their excrement data by rating the hardness and responding to questions, such as "Does it smell bad?"
A video chat application that uses real-time language translation from voice to text won third place. Another project was a camera app that places Nicholas Cage's face on top of the user's face on the display screen.
Despite the team's efforts and major sponsorships, not everyone was content with the experience.
Lisa Zhang, a first-year computer science student at Northern Arizona University, took a nine-hour bus ride to L.A. in hopes of learning how to code and networking with programmers.
LA Hacks being her first hackathon experience, she said there were downsides of attending a large hackathon.
"Everything is running late. It seems like (organizers) are having a hard time occupying (everyone)," Zhang said.
Pauley Pavilion's Wi-Fi crashed several times over the first few hours because of the large traffic volume.
As the main sponsor of LA Hacks, Kagan said the problem could have been prevented with external help on facility management.
Sam Altman, the president of Y Combinator, stirred up the startup fever among the participants in his closing keynote speech.
"The world is basically split between people (who) build things and people (who) don't," Altman said.
He advised college students to seek talented co-founders around them and start their own company to change the world with their ideas.