UCLA men's volleyball sweeps Cal Baptist, set for season finale with BYU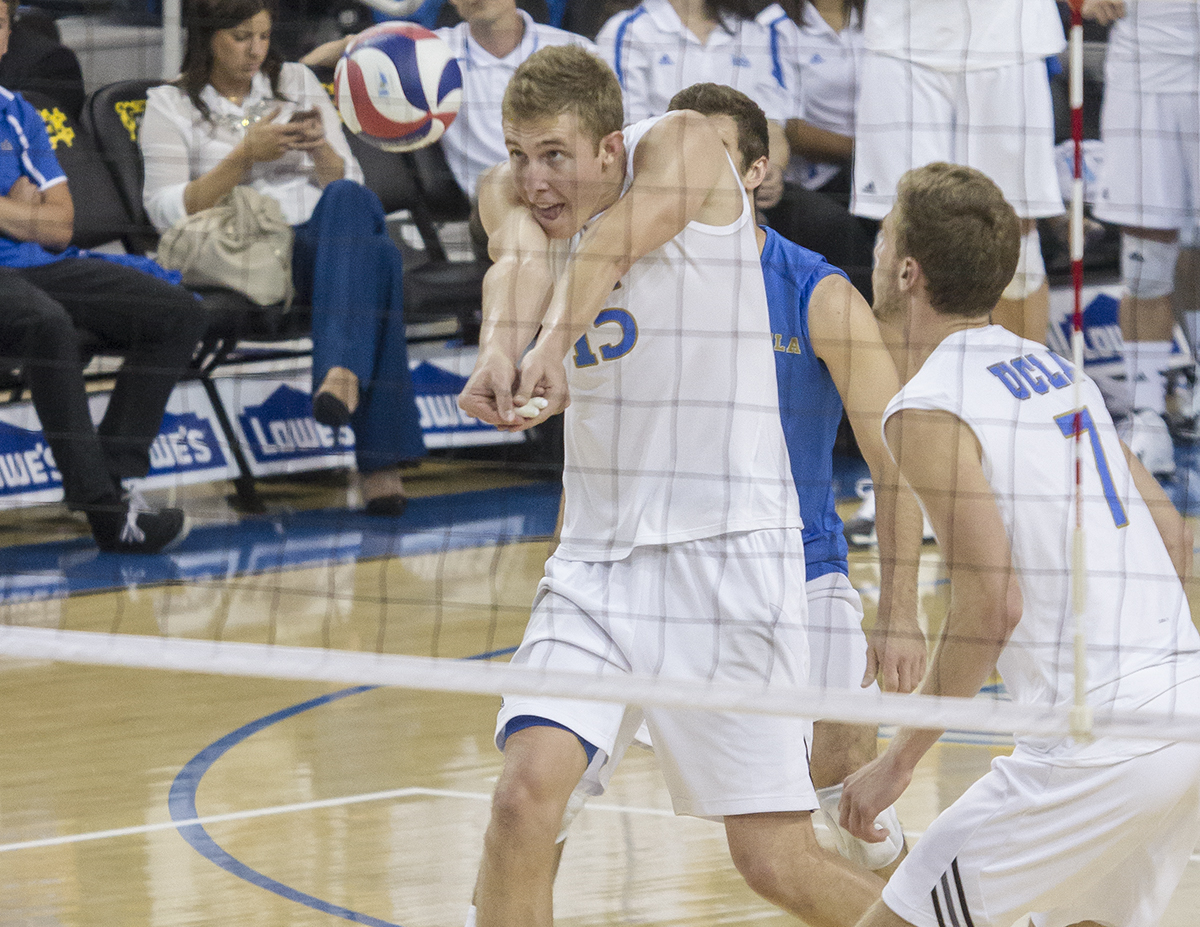 Senior outside hitter Robart Page (left), freshman middle blocker Mitch Stahl (right) and the Bruins are tied for sixth in the conference standings after Thursday night's win against Cal Baptist. (Nathan Vanderveer-Harris/Daily Bruin)
The win was comfortable, straightforward and relatively simple for the Bruins. The same cannot yet be said about their playoff position.
Two wins in their last two games – it was the only way the UCLA men's volleyball team could assure itself a spot in the postseason conference tournament. After sweeping Cal Baptist on Thursday night, the first part of the puzzle is complete.
"We had to go into this match like it's a playoff game, because for us it really was," said coach John Speraw. "We've gone through a ton this season, just a lot of ups and downs … but we're playing maybe the best volleyball of the season, which is what you hope for at this time of year."
After months of working around injuries and trying to fill the holes by moving players from one position to another, the Bruins may have found their best lineup at just the right time. Speraw hasn't been shy about making bold lineup adjustments all year. His latest big change – moving freshman outside hitter Jackson Bantle to libero – looks to be paying huge dividends.
"I've really been impressed with what Jackson has done at that position, he's excelled there and given us a nice defensive presence," Speraw said. "We're missing a serve, but we're making up for it with some great play on his end with defensive passing … he can read the game well, he just gets in the right spots and makes great digs."
By no means was it an obvious move to make. For one, freshman Hagen Smith had held his own at the position leading up to the change. What made the move even more surprising was Bantle's prior experience at the position: none.
"I'd never played libero before, I just kind of got thrown in there," Bantle said. "I had been digging and passing the ball pretty well this year, so I guess (Speraw) decided to try it out against Long Beach. … We won that match so it kind of carried over, and now we won this match."
The win keeps UCLA tied for sixth in the Mountain Pacific Sports Federation, where eight teams make the playoffs. If the Bruins lose their last game of the season Saturday against the BYU Cougars, their playoff hopes could be decided by a series of tiebreaker combinations that do not appear to be in their favor. A win would put the Bruins in, but their seeding would still depend on the outcomes of a variety of other matches. From Speraw's standpoint, seeding means next to nothing. All that matters is getting into the tournament.
"I don't think anyone has a preference, I just want the opportunity to roll that ball out in the first-round game," Speraw said. "We're not in a position where we can choose what our destiny is; we'll take who we can get."
If the Bruins do earn a place in the tournament, there's decent chance they could end up playing BYU – their opponent in the regular-season finale. Win or lose, the match will probably be the last home game for current Bruin seniors, including Gonzalo Quiroga, Spencer Rowe and Robart Page.
"It's crazy, time flies but it's been a good four years here," Page said. "I'm hoping to get one last good battle here at the Wooden Center … the conference is so close, if we win who knows, we might get another chance to play here down the road."