UCLA student hopes to use law and business degrees to fight poverty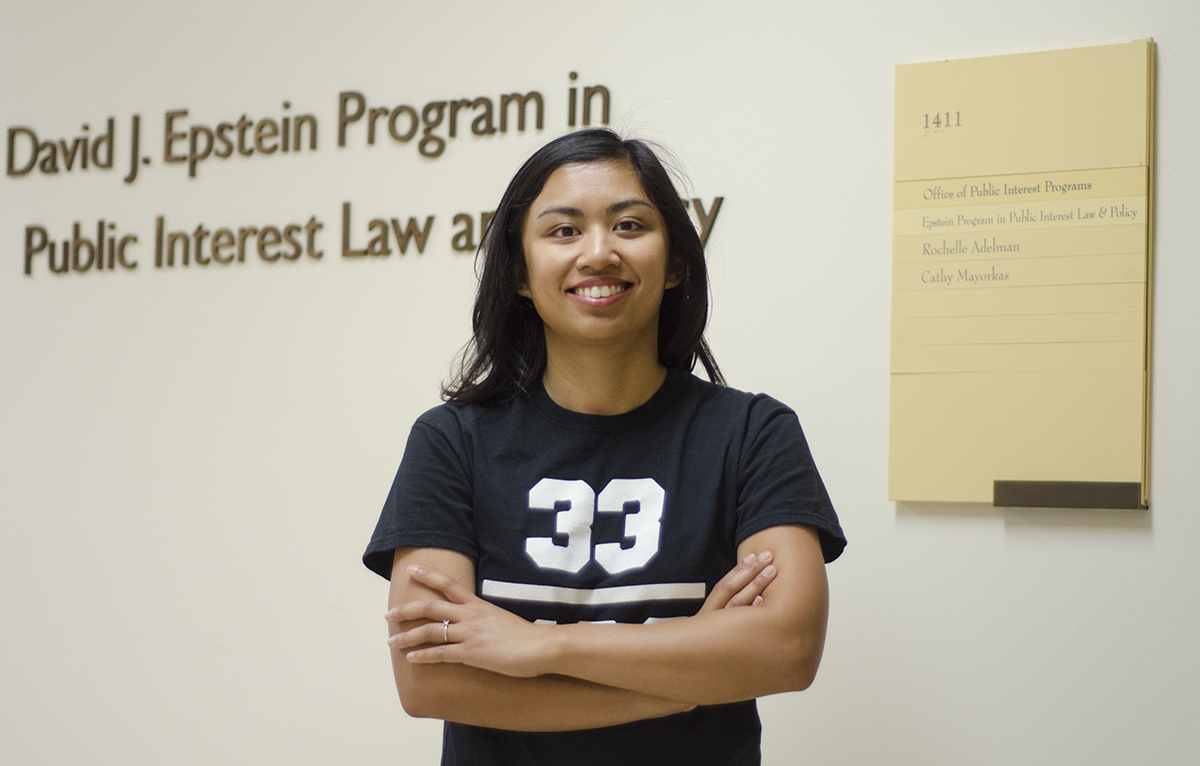 Jassmin Poyaoan, a student at the UCLA School of Law, was one of 30 recipients of the Paul and Daisy Soros Fellowship for New Americans for 2014. She was selected out of 1,200 candidates.
(Sidhaant Shah/Daily Bruin senior staff)
Eleven-year-old Jassmin Poyaoan knew something was wrong when she came home from school and saw her family sitting in the living room in silence, with morose looks on their faces.
She later found out her mother had suffered a brain aneurysm and died.

Overnight,
the stable world that her parents carefully constructed for her and her
siblings when they immigrated to America from the Philippines, disintegrated.

Now, 14 years later, Poyaoan is a member of both the UCLA School of Law's David J. Epstein Program in Public Interest Law and Policy and the Critical Race Studies program. She is one of the 30 students – chosen from more than 1,200 candidates – to receive the Paul and Daisy Soros Fellowship for New Americans for 2014 in late March.
Each year, the fellowship provides a scholarship to 30 permanent residents, naturalized citizens born abroad and children of naturalized citizens who exhibit creativity and initiative taking into consideration the difficulties the applicant faced based on personal immigration history.
Poyaoan said her struggles after her mother's death fueled her desire to help people. She has served with JusticeCorps, an organization that helps self represented litigants from low economic backgrounds, and wants to continue to help marginalized communities in the future.

Every member in Poyaoan's family was reeling from the loss of her mother, but her father's grief overcame his children's.
He developed a gambling addiction and subsequently squandered most of the family's money.
After returning from school one day about a year after her mother's death, she opened the door to an empty refrigerator. She proceeded to frantically rummage around her house for dollar bills to buy food but found none.
"At one point, I collected every single penny in the house and went to a nearby store to buy some food," Poyaoan said, her voice wavering slightly. "But the store owner refused to accept money as he knew we were in trouble. I realized then that something was wrong."
In desperation, Poyaoan, who was 12 years old at the time, sought external help for her father.
"I remember googling Alcoholics Anonymous and just any organization that helped with addictions," she said. "I knew they weren't related to gambling, but I realized my father needed immediate help."
The family needed a change in scenery, and Poyaoan knew it couldn't stay in America – it couldn't afford to.

They moved in with her grandmother in the Philippines, who supported them financially. Poyaoan, at 14, took over the family finances in an attempt to return to America.
Although they returned to the Philippines in poverty, Poyaoan said that moving back changed her outlook about certain freedoms she had in America.
She became more appreciative of the opportunities she had in the U.S. for education. Most of her classmates in the Philippines did not get the chance to pursue their goals of higher education because they could not afford it.
"They were just as talented as anybody else but too poor to follow their dreams," she said. "At this moment, I stopped feeling sorry for my own situation."
After spending three years in the Philippines, Poyaoan was determined to return to America so she and her sister could go to college.
"My mother always told me, 'The one thing a person can't take away from you is your education,'" Poyaoan said.
Keeping her mother's words in mind, Poyaoan returned to the U.S. when she was 17 with her grandmother's help and began attending Chabot College in Northern California in 2008.
She also attained legal custody of her then 10-year-old sister, Jeannel, while their father stayed in the Philippines.
Poyaoan said her sister has been her primary support system and always encouraged her to attend college. She is now a student at San Francisco State University.
"Jassmin has filled the role of a mother figure to me," Poyaoan said. "I remember my sister telling me that everything was going to be OK when I didn't understand that our mother had died and where our father was. If it wasn't for her, I would have probably ended up in foster care."
Jassmin Poyaoan said she developed a passion for debate and speech at Chabot College.
Poyaoan said she enjoys advocating for a side and understanding the discrepancy between who has access to the law and who does not.
She said she had little help when she was trying to gain legal custody of her sister, and had to do her own research with regard to the legal procedures in America.
Poyaoan wants to help people from low socioeconomic backgrounds understand and gain access to the law, she said.
She has maintained close ties with members of her community in the Philippines since returning to America.
In the aftermath of Typhoon Ketsana, she assisted Oxfam America, an organization that assists low income communities affected by natural disasters, in passing the Farm Bill, which had specific provisions for funds to assist developing countries build their own solutions in addressing natural disasters caused by climate change, she said.
Poyaoan's next step is pursuing a MBA after completing law school. She said she wants to use what she learns to set up community-minded business models.
Poyaoan recently got engaged to be married and will graduate from law school next year.
Her fiance, Nickolas Johnson said Poyaoan is the strongest person he knows.
"She handled the position she was in so well and made the best of a bad situation," Johnson said.
Despite her initial difficulties, Poyaoan said she is content with her life now.

"I know it's been tough," she said. "But I wouldn't change anything."