Grand gesture inspired law lecturer to rent out home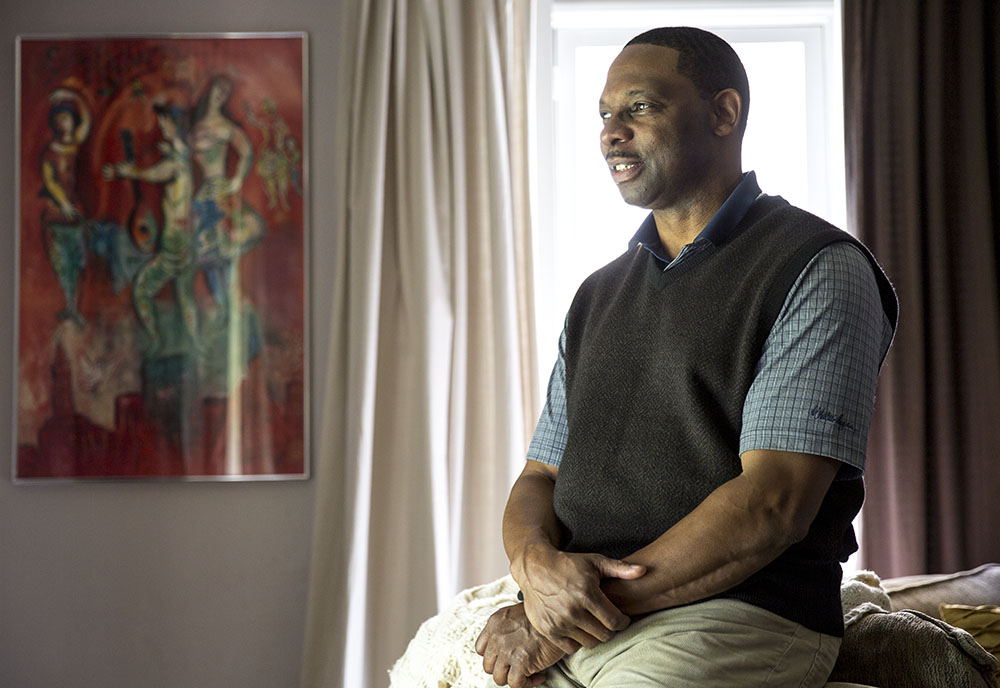 UCLA Law lecturer Tony Tolbert decided he was going to give his house to a homeless family for a year and move back in with his mother. (Austin Yu/Daily Bruin)
Growing up, Tony Tolbert would often see strangers around his dinner table.
Almost every evening, his father would bring somebody home. Often, it was someone whom he had just met that day, said his mother, Marie Tolbert.
"My husband was an attorney and it was (often) somebody that had come to him for help and that he knew didn't have a place to stay that night," she said.
They would stay for days, weeks – and once for two years – but the Tolberts never discussed their guests' difficult circumstances, she said. It didn't matter.
"If you see that almost every day of your life growing up, it has to have some impact on you," she added.
Tony Tolbert, now the associate director of admissions and outreach and a lecturer at the UCLA School of Law, said his father's values of generosity helped shape the way he lives his life.
In 2012, he decided that for one year he would rent his house to a homeless family for $1 a month and move back in with his mother.
But after the first family moved on, Tolbert stayed with his mother and invited another family to move into his house.
Tolbert worked with a documentary filmmaker to record his life and the lives of Felicia and her four children, who lived in his home last year. Felicia's last name is not included to protect her privacy.
Encouraged by his students, Tolbert has agreed to screen the movie, "12 months," at an event co-sponsored by Law Students in Balance and the David J. Epstein Program in Public Interest Law and Policy on Wednesday at 6:30 p.m.
***
Though his father's altruism undoubtedly influenced him, Tolbert said that he first got the idea to give up his house from an articlehe read in 2012 about a family in Atlanta.
"Truth be told, if I had never read about them – it wasn't going to happen … I wasn't going to wake up one day and say 'I'm going to give my house away,'" he said.
The article centered on a 14-year-old girl who managed to persuade her parents to sell their family's home, downsize to a place of half the size and give away about $800,000 of the proceeds.
Tolbert was deeply affected by the grand gesture.
"Literally, my heart started beating fast," he said. "I thought, 'That's too much, I'm not that brave.'"
A day or two passed, but he couldn't shake the story from his mind. "It just kept coming back to me," he said.
It wasn't long before Tolbert handed over his keys to a family from the Jenesee Center, an agency in South Los Angeles that provides emergency and transitional housing to women who have come from abusive relationships.
He left his house fully furnished for the family and moved in with his mother, who he hadn't lived with for more than 30 years.
To protect the privacy of the family,Tolbert did not tell his friends, colleagues or neighbors about the specifics. Instead, he said he simply told them he was moving to be closer to his mom.
As the new year approached, the first family moved out and Tolbert felt happy living with his mother.
Seeing this family's progress only made him want to continue helping homeless mothers get back on their feet.
Felicia and her children moved into Tolbert's house in December 2012.
They had been staying at a transitional shelter for women and children called Alexandria House for about 11 months after she suddenly hit economic hardship, said Judy Vaughan, founder and executive director of the shelter.
Tolbert said he clearlyremembers the day when he first met Felicia, just after they agreed that her family would move into his home.
She brought a letter for him that her children helped her compile.
"Words can't even explain how I feel about your kindness toward my family," Felicia wrote. "Who opens their arms out to strangers in this day and age? You have impacted my children's lives forever."
Her children echoed their mother's sentiments, thrilled to be able to live in their own space.
"This house is perfect as I finally get to have my OWN room and it's blue," said Felicia's 11-year-old daughter in the letter.
Tolbert's offer also allowed Felicia's 20-year-old son a chance to move back in with his mother and siblings, Vaughan said.
Tony and Marie Tolbert both remember the family's excitement when Felicia's oldest son arrived at the house on move-in day and greeted his mother and little brothers and sisters.
Felicia said in the letter she was overwhelmed with Tolbert's generosity.
"You sure you haven't been here before? You make me wonder … we never know when we are entertaining angels," she wrote at the end of the letter.
***
Tolbert's story has resonated with many people.
After the Los Angeles Times and CBS News caught word of what Tolbert was doing, he received hundreds of emails from people from as far away as England and Sweden.
On Feb. 19, Tolbert received an email from a lawyer in Illinois who had read his story and decided to follow suit by giving his house to a homeless family instead of selling it.
A third family is now living in Tolbert's house. Although he said he is considering giving it out to another family after, he is not yet sure. Though he is undoubtedly attached to his house, he said he feels he's gained more than he has had to give up. He continues to be inspired by the generosity of others, including his father, who died almost a year ago.
"We're not powerless," he said, as his voice cracked. "Sometimes we forget that we have an ability, on a personal level, to make a difference in someone else's life."