Men's volleyball nets much-needed win over Long Beach State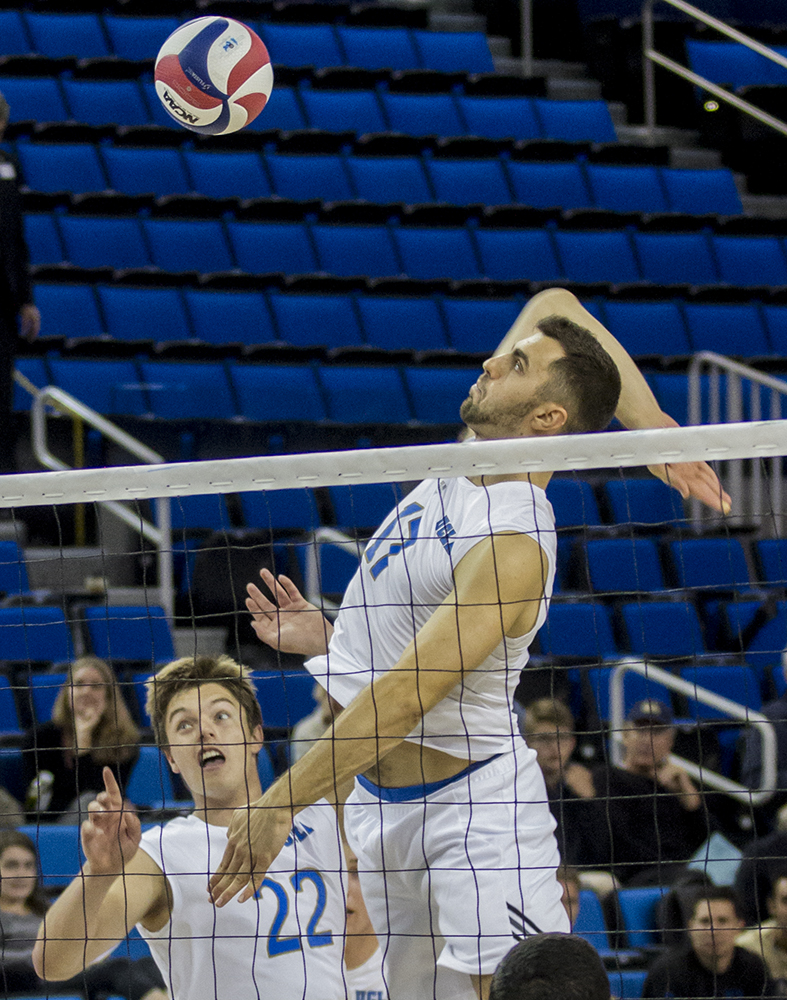 Senior middle blocker Spencer Rowe came up with the game-winning kill in a win over Long Beach State on his birthday Saturday. (Nathan Vanderveer-Harris/Daily Bruin)
All Spencer Rowe wanted for his birthday was a win.
Wins have come few and far between for UCLA men's volleyball lately, but on Saturday night the Bruins finally earned themselves a coveted match point. It was only fitting that Rowe would be the one to hit the final kill.
"Honestly, the best part about that last kill was that we had worked on that play a lot this past week," said Rowe, a senior middle blocker. "I think (senior outside hitter) Gonzalo (Quiroga) hit the ball into the block and our libero covered it up. (Sophomore setter) Steve (O'Dell) was then able to set a quick ball back to me – we made our cover off the block, a big point all week."
That final kill was crucial; the No. 9 Bruins (16-10, 13-9 Mountain Pacific Sports Federation) were only ahead 14-13 in the decisive fifth set against No. 6 Long Beach State (16-9, 13-9). Losing the point would have sent the match into overtime, a situation in which the Bruins had faltered in only two days earlier.
In the broader scheme of things, the match itself was practically a must-win if the Bruins wanted to keep their playoff hopes alive.
"We didn't put a lot of pressure on ourselves, but in the back of our minds we knew we really needed this win," Quiroga said.
In their last matchup, 49ers senior outside hitter Taylor Crabb buried the Bruins – UCLA coach John Speraw went as far as calling Crabb one of the league's best outside hitters of all time. It looked like the same story early on this time around, but by the later stages of the match, the Bruins seemed to have a better handle on the 49ers superstar.
"We know that Crabb is always going to have a good game. It's pretty hard to stop him. You just have to deal with him; there really isn't a solution," said redshirt senior opposite hitter Jonathan Bridgeman. "But I think we were able to shut down the other guys and make Crabb really tired. We tried to make him wear himself out from taking so many swings and having to do everything."
Whether it was because of Crabb's fatigue or an extreme sense of urgency, the Bruins jumped out to a big lead early in the fifth set. It was a lead that was facilitated by an unlikely source, someone who had been having a subpar game up until the end.
"We got a hot serving run in the fifth set from (freshman middle blocker) Mitch (Stahl)," Rowe said. "He was having a rough night serving, but he came out in the fifth set and had a really good serving run to put us in position, and all of our hitters turned it on in that fifth set."
It was the highly-touted freshman that highlighted the fifth set, but over the course of the match it was the three stalwart seniors – Quiroga, Row and outside hitter Robart Page – who led the team to a much-needed victory.
"Today with me, Spencer and Robbie … the three of us had like a combined 60 kills," Quiroga said."It's our time to play, but it doesn't matter if we're seniors, juniors or freshmen – it just so happens we have our three seniors stepping up right now."
The win puts the Bruins in a three-way tie for sixth in the MPSF, where the top eight teams make the playoffs. With only two regular season games to go, it is essential that the three seniors continue with their streak for the Bruins. Whether or not they make the playoffs, the seniors' college careers are coming to an end – it's their job to make that end a success.