UCLA Bunche Center lecture explores effects of diversity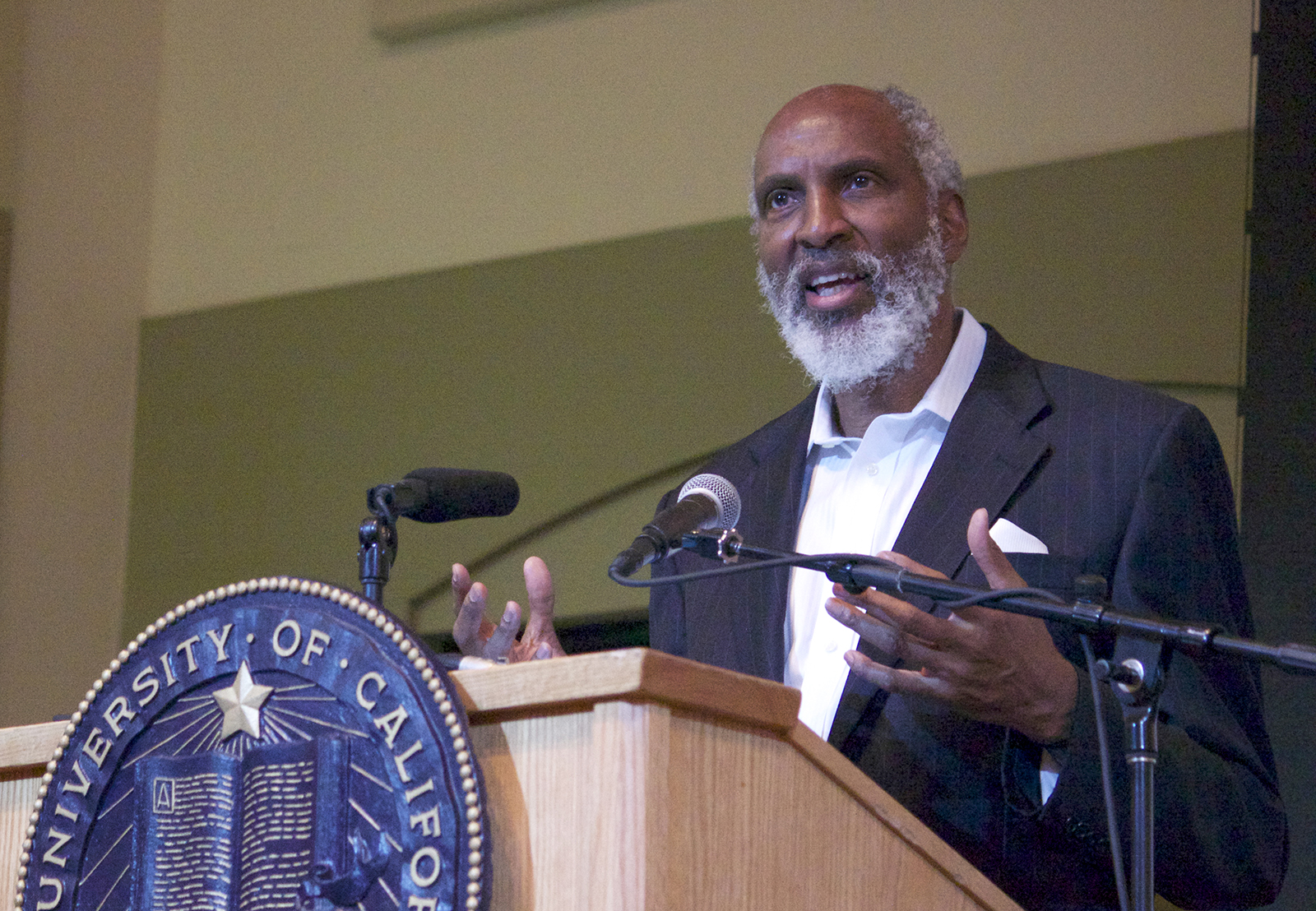 John Powell, a professor of law at UC Berkeley, gave a lecture Tuesday night about the effects of increasing diversity in American society.
(Felicia Ramirez/Daily Bruin staff)
Law professor John Powell said in an annual UCLA human rights lecture Tuesday that he thinks increasing diversity in American society is perpetuating the historical structure of oppression and fear of minority groups.
He said he believes the increase in diversity is causing more privileged groups to distance themselves from minority groups and increased animosity toward minorities.
Powell gave his lecture as part of the UCLA Bunche Center's annual Thurgood Marshall series, which features a scholar, activist or legal expert who has made significant contributions to the advancement of equality in civil rights.

Powell, a legal scholar from UC Berkeley, was selected to speak because he conducts research on how to develop a more inclusive and fair society, said Darnell Hunt, a sociology professor and director of the UCLA Bunche Center. He works with corporate leaders and government officials in efforts to increase societal equality.
Powell is also the director for the Haas Institute for a Fair and Inclusive Society at UC Berkeley and is the Robert D. Haas Chancellor's Chair in Equity and Inclusion. Both focus on increasing racial equality in society.
In his lecture Tuesday, Powell said he thinks the growing isolation and oppression of minority groups by America's upper class is increasing minority groups' anxiety about their self-identification.
Powell also argued that this question of identity – racially, politically and economically – will come to define the future of American human rights.
"People are concerned with how they identify themselves and that is being challenged and producing fear," Powell said. "People define themselves economically and politically, but the thing that is fueling this anxiety is who we are and our collective sense of identity that will drive and haunt us into the future."
Allyson Nadia Field, assistant professor of cinema and media studies, said she thought Powell was able to clearly translate the complicated issue of racial dynamics and identification in America.
"He reframed the challenges we are facing right now and explained the turning point of reconsidering the structures of inequality," Field said.