UCLA volleyball focused on postseason despite BYU loss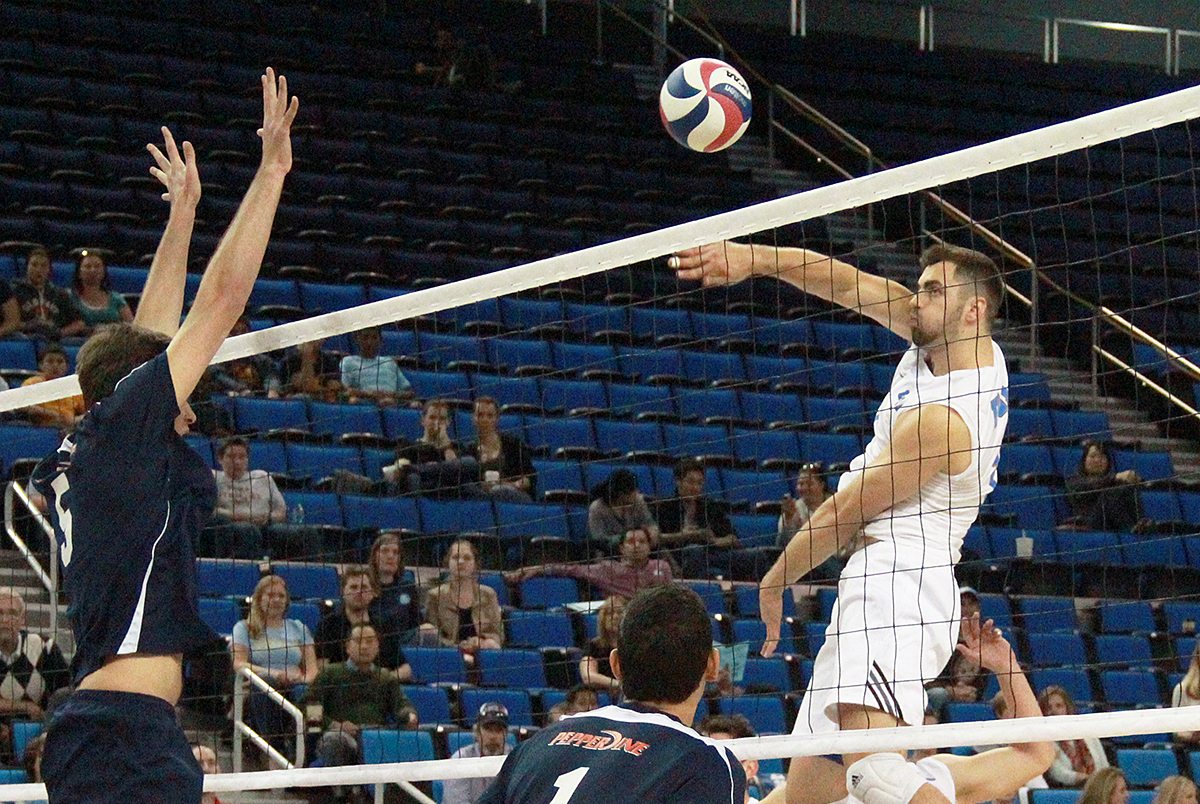 Despite UCLA's recent struggles, senior middle blocker Spencer Rowe said the team still has its sights set on a national championship. (Jessica Zhou/Daily Bruin)
March 31, 2014 12:57 a.m.
The Bruins had a setter playing at libero. They had another setter playing at outside hitter. They had a middle blocker playing at opposite hitter. They were mixing and matching, searching for an answer, but the No. 9 UCLA men's volleyball team still could not find a way to smear No. 2 Brigham Young University's undefeated home record Saturday night in Provo, Utah.
With many players on the Bruins' roster still trying to recover fully from injuries, coach John Speraw was once again forced to use an improvised lineup. While the players did not feel like the tweaked lineup was a major factor in the 3-1 loss to the Cougars, there is excitement in the possibility of having all their major players fully healthy moving forward.
"We finally almost have everyone ready to go," said senior outside hitter Gonzalo Quiroga. "I think we'll have a full squad for the last four games of the season, which is going to be huge for playoffs."
One of the players UCLA (15-9, 12-8 Mountain Pacific Sports Federation) hopes to recover is senior outside hitter Robart Page, who did not start against BYU (18-4, 18-2) and only made a brief appearance in one set.
"Page just got back like the last five days and we had been practicing with a different lineup since the USC match," Quiroga said. "Right now he's still not a big threat on the offensive side and teams know that, but I feel like this week we can work (Page) back in and it'll be a totally different story."
UCLA's unfamiliar lineup may have been a positive in the sense that BYU had no idea what to expect. The Cougars seemed to be caught by surprise early in the match, as the Bruins came out sharp and became only the second visiting team this season to take the first set at Smith Fieldhouse.
The Cougars rebounded in the second set and pulled out a tightly contested third set that went into sudden death. As the comeback began, the Bruins were not only up against the second-ranked team in the nation but also their revved-up crowd of almost four thousand fans.
"They pack the gym; they have so many fans who just love BYU more than anything else," said freshman setter/libero Hagen Smith. "This is basically their professional sports team, the crowd is so loud and rowdy. … Their home field gives them a huge advantage."
BYU went on to take the fourth set relatively comfortably and close out the match. A win would have put the Bruins in a four-way tie for third place in the MPSF, but the loss dropped them all the way down to eighth – the last qualifying spot for the postseason conference tournament. If the regular season ended today, UCLA would find itself playing against BYU again for its first-round match. It's safe to say the Bruins are looking to put themselves in a more favorable scenario.
"We're capable of making a run. … I think we fought hard tonight. We're not satisfied but we're excited that this match may indicate we're on the way up," said senior middle blocker Spencer Rowe after Saturday's game. "Our goal this year was to win the national championship and we're not losing sight of that. … We know we have the pieces to win."
Unfortunately for the Bruins, time is running out to make a run.