UCLA gymnastics falls short during Pac-12 Championships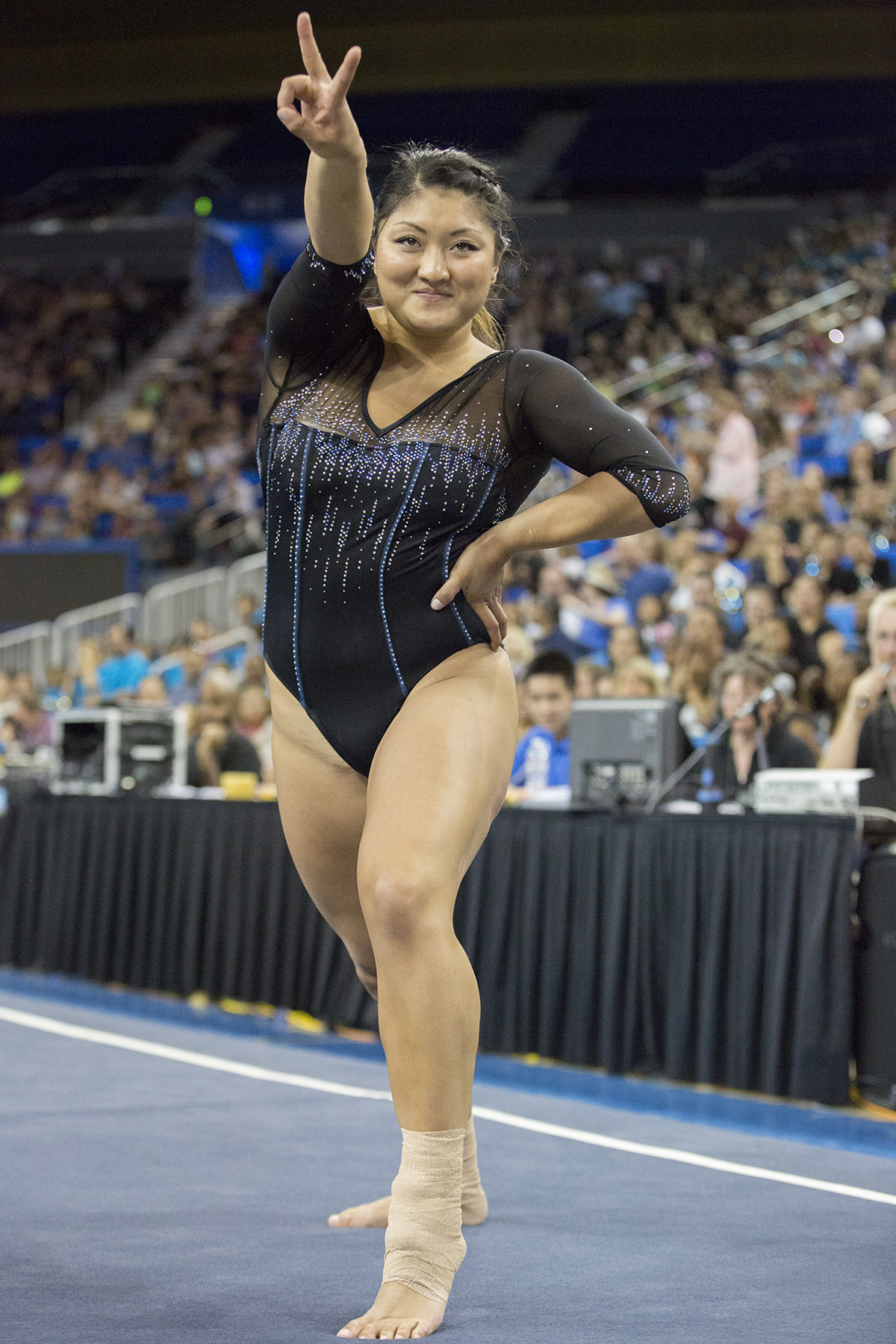 Senior Sydney Sawa said the Bruins were overeager and too tight in the Pac-12 Championships, which led to their struggles. (Jose Ubeda/Daily Bruin staff)
UCLA gymnastics' performance in the Pac-12 Championships
brought back a certain memory for coach Valorie Kondos Field.
It was not one from her 24 years of experience coaching the team. Instead, it was a relatively recent memory – one that traces back to Feb. 2 of this year.
"Honestly, about halfway through the meet, out of the blue, I thought about Peyton Manning in the Super Bowl," Kondos Field said. "Here's a great team, the Denver Broncos. They've had all this success, and it just wasn't their day."
And just like how Feb. 2 in East Rutherford, N.J., was not the Denver Broncos' day, March 22 in Berkeley, Calif., just was not the No. 8 Bruins' day either; they finished fourth in the competition with a score of 196.525.
The bad day for the Bruins began with the first apparatus in UCLA's rotation – the uneven bars. Freshman Hallie Mossett was about to wrap up her routine before she committed what Kondos Field called a "pretty scary mistake" during her dismount. And from then on, the Bruins were on a tilt.
"Hallie plummeted to the ground on her dismount, landed on her back, knocked the wind out of her," Kondos Field said. "It was hard to regroup after that."
Hard, but not impossible.
The team proved that they had just what it took to recuperate from the first rotation woes with a series of strong performances on the balance beam, which included the highest and second-highest beam scores via redshirt junior Samantha Peszek and sophomore Danusia Francis, respectively.
But the slew of bad luck that kicked off the competition followed the Bruins as they moved on to the floor exercise, stymieing whatever momentum they had just gained from the previous apparatus.
"Throughout the day we just went up and down," said sophomore Sophina DeJesus. "It was just like a roller coaster."
Even the two gymnasts who had just spearheaded the UCLA resurgence were not immune. Francis was controversially adjudged to have stepped out of bounds during her last tumbling pass, and Peszek also struggled to land a clean final pass, landing short on a double back pike.
As a result of those deductions, it was back to another round of playing catch-up. But this time, the 0.9 deficit to Utah and the 0.4 deficit to Stanford proved to be too much to overcome.
"We wanted to win so badly that we kind of just got a little bit too tight," said senior Sydney Sawa. "Instead of letting our gymnastics show through that we've been practicing, we just played a little too tight."
It was a disappointing meet, but Kondos Field said she was not disappointed with her team – UCLA tried hard to make a comeback, but at the end, it was just a bad day for the Bruins.
With the Bruins scheduled to compete in the NCAA Regionals this weekend, there is still a chance for this team to look for better days ahead.