UCLA men's volleyball racks up another loss against USC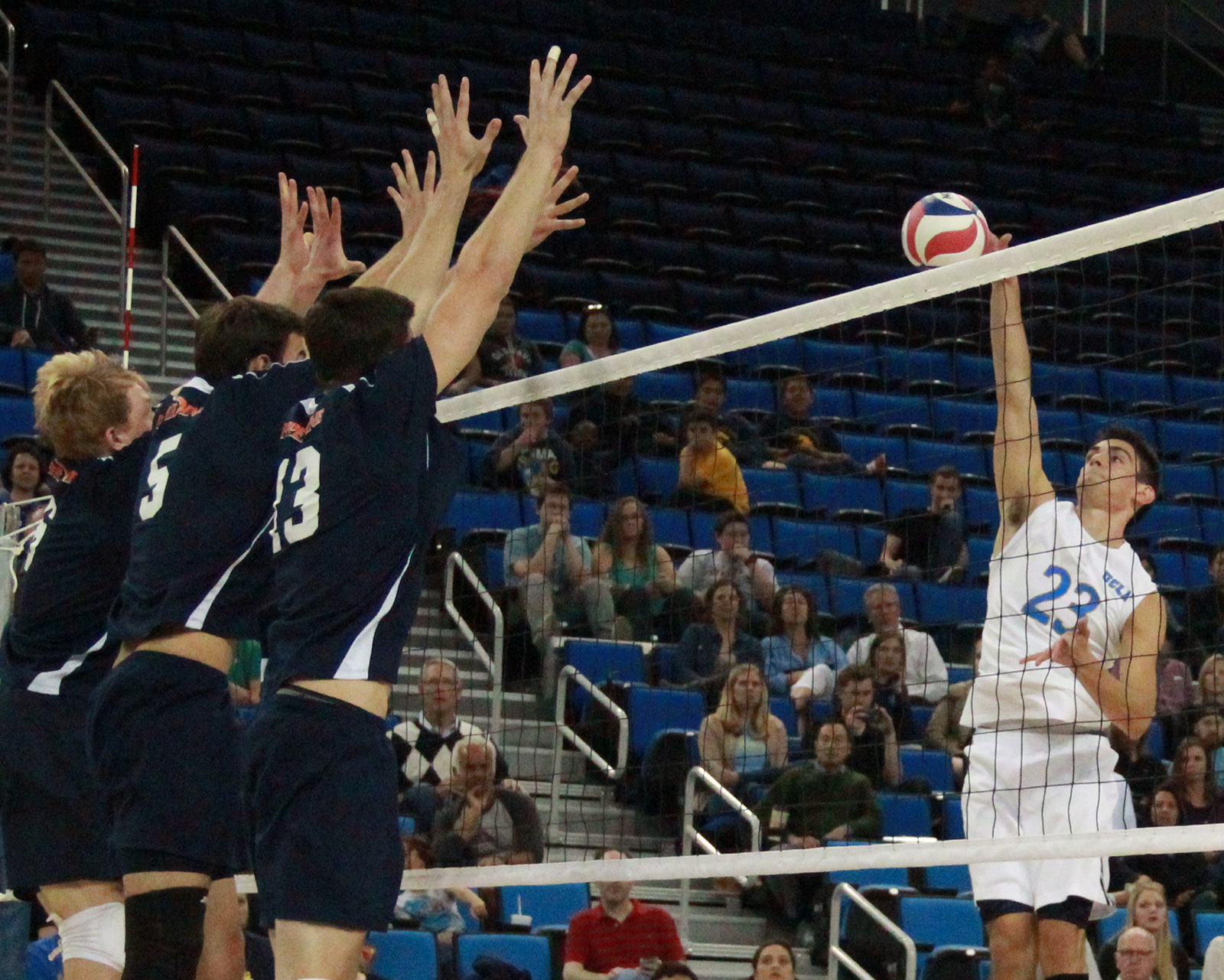 Although he led the Bruins with 15 kills, senior outside hitter Gonzalo Quiroga came away disappointed with his team's performance in a 3-1 loss to USC.
(Jessica Zhou/Daily Bruin)
The door to the film room was closed, but coach John Speraw's voice still echoed throughout the lower-level hallways of Pauley Pavilion. The exact words were difficult to make out, but the urgent, angry tone was not. After their fifth loss in six games, the Bruins' postgame "talk" on Saturday night lasted longer than usual.
"I think everyone's a little disappointed and frustrated at this point. No one likes losing, no one likes going into a slump," said Speraw. "I've never had a team like this before; I've never coached a team that's been in a slump like this where we started out pretty good and then got worse."
The wheels have come off the No. 9 Bruins' bandwagon. Saturday night was the latest low point – a four-set home loss to crosstown rival No. 7 USC that dropped the Bruins to 11-7 in the conference after an impressive 10-2 start.
Less than three weeks ago, this team was one of the favorites to hoist the national championship trophy. Now it's just trying to figure out how to win a game.
"To be honest, I don't know what went wrong today. Out of these last four games we needed to win two or three and we end up winning one so we're in a tough spot," said senior outside hitter Gonzalo Quiroga. "We need to figure this out. We're going to have about a week and a half before our next game … it's going to be good for us to try to get healthy."
The Bruins haven't been fully healthy since the start of the year. There's a walking-boot epidemic going around the team; at times it seems like the dreaded boot is being passed from one group of injured Bruins to the next. Assistant coach Brad Keller may have been the ultimate omen: He was wearing a walking-boot on each foot right before the start of the season.
The latest victim of the walking-boot craze is senior outside hitter Robart Page. He spent Saturday night's loss watching from the bench in street clothes, clipboard in hand, and boot on foot. According to Speraw, the injury – undisclosed in nature – may keep the seven-footer out for the rest of the year. If such is the case, this difficult stretch just became devastating. But Speraw refuses to look at injuries as an excuse.
"As much as we've had to go with different guys and different lineups, we're still capable of winning with the guys that are out there," Speraw said. "If we were executing, we could still be winning these matches … We have to figure out how to win with the guys that we have, and I think it's a puzzle we can solve."
The Bruins now – as Quiroga pointed out – have almost two weeks before their next match. Although there can be no official team practices during the upcoming week due to NCAA rules, the Bruins know they can't afford to take time off.
"No coaches are allowed next week, but we're going to come in and have players-only practices and maximize our time to get ready for that final push," said senior middle blocker Spencer Rowe. "We try to act as professional athletes and part of that is taking responsibility for our own development."
Around 11 p.m. on Saturday – about an hour after the end of the match – a group of five Bruins was already back on the court, working on setting and hitting.
Taking responsibility couldn't even wait until the next morning.