Road to recovery for Westwood still rough despite measures undertaken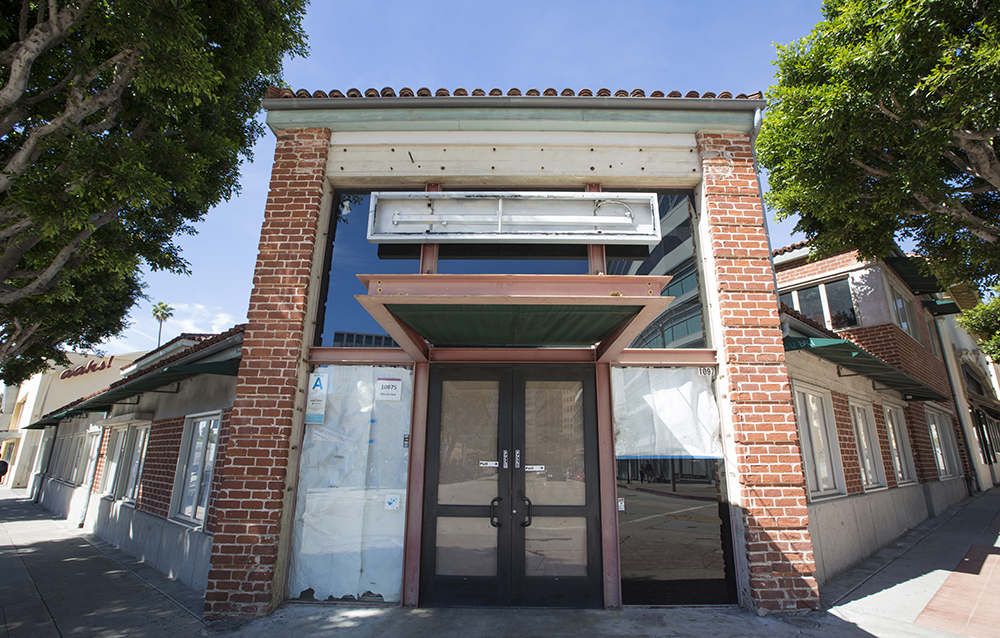 Businesses have come and gone through Westwood at a relatively high rate. Westwood officials have been working on revitalizing the area for several years.
(Austin Yu/Daily Bruin)
Businesses in Westwood don't often stay for long.
Since February 2010, at least 111 fast-food shops, restaurants, retail stores and service businesses in the Village have shut their doors, while 100 new ones opened. Fourteen business both opened and closed within that four-year period, according to data collected by the Westwood Community Council.
There are about 200 total businesses in Westwood, and most of the ones that come and go are smaller merchants or fast-food chains.
Westwood was known in the 1960s and 1970s to be an affluent, safe hotspot with department stores and theaters where families could spend their evenings, said Steve Sann, chair of the Westwood Community Council. But now, many of the businesses that set up shop in the area close within a few months or years.
Landlords and business owners in Westwood often dispute why businesses don't succeed. Manymerchants point to high rent on commercial properties, and somelandlords point to regulations dictating how they can lease their land.
The Village lost many longstanding businesses during the 1970s, when parking concerns and less expensive merchants, like yogurt stores and T-shirt shops, took some of Westwood's charm away, Sann said. But when a stray bullet in a 1988 gang shooting killed a 27-year-old woman after she was shot on Broxton Avenue, the Village's popularity plummeted.
Westwood is showing signs of revitalization, though some residents say more should be done to speed the area's recovery.
Ralphs opened in 2001 – the first new grocery store introduced to the Village in decades. Other large tenants followed, including CityTarget, which opened in 2012. Property owners announced the relocation of Urban Outfitters within the Village and the expansion of Ralphs into an adjacent space previously occupied by Best Buy.
In the last year, landlords have opened temporary pop-up shops, where business owners pay no rent and have the option of staying in the space as paying tenants after their lease expires.The pop-up shops are just one remedy to the vacant storefront epidemic, though Westwood Village landlords and business owners have yet to find a more permanent cure.
Fast food everywhere
Some property owners said they have seen trends in the kinds of businesses that leave the Village.
Fast-food and fast-casual restaurants in Westwood are particularly notorious for having a high turnover rate, said Sandy Brown, president of the Holmby-Westwood Property Owners Association, a group of more than 1,100 families who live near the Village.
In June, Chick-fil-A opened on the corner of Le Conte Avenue and Westwood Boulevard, replacing another fast-food restaurant, Burger King.
"Food places change so often that as a person living nearby, you aren't sure the place you want to go to is still there," Brown said.
Thirty-eight fast-food and fast-casual restaurants, where customers generally purchase food at a counter and pay for it before eating, have closed in Westwood over the past four years. This number represents more than a third of the total businesses that have closed during that time.
But not all fast-food restaurants can come in whenever they please.
The Westwood Village Specific Plan, a document written by the city of Los Angeles in 1989, dictates the number of fast-food establishments allowed on each street in Westwood.
The seven-member Westwood Community Design Review Board, a legislative body of local residents and architects, works to uphold the plan's guidelines. It tries to ensure that Westwood retains its quaint charm and aesthetic appeal and often suggests changes in color schemes and signage.
On several streets such as Westwood Boulevard, the number of existing fast-food restaurants exceeds the plan's allowable limits.
Christopher Hameetman, a Westwood landlord who represents ownership of a block of property called the Westwood Village Square, said the plan often hinders his efforts to fill up vacant storefronts.
Hameetman said that while he thinks the plan was likely created with good intentions in the 1980s and aimed to protect an area seeing some tumultuous times, the rules are now antiquated and counterproductive, and keep out potential quality tenants.
"What we have to do is not just say no to everything. … We need to take steps with tenants that are willing to come in,'" he said.
Hameetman added that the vacancies make the Village appear distressed and dilapidated.
"That problem needs to be solved first – and then maybe we can start choosing a little more who we want to go into those spots," he said.
Others see value in the plan, arguing thatit safeguards Westwood's quaint appeal.
Dean Abell, manager of Sarah Leonard Fine Jewelers, said he thinks the plan is advantageous because if it were not enforced, the charm and upmarket feel that Westwood has would be lost.
"While each business has its own interests at heart, the Design Review Board is there to protect the interest of the Village as a whole," Abell said.
Rents on the rise
Some business owners blame high rent for the plight of small businesses in Westwood.
In several cases, business owners said they felt forced out of spaces because landlords altered their lease agreements.
Bob Grewal, owner of Subway on Westwood Boulevard, said he could not agree with his landlord's lease terms anymore and he left his original location to avoid the rent increases. He moved across the street under a new landlord and now pays half the rent.
The fees the landlord charged for his first location's rent were more expensive than his Subway's rent on Rodeo Drive, Grewal said.
Jim Brooks, president of the Topa Management Company, the largest single landowner in Westwood Village, said he thinks that because many of Westwood's landowners are small companies, they are more focused on the spaces they rent out than the big picture of the neighborhood.
"It can be a challenge because if you are a smaller owner … you might be at the point where you might want to lease the space to the first guy that walks in," Brooks said. "If you only own a couple of spaces, you don't have enough critical mass to create a platform."
Brooks added that as a larger landlord, Topa Management Company can afford to wait for clients that complement existing stores before filling a space.
Topa Management Company announced in 2013 that Urban Outfitters will expand its presence in Westwood by doubling its size and moving to a different building. As a result, other tenants are more willing to sign lease agreements because they know their business will be near a large anchor store, Brooks said.
The company will announce several major clothing and apparel leases in the coming weeks to help fill empty storefronts, Brooks said. He added that Topa Management Company also hopes to soon fill a large space on Westwood Boulevard that used to be a Chili's restaurant.
Bringing in promising new tenants and others will help propel the local economy, creating a more vibrant Westwood, he said.
Several members of the community said they think landlords should take a more active role in supporting their tenants and helping them establish their businesses.
"I see a lot (of landlords) who leave storefronts empty until people are willing to pay their exorbitant prices," said Lisa Chapman, the outreach and communications chair for the Westwood Neighborhood Council. "They'll take any flyby person who's willing to rent the space, without considering what's good for the Village … and that's troublesome."
About three or four years ago, Hameetman's real estate company tried to fill a vacant spot by bringing Toys R Us Express into one of its buildings on Westwood Boulevard with "essentially free rent." It hoped the store would be able to afford rent after establishing itself in the area.
The idea was appealing in theory, Hameetman said. But it didn't prove to be successful.
Despite their optimistic expectations, Toys R Us Express left Westwood because it didn't attract enough business, he said.
The lack of customers for Village businesses is one of the most pressing issues for business owners, with locals choosing to spend their money elsewhere.
One reason for low foot traffic is a lack of variety in Westwood's retail offerings, Sann said.
"Who wants to go where there's only one choice? That's what's missing right now," he said.
Brown said the homeowners she represents want to see more retail stores like H&M; or an Apple store in the Village so they don't have to drive to Century City.
Alexis Litke, a second-year bioengineering student who lives in Westwood, said she thinks the Village needs more cheap retail options for students.
"I usually go to Santa Monica because they have a much larger variety of stores," Litke said.
She added that stores like Urban Outfitters and American Apparel are out of her price range.
Taking charge
In the last decade, residents and merchants in Westwood formed two councils and a Westwood Village Improvement Association, also known as the Business Improvement District. Westwood community members created the different organizations to improve the services and atmosphere of the Village.
The BID's Board of Directors hopes to help fill vacancies, attract new businesses and keep those already here afloat. At their Feb. 20 meeting, board members voted "business attraction and retention" as their 2014 priority and assigned it to a subcommittee made up of six board members.
The board also highlighted improving the Village's infrastructure and addressing community members' concerns with the Westwood Village Specific Plan as priorities for 2014.
The Westwood Neighborhood Council is a city-funded agency that receives $37,500 from the city annually. It uses about 90 percent of those funds for nonprofit donations and allocates the rest for administrative purposes, Chapman said.
But the BID has a much larger financial backing, with a $1.3 million annual budget funded by Village stakeholders.
Last year, the BID spent 72 percent of its budget on a "clean, safe and Beautiful" initiative, which involved hiring maintenance crews to clean sidewalks and trim trees, and public service ambassadors who patrol streets and assist police, said Andrew Thomas, executive director of the BID.
The BID is currently working to create a brand and an online presence for Westwood, including a blog and Facebook page for the Village.
One of the BID's goals is also to create metered parking spaces to replace monthly parking permits, said Clinton Schudy, a member on all three Westwood councils and manager of Oakley's Barber Shop. Better parking can make Westwood more accessible to customers from other parts of Los Angeles, he said.
"People are disappointed … (parking improvements) are not happening fast enough, but it's a process," Schudy said.
A significant proportion of the neighborhood's business and property owners feel there's been a general improvement in the appearance of Westwood, according to a survey of 100 merchants conducted in 2013 by the BID.
Still, many residents believe more can be done and don't see eye to eye.
At the Feb. 20 BID meeting, many public commenters made personal accusations toward each other and the board members, and one individual even told another he was arguing with that he wanted to "take it outside."
Thomas said that he thinks the community is losing sight of its shared goal: to make Westwood a thriving area for businesses.
Looking forward
It is still unclear whether the councils' efforts will have any lasting effect on the Village.
Peter Clinco, owner of Skylight Gardens and one of three merchant board members on the BID, whose role it is to represent the interests of businesses, said that he has recently told the board that he is going to look at ways to eliminate some of the contentious atmosphere.
Thomas said he too hopes to play an active role in getting different groups in the Village to work more closely together. He added that for this to happen, there needs to be a shift in focus from discussing differences in opinion to producing tangible results.
"I think we need to turn the conversation to a point where we can start talking about what's mutually beneficial," he said.
The managers at Sarah Leonard Fine Jewelers, a business which has seen the Village rise and fall since 1946, said they are confident that good things are coming.
"We just signed another 10-year lease," owner David Friedman said, laughing. "If I wasn't confident in the future of the Village I wouldn't be making that commitment."

Contributing reports from Samantha Tomilowitz, Bruin contributor.