UCLA men's volleyball to face UCSB in midst of tough stretch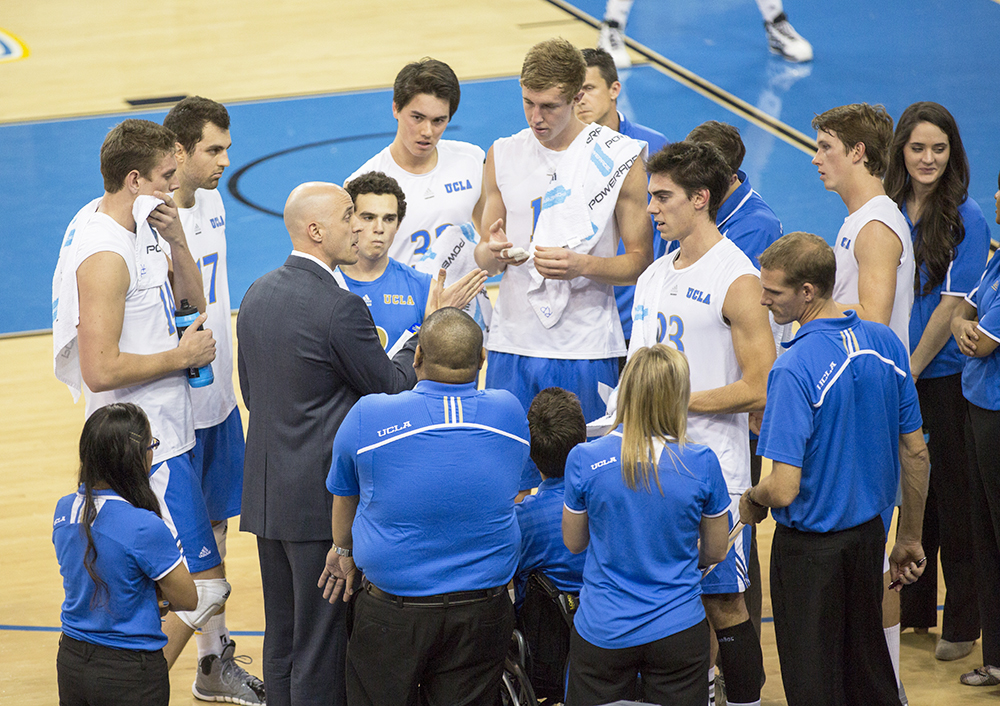 The UCLA men's volleyball team is on a cold streak after consecutive losses, and its lack of energy in practice prompted coach John Speraw to end the session early. (Austin Yu/Daily Bruin)
It was a spontaneous decision, one that coach John Speraw described as "off-the-cuff." After one too many mindless errors during Monday's practice, Speraw told players to grab their bags and get out of the gym. Practice was over.
"Considering we just got our butts kicked twice this weekend, it sure seemed like there was a huge lack of enthusiasm and focus for what we needed to do to get better," Speraw said. "When you lose, you have to respond. You can get down and depressed about it or you can come back and keep fighting. … The guys just didn't respond today."
The reaction did not come without warning. After some lazy and lethargic play earlier on in the practice, Speraw had his players line up and run the much-maligned suicide drill. It was an obvious attempt to usher a positive reaction out of his team, but the reaction didn't come.
The poor play continued, and after a while Speraw had seen enough.
"It was the first time of my life doing that, eventually it was just time for the guys to leave the gym," Speraw said. "Call it a creative moment … I feel 100 percent okay with (my decision)."
From a players' standpoint, the reaction from their coach was unfortunate, but fully understandable.
"Practice was not going well at all and he got mad, he had a right to do what he did," said senior outside hitter Gonzalo Quiroga. "We just have to learn our lesson and make sure this never happens again."
Speraw admitted that the team is going through its most challenging stretch of the season so far. The No. 5 Bruins (13-5, 10-4 Mountain Pacific Sports Federation) have lost two games in a row for the first time all year, and the recent road trip to Hawaii has also left the team wounded in a more literal sense. Three players – notably starting middle blockers redshirt sophomore Trent Kersten and senior Spencer Rowe – returned from the trip with ankle injuries that could potentially cause them to miss time. On top of it all, the Bruins are on the backside of a five-game road trip over an 11-day stretch.
It's a perfect storm of adversity.
"We just lost two games, we have a few guys injured … it's the middle of the season, with finals week coming up," Quiroga said. "… It's a tough time, but we have to move forward and find a way to play better."
Up next is a trip to No. 7 Santa Barbara (10-5, 9-5), where a loss could send the Bruins tumbling from second place in the conference standings all the way down to a tie for fourth.
When factoring in the downward sloping momentum on top of the win-loss implications, the takeaway is clear: This game matters a lot.
"It's just go time, there's no holding back anymore," said freshman setter Hagen Smith. "We have to fight through our soreness, if we're tired we just have to play through it."
It's "a tough time." It's "go time." Yes, and it's also time to weather the storm.