UCLA men's volleyball looks to carry on its traditions in Hawaii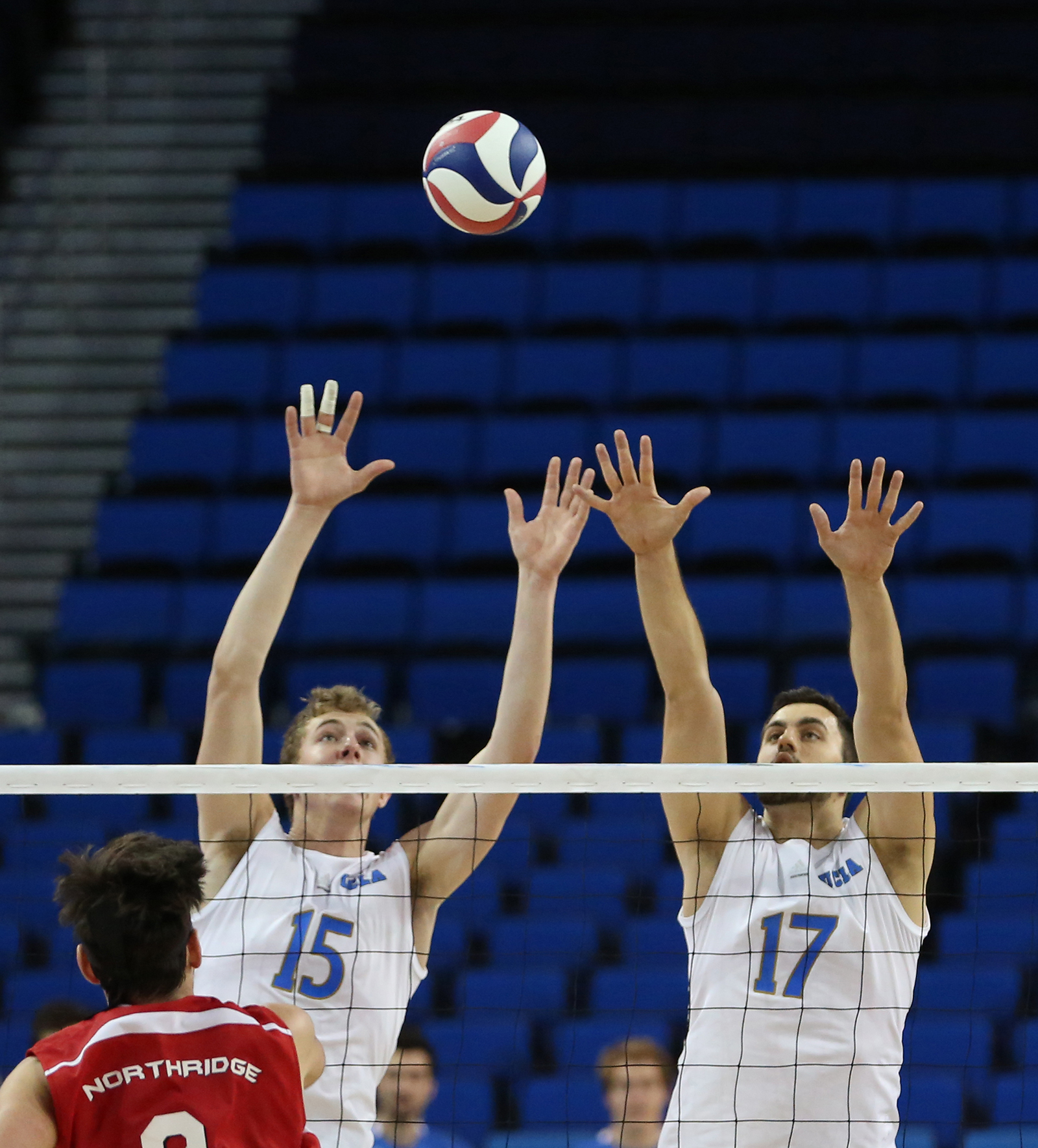 Senior outside hitter Robart Page (left) and senior middle blocker Spencer Rowe (right) combine for a block against Cal State Northridge. Rowe leads the Bruins with 54 total blocks on the year, a stat he'll look to add to against the Hawai'i Rainbow Warriors this weekend.
(Jose Ubeda/Daily Bruin staff)
When it comes to going to Hawaii, the UCLA men's volleyball team has two traditions: winning and eating malasadas.
"We always make a stop at Leonard's, it's a malasada place. … (Malasadas) are like these bread-puff donut balls with sugar that are filled with custard or chocolate," said redshirt sophomore middle blocker Trent Kersten. "We go there after we play our matches; it's a team ritual type thing."
It's almost guaranteed that No. 3 UCLA (13-3, 10-2 Mountain Pacific Sports Federation) will be indulging in postgame sweets this weekend, and recent history suggests that racking up a couple of wins in the process could be equally probable. The Bruins have won 15 out of 16 games in Hawaii dating back to 2009, including three victories at this year's Outrigger Hotels Invitational.
Continuing the malasadas tradition will be an easy treat. Winning against No. 11 Hawai'i (9-6, 7-5) twice in back-to-back nights, however, will require a bit more effort and focus. At the end of the day, the journey to Hawaii is nothing more than a business trip.
"We get the morning after our second game to ourselves, but other than that it's all volleyball," Kersten said. "We get there, we go to practice, we eat, we go right to bed and then we get prepared for our match the next day. … It's pretty much like any other road trip except for the long plane flight."
That plane flight is an adventure in itself, an adventure that's not all that enjoyable for this specific group of individuals.
"Traveling is always a challenge when you have a bunch of guys that are all 6'6″ and above cramped for five hours in a commercial flight," said senior middle blocker Spencer Rowe. "It can get to be a little uncomfortable."
UCLA has been anything but uncomfortable on the court this season. At what is essentially their midway point of the season, the Bruins are on a three-game winning streak and half a game from the conference lead.
"Considering some of the lineup changes, all of the young guys we have on the court, going through a few different setters, … I'm really pleased with where we are at this point of the season," said coach John Speraw. "I know we have some tough matchups coming up and I know it won't be smooth and easy going forward, but certainly at this point I'm satisfied."
Most would say this team is living up to high preseason expectations, but expectations have never been a concern.
"We try to keep expectations out of what we're trying to do," Rowe said. "Obviously we have goals such as winning the national championship, but those goals are more important than any expectations."
The goal for the Bruins this weekend is simply to leave Hawaii with two wins. If they can continue this longstanding tradition, then the long plane ride home may just be a little more enjoyable.