Animal adoption stalls put up at Farmers Market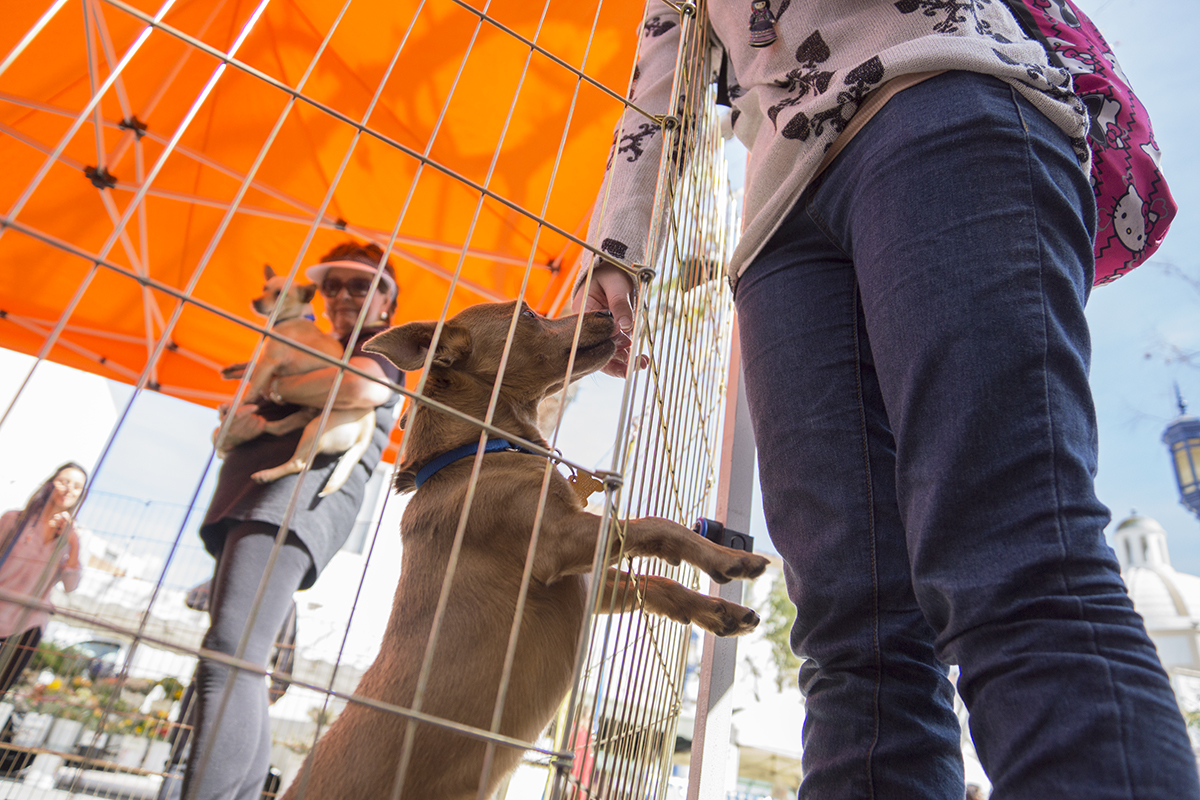 Passersby at the Westwood Farmers' Market stop to play with yapping brown and white Chihuahuas. (Tamaryn Kong/Daily Bruin)
Thursday was a good day for 7-year-old Troy – a small black Chihuahua who used to live on the streets of Los Angeles.
Despite being the oldest dog at the adoption stall at the Westwood Village Farmers Market, he was the first to find a new home. A staff member in the kidney transplant team at Ronald Reagan UCLA Medical Center adopted him while on her break, looking for a companion for her two kids after their dog passed away a few years ago.
Thursday was the kickoff of the Westwood Village Farmers Market partnership with the Best Friends Animal Society.
As Westwood residents passed by the fruit, flowers and local goods stalls, a big friendly Staffordshire bull terrier named Juno sat on the pavement beside the stalls, greeting everyone who passed with a slobbery grin.
A play pen full of yapping white and brown Chihuahuas also drew large crowds at the market and quickly became the center of attention.
The Best Friends Animal Society helps to find homes for healthy and
treatabledogs and cats who have been surrendered at six Los Angeles city shelters, said Michelle Sathe, spokeswoman at the Best Friends
Animal Society.
Recently, the organization took in six cats who were rescued from an apartment holding 76 cats, said Elizabeth Pashley, an adoption specialist working at the stall Thursday.
One of those cats has already found a new home, Pashley added.
The first Best Friends Animal Society shelter, and the largest no-kill sanctuary in the country, is in Kanab, Utah. Through UCLA's annual Alternative Spring Break program, students can volunteer to spend their vacation helping at this sanctuary.
Generally, the dogs and cats at the city shelters are either strays or their owners have surrendered them because of changes in lifestyle such as divorce, foreclosure or relocation, Sathe said.
Because of overcrowding, city shelters often resort to euthanization.
In an effort to rescue these animals and prevent this practice, the Best Friends Animal Society teamed with animal welfare organizations in 2012 to form the No-Kill Los Angeles initiative, which aims to end euthanization in animal shelters by 2017.
Since its launch, the no-kill initiative has already made a significant difference, Sathe said. The death-rate of healthy or treatable dogs and cats at LA city shelters has decreased by 48 percent, she said.
Some people are too busy to visit the adoption centers themselves in Mission Hills and West Los Angeles, Sathe said.So, the Best Friends Animal Society takes the animals to communities like Westwood, bringing their stalls to pet shops, restaurants and breweries.
"We really try to think out of the box," Sathe said. "You never know when that perfect pet-person match can be made."
The organization chose the Westwood Village Farmers Market because of the various communities of people who come to buy their groceries there, including UCLA students and other Westwood residents.
"We're hoping that pet lovers that are in the market to adopt a dog or cat will come down to the market and meet their perfect match and, you know, become best friends," she said, laughing.
The organization's general adoption fee is $100 for dogs and $65 for cats, and all animals are spayed or neutered, micro-chipped and vaccinated, Sathe said.
To give more exposure to adult cats who have a harder time than kittens finding a home, they are currently offering cats who are more than six months old at a $14 fee.
Some pets that the organization adopts arrive with medical conditions and suffer from shyness, but with enough attention from volunteers, they soon regain health and become comfortable with new people, Sathe said.
Amelia Clemens, a volunteer at No-Kill Los Angeles, practices Reiki, a Japanese healing practice which helps to calm animals.
Cuddling and playing with the cats and dogs at the shelter helps them to feel safe again after experiencing trauma, she said.
Spending time with the animals also helps her relax, she said.
"It's kind of my saving grace," Clemens said, laughing. "Anytime I'm feeling bad I just go down to the shelter."
After Thursday's success, Stephen Whipple, managing director of the farmers market, decided that the market will feature this mobile adoption site about once a month.
The Westwood Village Farmers Market takes place from 12 p.m. to 6 p.m. every Thursday on Broxton Avenue.