Students voice opinions on USAC divestment resolution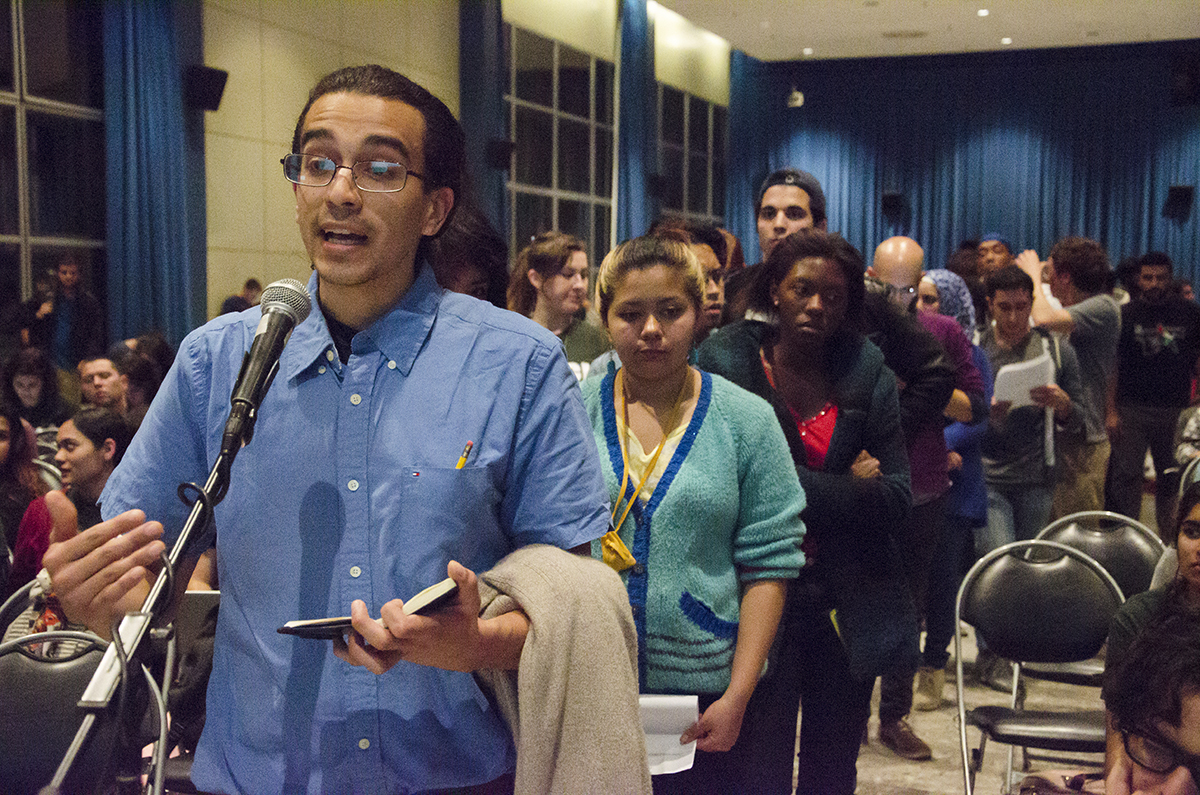 Michael Reyes, a fourth-year English student, was one of many students who spoke at Tuesday night's Undergraduate Students Association Council meeting to express his support for the divestment resolution. Hundreds of students spent hours advocating for and against the resolution. (Angie Wang/Daily Bruin)
Editor's note: Because of the offensive nature of discussion around this article, commenting has been closed.
Lines of students stretched the length of Ackerman Grand Ballroom Tuesday night as an impassioned discussion unfolded about a controversial undergraduate student government divestment resolution.
More than 500 students attended the Undergraduate Students Association Council meeting to support or criticize a resolution calling for UCLA and the University of California to divest from fivecompanies that profit from the Israeli occupation of Gaza and the West Bank.
The meeting had to be moved from its regular location in Kerckhoff Hall to accommodate the overwhelming student interest. When the USAC meeting was called to order, hundreds of chairs were filled, with overflow crowding the back of the room.
As of midnight, councilmembers had yet to start their discussion of the resolution.
Discussions about the Israeli-Palestinian conflict – a geopolitical dispute over the Israeli military's presence in Gaza and the West Bank, among other issues – have elicited polarized responses from the campus community.
Students for Justice in Palestine at UCLA, a student organization that advocates for Palestinian rights, created the resolution to ask the university and the UC to divest from Caterpillar, Cement Roadstone Holdings, General Electric, Hewlett-Packard and Cemex. The resolution says that the companies violate Palestinian human rights by indirectly contributing to violent acts that are committed against Palestinians, preventing them from owning property and infringing upon their privacy, among other violations.
The resolution alleges that UCLA and the UC show "implicit support for the decisions and actions" of these companies by investing in them.
Though the resolution states it is solely about divestment, students repeatedly claimed it was too closely aligned with the Boycott, Divestment and Sanctions movement, which advocates for the end of Israeli occupation in the Palestinian territories.
At Tuesday's meeting, many students vehemently expressed their frustrations about the resolution, condemning it as a measure they said demonizes Jewish students and unfairly focuses on Israel rather than on human rights abuses that occur in other countries.
"If you think that you can just consider this resolution in a vacuum, you're either incredibly naive, or you're lying to yourself or to your constituents," said Avinoam Baral, chief of staff in the Internal Vice President's office, member of Bruins for Israel and a third-year human biology and society student.
During more than five hours of public comments, numerous students spoke passionately about the resolution, compelling councilmembers to empathize with their communities and experiences.
Some students described their firsthand experiences with discrimination and violence at checkpoints in Palestinian territories and said they have seen the separation wall between Jerusalem and the West Bank divide communities.
Many students in support of the resolution said they feel like they are being forced to financially contribute to the suffering of members of the Palestinian communities.
"I don't want to have our tuition (pay) to have … our family suffer. So think beyond your seats, vote yes," one public commenter said to the councilmembers.
Some other speakers talked about their families in Israel, who think security measures in Palestinian territories keep their communities safe. They said companies listed in the resolution contribute to these safety efforts,while other students said the same measures work to oppress Palestinian communities.
As the discussion became heated, some students said they felt attacked by the comments at the meeting.
Safwan Ibrahim, a third-year physics student and member of Students for Justice in Palestine, said he felt that students were characterizing Palestinians as violent and as terrorists and that everyone at the meeting was allowing it to happen.
He said he thinks Palestinian students cannot feel safe on campus because such characterizations go "unchecked."
"(Palestinians) are not the monsters under the bed, we are not the boogie men behind the wall. We are human beings of flesh and blood," Ibrahim said during his public comment.
Some students who opposed the resolution shared open letters from their professors who expressed their disagreement with the resolution.
Jacob Nober, a first-year student, read aloud a letter from Joseph Manson, a UCLA professor of anthropology.
Manson's statement said that he disagrees with the resolution because he views it as a part of the larger Boycott, Divestment and Sanctions movement, which he wrote "(aims) to completely isolate Israel economically and culturally" and end it as a "sovereign Jewish state."
Though many public commenters said they view divestment as inherently anti-Semitic, others expressed disagreement with the idea that proponents of the resolution harbor prejudice toward Jewish students.
Various student groups on campus came to express their stances on the resolution.
Eryk Waligora, a fourth-year history student and finance director of Bruin Democrats, spoke on behalf of the Bruin Democrats and said group members think the resolution fails to support open dialogue.
Waligora added that while the organization recognizes the "severe conditions of Palestinians in occupied territories," they do not think a "simple resolution" can remedy the situation.
Members of the Afrikan Student Union said they viewed the circumstances of Palestinians living in occupied territories as similar to those that racial and ethnic communities experience within the prison-industrial complex.
"We understand the pain, suffering and trauma a community can face from inhumane corporations," said Kamilah Moore, a fourth-year political science student and chairwoman of the Afrikan Student Union.
Members of the Afrikan Student Union and other student groups also said USAC should vote to pass the resolution because it has previously passed resolutions that forced councilmembers to take "moral" stances on controversial issues.
Specifically, students referenced a recent USAC resolution that called for UCLA and the UC to divest from companies that invest in private prisons and compared the private prison system to a form of modern-day Jim Crow.
Some members denounced the student government's decision to bring the resolution to table.
Evan Moffitt, a fourth-year art history student, announced his resignation from his position as director of community engagement in General Representative 3 Lizzy Naameh's office at Tuesday's meeting.
Moffitt said he disagrees with the council's decisions to take stances on issues that are focused on "global politics" rather than concentrating on efforts to improve the university, such as increasing access to mental health resources.
At midnight, students continued to voice their opinions on the resolution through public comments, with at least 100 more students in line. For updated coverage of the entire meeting, visit dailybruin.com.