Standing strong: UCLA basketball's Thea Lemberger toughs out injury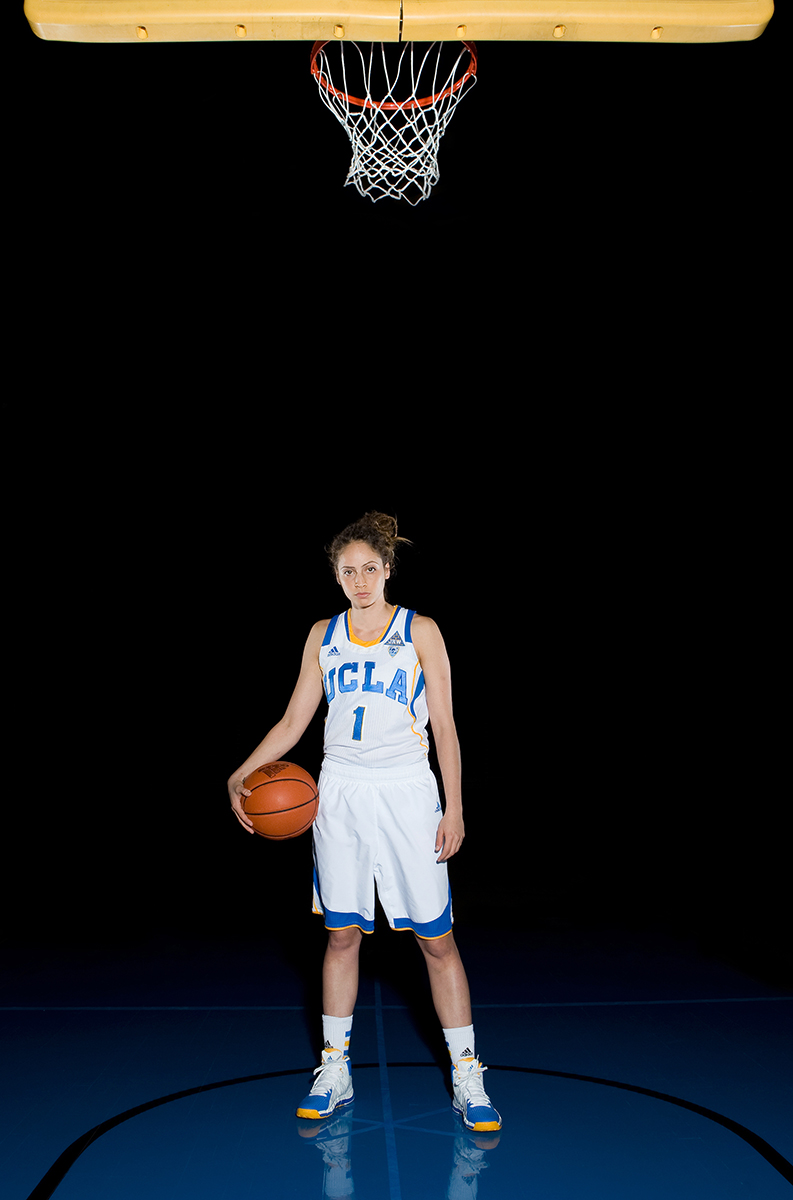 Senior guard Thea Lemberger has been playing with a stress fracture in her right leg this season, but is still averaging 37.7 minutes and 15.2 points per game. (Tim Bradbury/Daily Bruin senior staff)
February 26, 2014 1:04 am
Any player cutting into Thea Lemberger's lane better expect some contact.
"I'm excited to hit 'em," she said.

The women's basketball senior guard has already taken the most charges on her team, but she'll gladly take some more.She'll dive for loose balls. She'll welcome the blows that try to stop her from scoring. She's not afraid.
She just loves the contact. It's what she grew up learning. That's what basketball means to her, and nothing's going to change her game – even if she's playing with a broken leg.
Bad news Bruins
Lemberger has been dealing with a pain above her right ankle since early January. She made sure there would be no complaining; the competitor in her pushed her to just bear with it.
She didn't want to run the risk of letting anyone take away her playing time, especially since it was her senior year. She just had to keep playing.
But the pain persisted long enough that Lemberger realized she needed help. She turned to athletic trainer Lisa Friesen, who tried to treat it, but the pain was still there. It was time for a second opinion. After an MRI on Lemberger's leg, a doctor finally cracked the code – Lemberger had a stress fracture.
It was time for Friesen to be the bearer of bad news to both coach and player.
"I pretty much told her, 'I don't really want you guys to tell me I can't play,'" Lemberger said, recalling the interaction. "'I'll play anyways. I don't really care. It's more important to me that I'm out there.'"
So Lemberger and Friesen went to the doctor's office once again, this time to craft a plan.
If there's a silver lining that comes with the news of a starter breaking a bone, it's that she could still be medically cleared to play. But they couldn't just throw caution to the wind; there had to be a compromise – Lemberger would not be allowed to partake in practice.
The pain would still be there, amplified even, on the nights and mornings after close to 40 minutes of basketball action. But if there's one place Lemberger knew she could shove all that pain aside and turn her focus somewhere else, it was on the basketball court.
"During the games I kind of forget about it; I'm pretty much in the moment," Lemberger said.
She breaks into a smile.
"So you don't have to feel bad for me during the games."
Terms and conditions
It was quiet in Pauley Pavilion.
The women's basketball team was done with practice. The court was empty, but the lights were still on – it was the perfect time for Lemberger's training.
Behind a table, to the side of the court, sat coach Cori Close and Lemberger, their eyes transfixed on a MacBook screen.
"That's how Steve Nash would do it," Close said as she pointed at the screen, then gestured through the air.
Lemberger's eyes continued to trace the tiny version of herself moving around the computer screen.
During the regular practice sessions, she can't be a part of the dogfight between the players and the practice squad members. Instead, she just stands by the sidelines observing, learning.
Once that's over, it's time for extra film study sessions with Close.
But no amount of watching basketball can adequately prepare her for the 37.7 minutes she averages per game.
That's where ropes, medicine balls and swimming come in to play – whatever gets her heart used to the stress of basketball. She just needs to follow the one mantra that dictates her limitations: "No impact."
Shooting form drills also adhere to that rule, so Lemberger can still keep abreast of the muscle memory involved with placing basketballs in the bucket.
But as far as driving to the basket or getting the rhythm of her jump shot perfect even when an advancing player threatens to swat the ball out of hand goes, her injury makes sure the only repetitions she gets come during the 40 minutes after tipoff.
"The negatives are not really something measurable," Lemberger said. "I don't know how much better or worse I could be playing if I was practicing."
Whether or not a healthier Lemberger could score more than her current 15.2 points per game may be something she'll never find out. But regardless, Lemberger still laces up her shoes for each basketball game and brings the best her preparation can offer.
"For her to get herself ready to compete at that level with not being able to get any practice reps in the Pac-12, that is just darn remarkable," Close said.
Things may seem stacked against her, but that's happened to her before.
Roughhousing
Lemberger has a history of beating the odds.
She's not the most physically gifted athlete; she knows she's undersized. While Lemberger was growing up, her brothers, Logan and Jake Lemberger, knew it too.
Some siblings hand down clothes or toys, some help with homework. Thea Lemberger's offered her lessons in toughness.
"One of the things I remember doing was just having her try to score a layup against us," Logan Lemberger said. "But it would be with just as much hacking as you could do … just 'cause she was going against really tough girls who were much bigger than her."
Thea Lemberger, however, also recalls a secondary aspect to her brothers' lessons, one that involved being "an annoying little sister" and having "household fights."
"I got beat around a little bit growing up, so I'm used to taking hits and throwing some back too," Thea Lemberger said. "It's fun."
The physical style of basketball was something that permeated through the Lemberger household before Thea Lemberger was established as a player.
It was something the Lemberger brothers subscribed to whenever they took to the court. It was also something their little sister would slowly adopt as she watched her makeshift coaches' games from the stands.
"That was something that she picked up," Logan Lemberger said. "Just realizing the little things can gain you an advantage, especially if you don't have the physical attributes that other people have."
Her legacy
There will be many things to remember Thea Lemberger by once she graduates.
As the saying goes, numbers never lie.
The statistics will always chronicle how Lemberger surpassed the 1,000-point milestone in her season, how she played more minutes and created more assists than anyone on this year's team.
But numbers won't be able to represent how she established herself as a fan favorite.
Every time Lemberger takes a charge and wins a possession for the Bruins, the fans in attendance roar in excitement.
The same appeal she has with the crowd has invaded the Close family, even one member who doesn't get to watch the games from the coach's chairs has caught the bug.
"You know, I've been coaching 21 years and she's one of my mom's top three of all-time favorites," Close said. "There's just something about her. There's a charisma about her."
With 29 seconds left in regulation of the final home game of the season on Sunday, Pauley Pavilion announcer Dennis Koehne called Lemberger's name one last time as she headed to the bench.
The fans gave a standing ovation for the UCLA guard's Pauley Pavilion swan song.
"It makes me almost tear up to think about it," said Jan Cloyde, a UCLA women's basketball season ticket holder. "She has been such an example for everyone about what Cori talks about in terms of being uncommon and just going beyond."
At the beginning of the year, Close asked her captains what they wanted the team to accomplish this season. Lemberger wanted to make sure this team would be one that will be remembered for years to come.
"There's no chance of that without Thea's heart," Close said.
A season complicated by a broken leg and a 12-16 record to date probably wasn't the most ideal legacy Lemberger wanted to leave behind.
But in Close's eyes, that goal has become a reality. She will make sure Lemberger is remembered for "turning the tide" of her program. How, despite her injury, Lemberger as a leader still held herself accountable as the hardest worker on the team.
It's something that inspired the players around her to achieve more, and something that Close wants to use to inspire future Bruins.
"There's going to be a time down the road in this program when we're going to be playing in Final Fours. And I'm still going to be talking about that we wouldn't be there without someone like Thea Lemberger," Close said.
After Lemberger graduates, the women's basketball program might eventually find someone who can replace the leadership and toughness she brought to the basketball court.
But the program won't find a replacement for the heart and sacrifice she gave it.