UCLA beats Stanford after Bruin gymnast nets perfect 10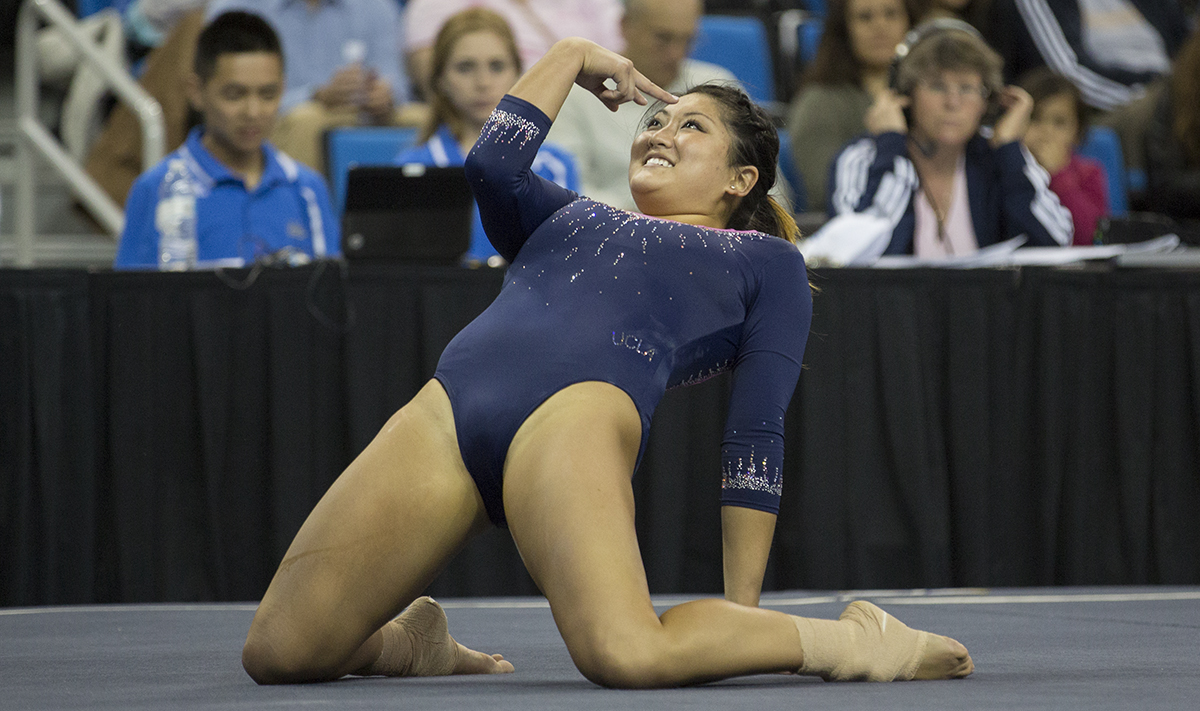 Senior Sydney Sawa put on a show Saturday, as her floor routine captivated both the crowd and the judges, earning her a perfect 10.
(Austin Yu/Daily Bruin)
What do a serpent and a pair of six-shooter guns have to do with a floor exercise routine?

They're both part of a recipe for a perfect 10.
That was the story of senior Sydney Sawa's Saturday night. Sawa's slithering arm movements, finger gun-firing and other distinct dance elements helped the UCLA gymnast secure her first 10.0 on floor exercise – a score that edged the No. 9 Bruins past the visiting No. 12 Stanford Cardinal 196.90-196.250.
"It's just like fighting the serpent, and at the end killing it," Sawa said, explaining the curious narrative behind her routine.
Sawa's peak performance came at an opportune time, providing a crucial lift for the Bruins (5-2) to beat the Cardinal (6-2), especially when several Bruins were suffering from physical ailments.
One of those gymnasts was freshman Jennifer Pinches. The combination of an illness and physical exertion from the previous apparatuses had pushed her to a breaking point; however, she fought on and finished her floor exercise routine.
While Pinches showed her teammates that they could count on her to perform even in a weakened condition, she learned that she, too, could count on her teammates.
"It was one of those days," she said. "But I'm really proud of our team; we did so much better on the beam, and Sydney Sawa's 10 on the floor. There were so many positives."
Prior to the meet, Sawa's floor routine was already generating some buzz amongst the Pauley Pavilion fans through its blend of vibrant dance moves, quirky music and near-perfect scores in past meets.
To cater to that intrigue, the team debuted a special feature video during the break after the meet's first rotation. The giant screens in Pauley showcased several members of UCLA gymnastics attempting to reenact Sawa's routine – complete with the original soundtrack.
"They chose people who can't really do that fast type of dancing," said sophomore Danusia Francis, who starred in the video. "And they chose us to improvise (Sydney's) routine. It was pretty funny. I thought, 'I want a copy of that.'"
Their tongue-in-cheek interpretation was met with laughter from the crowd, reminding the audience that no one does Sawa's routine like she does.
The reason why Sawa's dance moves may be so difficult to mimic might be because coach Valorie Kondos Field tailored Sawa's routine to fit her personality.
"She's a real quirky, artsy type of girl, and I knew that I could get away with something really crazy with her," Kondos Field said. "There aren't that many people who can pull that off."
When the percussive beats of "Rumble in the Jungle" by Zeds Dead blared through the Pauley speakers once again later during the night, the stage, this time, was Sawa's alone. And she delivered.
The chants of "10" from the crowd were validated with congruence in the judges' scores. The crowd erupted with the loudest cheers it produced all night, and the gymnast, who just got awarded a 10, was swarmed by her teammates.
So, what happens when Sawa fights a serpent?
"She obviously wins," Francis said. "She got a 10."