UCLA, USC student groups call for improved racial climate at town hall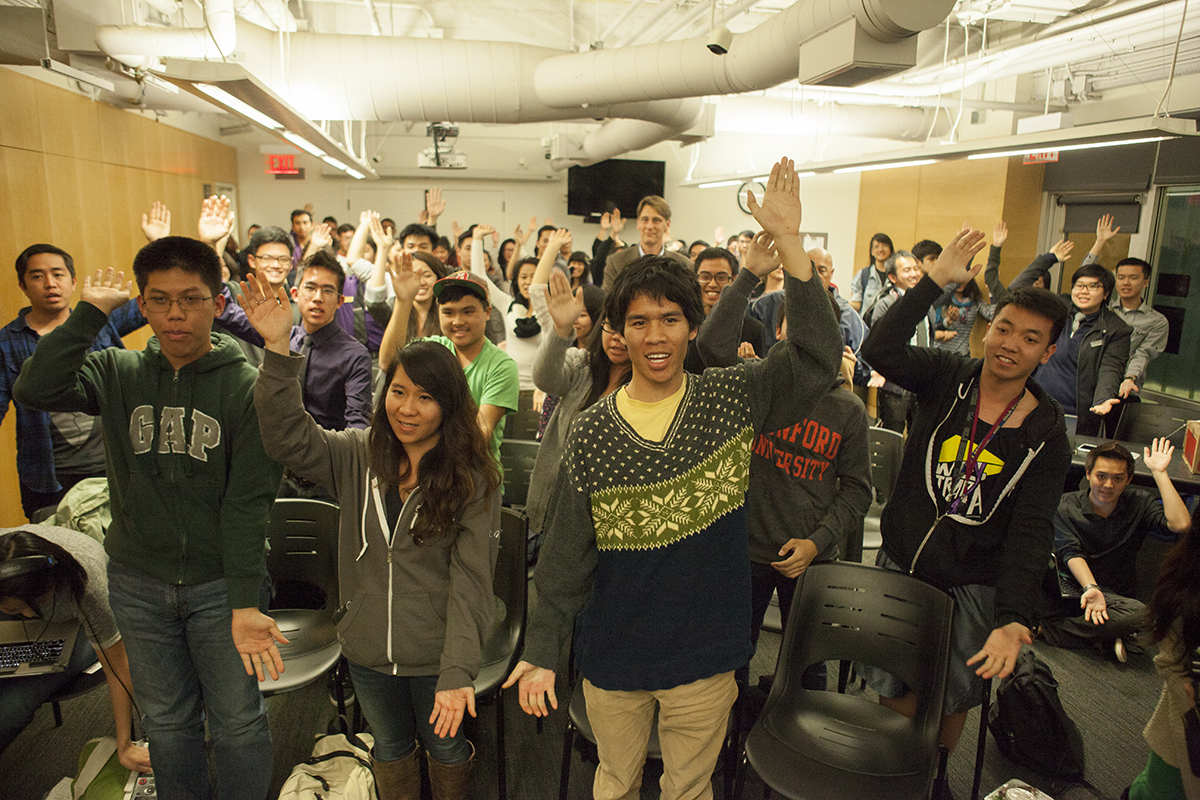 UCLA and USC students called for UCLA administrators to improve campus climate in response to racist fliers that were recently sent to campus departments. (Joseph Chan/Daily Bruin)
Leaders of Asian Pacific Islander student groups from UCLA and USC demanded that UCLA administrators improve campus racial climate by increasing funding for cultural groups and ethnic studies departments at a town hall meeting on Wednesday.

The UCLA Asian Pacific Coalition and two USC student groups, the Asian Pacific American Student Assembly and the Student Coalition for Asian Pacific Empowerment, hosted the meeting in response to racist and sexist fliers sent to Asian American departments on both campuses earlier this month. More than 150 people attended the event.
The student leaders also demanded that the UCLA administration introduce a diversity-related General Education requirement and give students a more direct input in hiring new UCLA administrators, including a vice chancellor for diversity, equity and inclusion.
"Every year, something (like this) always happens and it's very upsetting," said Uyen Hoang, a fourth-year international development studies student and director of the Asian Pacific Coalition. "What has the administration really been doing?"

Two weeks ago, the UCLA Asian American Studies Center and the USC Asian Pacific American Students Services received anonymous fliers containing racial slurs directed at white individuals and members of Asian and Mexican communities.
UCLA administrators and members of various cultural student groups at UCLA, like the American Indian Students Association, Muslim Student Association and Improving Dreams, Equality, Access and Success at UCLA, attended the event. Members of USC student groups and students from UC Irvine were also present.
"This flier (is) essentially evidence that (the) campus climate issue hasn't improved at all," said Nicole Ngaosi, the academic affairs coordinator for the Asian Pacific Coalition.
Phil Hampton, a UCLA spokesman, said UCLA's administration shares concerns expressed by students and believes improvements must be made to campus climate. He said UCLA condemns the language used in the flier and that the university is working with students and faculty to come up with strategies to fight incidents of racial discrimination on campus.
"(UCLA administrators) are hopeful that the town hall, planned by students, will be a constructive step in the continuing process of ensuring the welcoming environment our campus community deserves and expects," Hampton said.
Ngaosi said the Asian Pacific Coalition and other student groups would like to see the Academic Senate open up the vote on a General Education diversity requirement to students this year and create opportunities for student input in the planning process.
Though UCLA students and faculty have been lobbying for a diversity requirement for more than 25 years, UCLA remains the only school in the UC system without a diversity requirement.
Janina Montero, vice chancellor of student affairs, who attended the meeting, said students have been working on a diversity requirement for several years, but the fate of the requirement lies in the hands of the faculty who vote on it.
"There have been different set of discussions across campus on how to bring the requirement back to the faculty," Montero said.
The Asian Pacific Coalition and other cultural groups on campus also hope UCLA administrators will create opportunities for student input in the appointment process of the new vice chancellor for diversity, equity and inclusion.
Last December, Chancellor Gene Bock created the new vice chancellor position in response to an internal report that found UCLA's policies and procedures for addressing racial discrimination among faculty inadequate.
"We want somebody who we can trust and represent (the Asian Pacific community)," Ngaosi said.
Hoang said the flier incident is not an isolated incident, but an extension of ongoing acts of discrimination on campus.
During a student-faculty protest against the flier incident last week, members of Asian American student groups referenced a YouTube video posted in 2011 by former UCLA student Alexandra Wallace called "Asians in the Library," which they said they thought contained slurs about members of Asian communities. They also pointed out that Vietnamese Student Union signs were vandalized with racial and sexist slurs in 2012.

The Asian Pacific Coalition decided to host the meeting with USC student groups to assist one another in holding administrators from both schools accountable for what they considered inadequate response to campus racism in the past, Ngaosi said.
The USC student groups decided to collaborate with UCLA primarily because acts of discrimination are an ongoing problem in communities beyond the two campuses, said Gloria Kim, executive director of the USC Asian Pacific American Student Assembly.
"The message is that much more powerful if it's echoed by our two campuses," Kim added.
Making official demands to the USC administration is too drastic for USC student groups right now because the groups lack experience in cooperating with each other to confront the administration with specific demands, said Andy Su, president of the USC Student Coalition for Asian Pacific Empowerment.
USC administrators have not made an official statement. But so far, they have been expressing support through the Asian Pacific American Student Services at USC, which co-hosted a panel with USC student groups last week about empowering the Asian American community in the midst of racism, Su said.
Kim said the USC Vice Provost for Student Affairs Ainsley Carry was present at their panel last week to voice the administration's response to the flier incident and answer questions from students.