UCLA CTO distributes lottery tickets for Clinton speech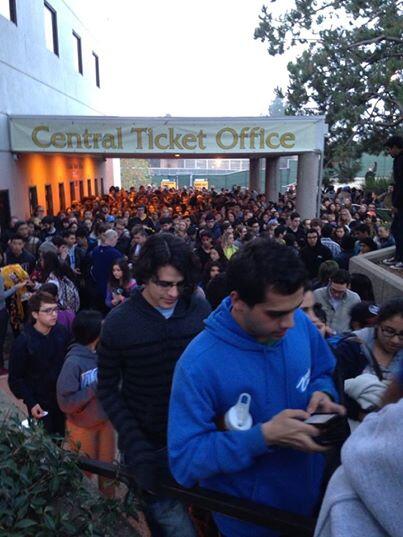 Hundreds of students waited before 6 a.m. for a chance to get a free ticket to Hillary Clinton's upcoming lecture.
Nico Correia, Bruin contributor.
This post was updated at 9:55 p.m.
Hundreds of students in line to get tickets to see Hillary Clinton speak on campus in March formed a mob early Wednesday morning.
Students camped out near the UCLA Central Ticket Office to get one of 413 free student tickets that were set to be distributed at 7 a.m.
Officials instructed students not to form a line until 6 a.m. but many students were waiting at the office as early as 2 a.m.
Just before 6 a.m., students abandoned the line that was forming and rushed to the front of the ticket office.
"Everyone just started running, I'm talking full-fledged sprinting. People left their iPods and iPhones behind in line," said first-year pre-communication studies student Anna Blore. "It was a mad dash."
Mary Grace Baldo, a fourth-year gender studies student, said she got to the Central Ticket Office about 6 a.m. to find an unorganized group. Without knowing where to get in line, students stood around without any particular order.
Baldo added that she could not find anyone from the ticket office to help her or other students organize the line.
The Central Ticket Office did not distribute tickets for entry to those in line. Instead, they gave out lottery tickets for a drawing to receive tickets to the speech to select students.
Kathleen Raskin, a first-year environmental science student, got to the ticket office at about 5:15 a.m. She said she thought the lottery system was the fairest way to handle the unorganized mob of students.
To take part in the lottery, students were asked to fill out their name, email and university ID number on the ticket and return it to the ticket office before 4 p.m. Wednesday.
Officials from the Central Ticket Office did not respond to multiple phone calls. Students who turned in their raffle ticket were told they would be notified by email Thursday morning about whether they will receive a ticket.
Compiled by Erin Donnelly and Yael Levin, Bruin senior staff.