UCLA avenges last year's loss with 86-66 defeat of Cal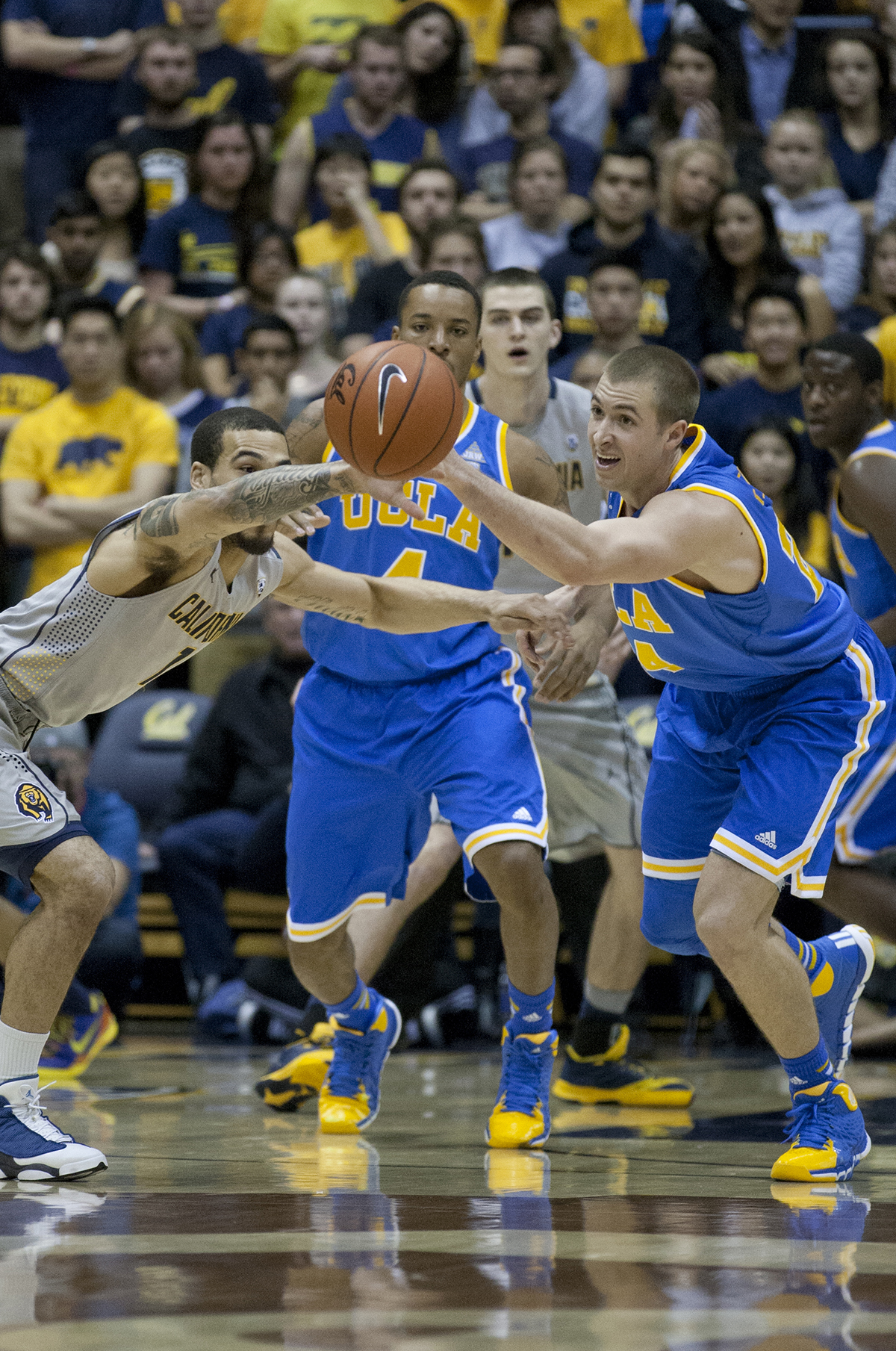 Junior guard Norman Powell and redshirt senior forward Travis Wear, along with the rest of the Bruins, defeated California 86-66 on Wednesday night. According to the players, a strong second half performance helped them get the victory. (Katie Meyers / Daily Bruin senior staff)
BERKELEY, Calif. — Last year's road game against Cal was nothing short of a disaster for UCLA men's basketball, as the Bruins fell behind by 25 in the first half and eventually lost by 13.
In their home game against the Golden Bears earlier this season, the Bruins (21-5, 10-3 Pac-12) bounced back with a strong first half but let Cal sneak back into the game after halftime.
But in Wednesday night's 86-66 beat down of the Golden Bears (17-9, 8-5) in Haas Pavilion, the No. 23 Bruins finally put together a complete performance.
UCLA shot nearly 60 percent from the field, committed only six turnovers and held all of Cal's starters in single-digit scoring. Coach Steve Alford called this his team's best game of the season thus far, despite its struggles from the free-throw line, where UCLA was just 12-22.
"If we made our free throws, it would have been maybe a nearly flawless game," Alford said. "But I thought this was as well as we've played in a while."
UCLA's complete game was matched by a comprehensive standout performance from sophomore guard Jordan Adams, who saw his hot shooting from Saturday's win over Utah carry over. Adams not only finished with a game-high 28 points on 12-19 shooting, but also rounded out the box score with six rebounds, five assists and five steals, bringing him within four steals of tying UCLA's single-season record.
Adams didn't wait around for his impact to be felt. He scored the games first points and contributed seven points in the Bruins' game-opening 14-5 run. However, offense, Adams said, was not the team's focus coming out of the gate.
"Early, we didn't care about scoring or offense," Adams said. "We wanted to establish our defense and come out strong defensively. We know our offense will eventually follow along."
That initial run, Adams said, "sucked the life" out of a rowdy Haas Pavilion crowd of 10,837, one that both Alford and his players acknowledged created a tough environment to play in. After listening to the crowd's jeers a year ago in UCLA's 76-63 loss, Adams said the Bruins came in with a mindset of quieting that crowd down.
"From the returning players who came here last year, we know how badly we got beat, so we told the younger guys and the new coaching staff we really wanted to avenge," Adams said.
While the quick push to start the game sent Cal reeling to the ropes, UCLA delivered its knockout punch in the second half, storming out of halftime with the same intensity it opened the game with. After having slow starts in so many recent games, the Bruins have become adept at coming out of halftime strong, which redshirt senior forward Travis Wear said was key to his team's win.
"I think we come in at halftime more confident because we've been playing so well out of half, and today was no different," Wear said. "We came out and really gave it to them. Never stopped, never looked back."