UCLA gymnasts' consistent scores eases win over Washington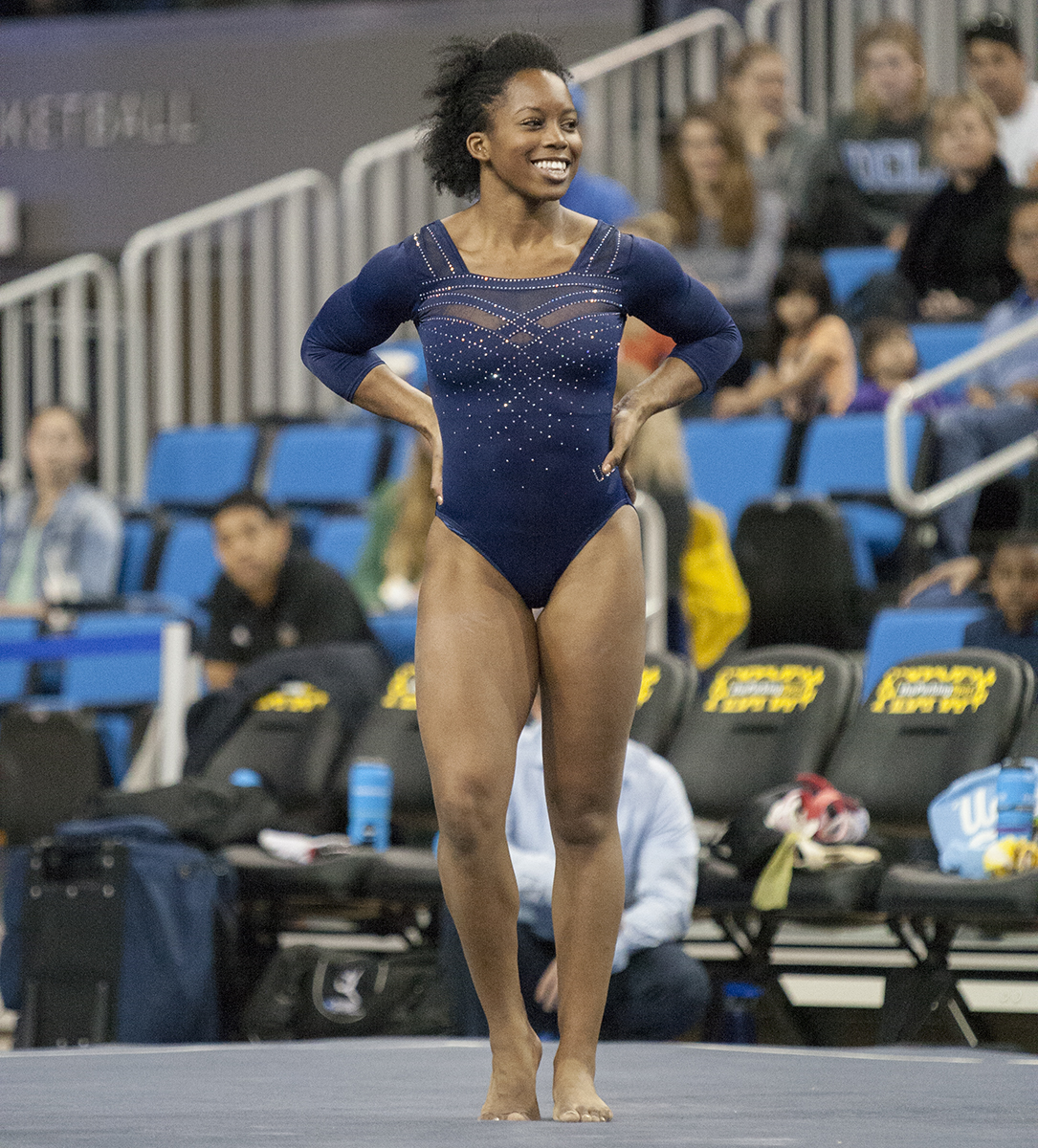 Redshirt sophomore Sadiqua Bynum improved on her vault and floor scores from last week, scoring a 9.90 in both events.
(Tim Bradbury/Daily Bruin senior staff)
February 18, 2014 1:09 am
One score is not like the other, or at least the story behind the score means more than the number itself.
The UCLA women's gymnastics team defeated the Washington Huskies 196.675-195.650 Sunday afternoon in Seattle. Though the final score was .250 points less than last week's score against Arizona State, coach Valorie Kondos Field said the team looked much better overall.
Against Arizona State, most of the team looked shaky and inconsistent. Redshirt junior Samantha Peszek was an exception.
But in Washington, the team posted more consistent scores, minus redshirt sophomore Ellette Craddock's 8.825 on beam.
The Bruins showcased a more poised front against the Huskies and earned the highest road score they have had all season.
At this point in the season, the team is looking to improve its overall score at meets to a 197. While this week's performance did not get them to where they wanted to be, Kondos Field said she was pleased with the players.
Last week's scores were higher, but scores do not necessarily speak for the strength of performances.
"Scores are subjective, so I believe that we competed well enough to score a 197, definitely higher," Kondos Field said. "There's nothing you can do about the subjectivity of our sport, so as far as our athletes competed, they did a great job."
Gymnasts cited changes made in the week before the meet and during warm-ups right before events as influential factors in their success against the Huskies.

Redshirt sophomore Sadiqua Bynum earned a score of 9.90 on both her vault and floor events. She improved from a 9.875 on vault and a 9.775 on floor at last week's meet against Arizona State. Bynum said she focused on her teammates and having fun during the meet more than she has in past meets.
"The past week kind of got the ball rolling, just helped me because I've been working on my floor confidence and my cues," Bynum said. "So I think just having that extra change was what helped a lot to just continue throughout the meet."
Senior Sydney Sawa also took strength from preparation. She said visualizing her routines before the events helps her mentally prepare for the meet.
Sawa won the all-around competition with a score of 39.450, with solid performances on both beam and floor.
She is consistently a top performer on floor and this week's 9.90 was no exception. Her 9.925 on beam, however, was a career-high score, and she said reframing the context of the beam allowed her to excel.
"Miss Val came up to me before and said to perform it like I do on floor, and you know I just said, 'Why not?'" Sawa said. "Make it big. Pretend like it is a floor performance and just go big."
While the Arizona State meet signified a low-point for the Bruins at midseason, the Washington meet had the opposite effect. Performances by Sawa and Bynum helped the Bruins overcome the Huskies, but the consistency of the team overall exemplifies the progress the team is making as it prepares for championship season.