UCLA men's volleyball hopes to offset first home loss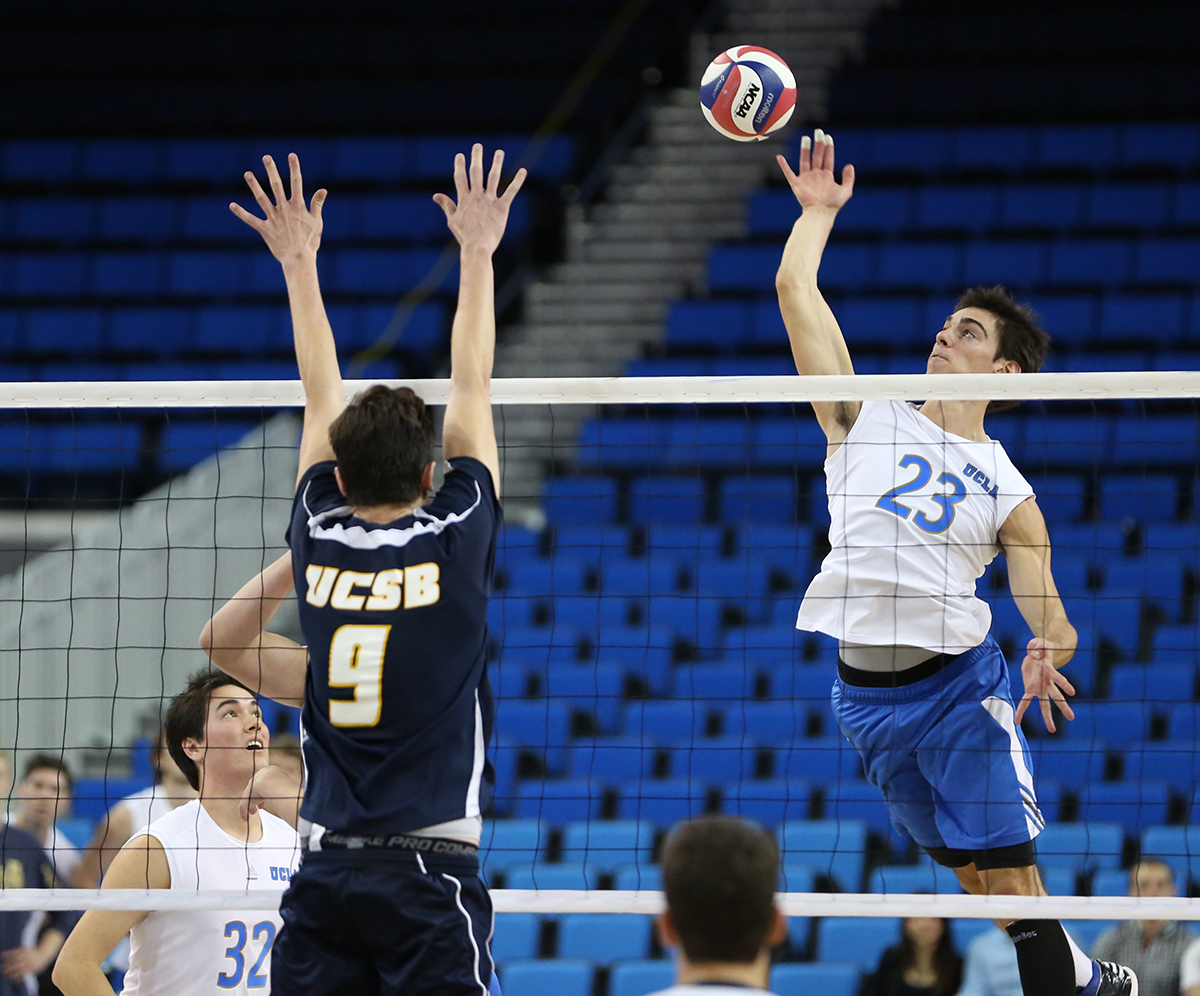 Senior outside hitter Gonzalo Quiroga said that there isn't much the team can change before facing Cal State Northridge, but the players remain focused on bouncing back. (Jose Ubeda/Daily Bruin staff)
Coach John Speraw made his players a promise at the beginning of the week: If they won on both Wednesday against Long Beach State and Friday against Cal State Northridge, they would receive all of their clean laundry back.
Fresh laundry may be a trivial matter for some, but not if you're on the UCLA men's volleyball team.
"It seems very minor but it means a lot, we go through clothes so fast," said freshman setter Hagen Smith. "There're a lot of loads between our volleyball stuff and regular clothes, it would be nice to not worry about it for this week."
The No. 2 Bruins (10-3, 7-2 Mountain Pacific Sports Federation) could not clear the first hurdle of the deal, falling against No. 6 Long Beach State (7-3, 6-3 MPSF). Some players were hoping Speraw would have a "kind heart" and keep his end of the bargain if the Bruins responded adequately on Friday. Speraw however, is not one to renegotiate the terms of an agreement.
"It's totally off the table, that was the deal," Speraw said. "They'll have to earn (laundry) at another time during the season."
Like his teammates, Smith may have blown a chance to collect his clean clothes, but the freshman could have earned himself a new opportunity. After a strong performance off the bench on Wednesday, a starting spot at setter may be in the cards for Smith on Friday.
"I really liked the leadership and energy that Hagen brought, obviously he doesn't have a lot of experience on the court, but I think he played with a lot of confidence when our team needed it," said Speraw after Wednesday's match.
When asked whether or not Smith had done enough to earn the start on Friday, Speraw said he would have to look at tape of Wednesday's match in order to come to a decision. Having only one full day of preparation in between matches could make Speraw reluctant to insert a new starter, but Smith showed he is capable of contributing whether he is on the court for the first point or not.
The Bruins have struggled to maintain consistency at setter throughout the season. Sophomore starter Steve O'Dell has been out with a foot injury since early in the season, and although redshirt junior Michael Beals had been a solid fill in, the Bruins' offense has struggled in two of the last three games.
Regardless of who ultimately starts at setter, the Bruins will be heavy favorites over the No. 13 Matadors (3-7, 2-6 MPSF), who have not won a set in their last four games. This matchup comes at a favorable time for the Bruins – it gives the team an immediate chance to fix the miscues that led to its first home loss of the season.
"There's not much we can change in two days," said senior outside hitter Gonzalo Quiroga. "We have to forget about (Wednesday) and just keep going, we have an important game against Northridge to bounce back and then we get the week off."
A second loss in a row would likely put the Bruins – who had a 6-0 conference record less than 10 days ago – two full games behind first-place BYU in the MPSF standings.