Fowler to showcase songwriters' musical stylings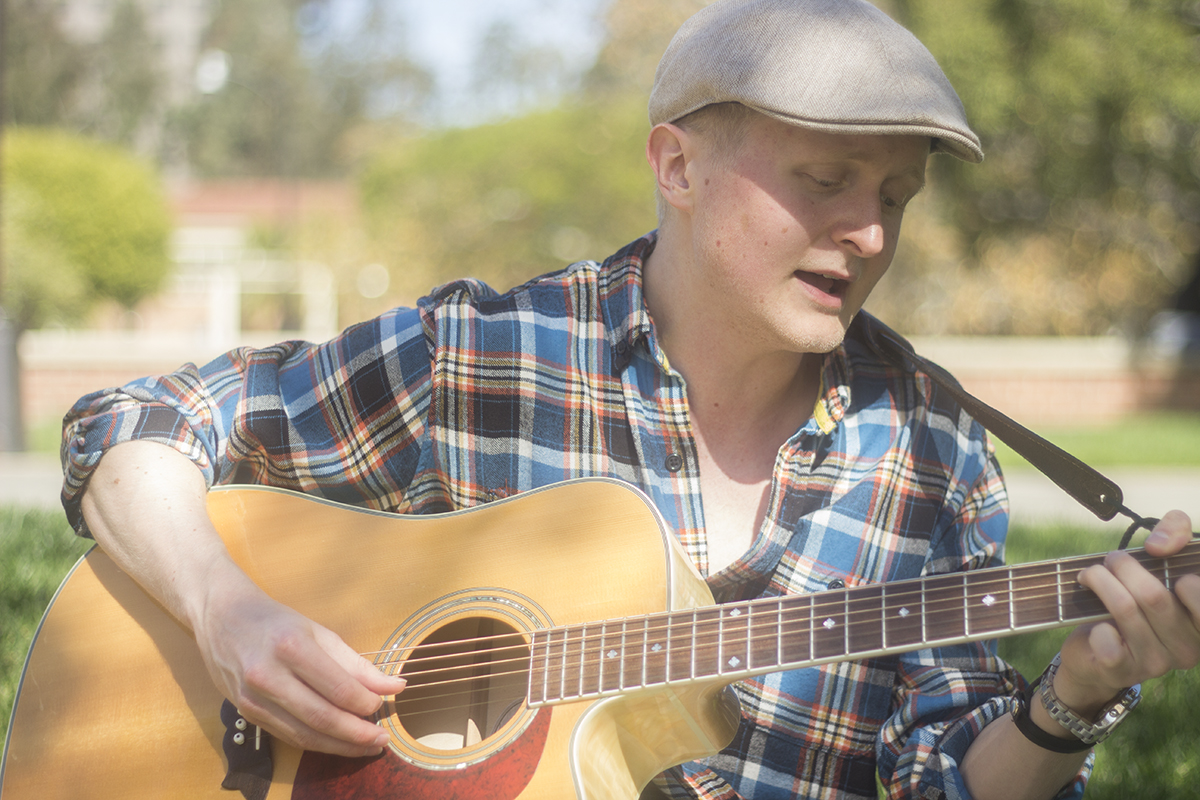 Fourth-year ethnomusicology student Oskri Nurminen is a Finnish-born exchange student whose music has a flavor of Americana. (Felicia Ramirez/Daily Bruin staff)
February 13, 2014 12:37 am
Since pressing her fingers on a piano and strumming a chord on his guitar at very young ages, Natalie Rose Brainin and Oskari Nurminen have felt a deeply rooted connection to performing, learning and listening to music.
The musical stylings of second-year ethnomusicology student Brainin and fourth-year ethnomusicology student Nurminen will be showcased in a Fowler Out Loud: Songwriter Showcase at the Fowler Museum on Thursday. Sharing the stage for their Valentine's Day-inspired performances, Brainin and Nurminen will offer a show for both couples and singles looking to unwind from exams and midterms.
Layered with various instruments such as the harmonica and acoustic guitar, the singer-songwriter music of Finnish-born exchange student Nurminen has an Americana twist, while Brainin's music is piano-based pop.
"As a genre, it's an alternative, pop style but mostly it's singer-songwriter," Brainin said. "I just try to tell stories and relate to a bigger audience with my songs."
The start of Nurminen's songwriting began during a trip to Nashville, Tenn. in 2010 where he was inspired by the rich singing-songwriting tradition. Today, he crafts and performs his own songs, drawing raw inspiration from all aspects of his everyday life, whether they be life events or books he reads.
"I get inspiration from whatever is happening around me," Nurminen said. "It might be my own life. It might be stuff that happens to people I know. It might be from a book."
Similarly, Brainin gathers song ideas from her current life events, as well as from contemporary guitar players such as James Blunt and John Mayer. When writing a song, she said she writes lyrics before she composes the music to enhance emotion.
"In my music, my main goal is to connect with people," Brainin said. "I usually speak about something that's happening in my life that I feel like I need to talk about."
Although the songs of Brainin and Nurminen have intended themes, they said they prefer their listeners to form their own interpretations of the songs.
"I usually don't tell people what a song is specifically about because I want people to have their own experience with it," Brainin said.
For both artists, their connection to music started at a young age. Nurminen first connected with music when he unwrapped a miniature drum set for his third birthday in Finland. This connection thrived with the influence of his father, who could often be found perched on a seat, pressing the keys of a piano.
Musical instruments such as the drums, the piano and the bass all had a lasting impact on Nurminen; however, he would form an even stronger relationship with the guitar because of its accessibility and portability.
"You can take (the guitar) anywhere," said Nurminen. "I used to love playing drums and I actually went to go study that. But drums always required a band or people playing with you. And you have to have some room or space. You can play (a guitar) at any part of the day."
Brainin received her first piano lesson at five years old, and with the help of her teacher, established her love for music. She first felt the excitement of playing music upon learning "Yankee Doodle" on the piano for the first time.
"I think the fact that I felt so connected and driven to memorize music to be able to perform it while I was so young is kind of what made me want to pursue it," she said.
At Thursday's Fowler concert, the audience can experience the years of musical growth that the performers' songs encompass. The audience can expect to hear happier, empowering music with feel-good sounds from Brainin, and down-tempo songs with a chill vibe from Nurminen.
Fourth-year ethnomusicology graduate student and coordinator for Fowler Out Loud Logan Clark said the show will be warm and relaxed.

"I'm looking forward to see how each of their intimate styles will really connect with the audience." Clark said.
In addition to their own songs, they will also perform covers of popular songs. Nurminen will play "Every Time I Fall In Love" from ABC's "Nashville," while Brainin will play a cover of a well-known to-be-announced song, in hopes of having the audience sing along.
"I'm just really hoping that everybody can have a good time and relax after midterms," said Brainin. "Hopefully couples come so I can play something nice for them for Valentine's Day."