UCLA law students protest lack of diversity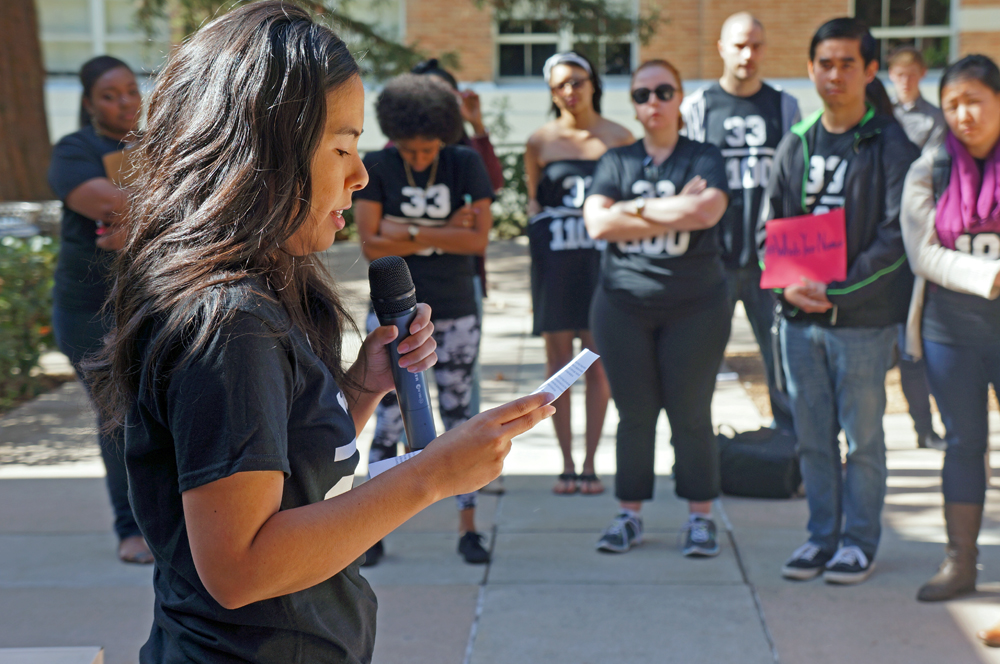 Adriane Peralta, a member of the UCLA Law Review, spoke at the event on Monday, which protested a lack of diversity at the UCLA School of Law. (Courtesy of Ronald Robertson)
The original version of this article contained information that was unclear and has been changed. See the bottom of the article for additional information.
Students at the UCLA School of Law hosted an event on Monday to highlight a lack of racial diversity and to encourage school officials to be more accommodating of minority students.
About 120 students filled the law school's courtyard Monday wearing shirts printed with the fraction "33/1100" – what they claimed was the ratio of black students to total students enrolled at the school.
The UCLA School of Law admissions office website states that 35 percent of students in the class of 2016 are students of color. Lauri Gavel, director for communications at the law school, said that there were 33 black law students at the UCLA law school out of 994 J.D. students, not including those pursuing an LL.M. degree, a one-year law degree program for international students.
Many participants were members in law school student groups such as the Asian and Pacific Islander Law Students Association, the National Native American Law Students Association, La Raza Law Students Association and the National Black Law Students Association.
Some students at Monday's event said they experienced racial discrimination in their law classes from both professors and fellow students.
Gerloni Cotton, a law student and one of the co-chairs of the Black Law Students Association at UCLA, said she helped organize the event because she has experienced racial discrimination at the law school.
During her first year, she said she was one of two black students and the only female black student in a class of about 80 people. She added that she was the only black student in her 100-student Constitutional Criminal Procedure class.
Cotton said she did not feel comfortable with certain professors because she felt like they put her on the spot to represent her race during class.
She said she eventually found it difficult to speak up about racial or gender issues because her classmates either wrote her off as a loud, complaining minority student or as overly passionate.
"On one hand I felt isolated, but on the other hand I felt highlighted – invisible but hypervisible," Cotton said. "When issues of race came up in class, I would have to speak up for my race because I was the only one there. But at other times, there was nobody I could relate to or reach out to."
Raj Shah, a third-year law student, came and supported his fellow law students by wearing a "33/1100" shirt.
He added that it was well-known among students which professors are more liberal or conservative – what many students believe is an indicator of how they would approach issues pertaining to minority students.
"Oftentimes when we talk about diversity on campus … we forget who the people are," said Maha Ibrahim, an Arab American second-year law student and co-president of Law Women of UCLA.
Shyrissa Dobbins, a first-year law student, said she often experiences microaggressions and negative interactions from both white and nonwhite students at the school.
Dobbins said she believes minority students are overrepresented on admissions materials. She added that before entering the law school, she attended Diversity Weekend and was mislead to believe there was a much higher population of students of color at the school.
Ronald Robertson, a law student at UCLA, made a documentary video in connection with the event, where he interviewed several black law students about their personal experiences in the classroom at the UCLA law school.
"The video was a way for us to give a visual representation of how it feels," Robertson said.
Many students interviewed in the video said they felt pressure from their professors and their peers to represent the entire black community in group discussions because they were the only black students in their classes. Others said they felt isolated and like they did not belong to the law school community.
Rachel Moran, dean of the UCLA School of Law, said in an email statement that she was aware of the event and understood student frustration with the administration.
"I have been working with my administration to provide opportunities that facilitate constructive conversations for all of our students, and we will continue to foster these discussions," Moran said in the statement.
She added that Rob Schwartz, dean of admissions and financial aid at the UCLA School of Law, will reach out to students to address their concerns and provide additional support to them.
Clarification: Shyrissa Dobbins said she believes minority students are overrepresented on UCLA admissions materials, which mislead her to believe there was a much higher population of students of color at the school.