Rally protests incidents of discrimination on UCLA campus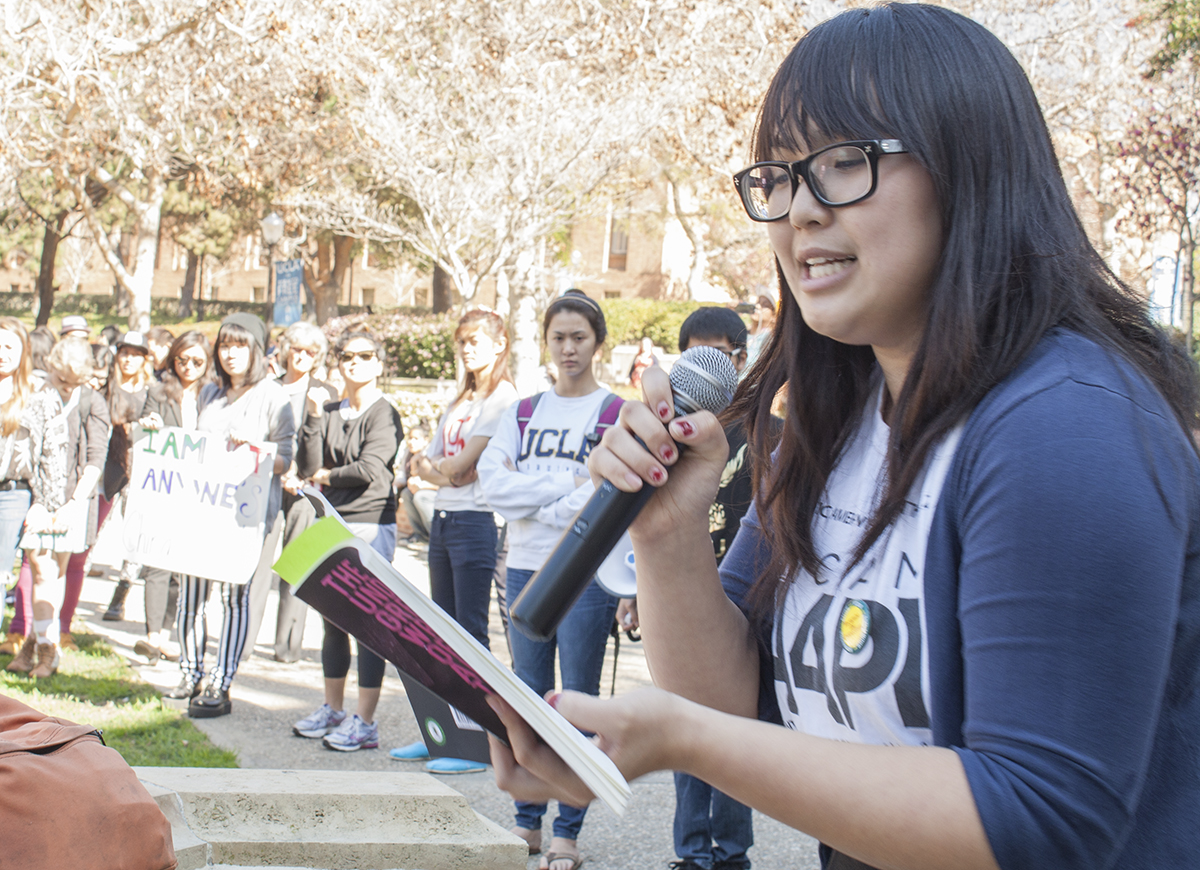 Uyen Hoang, a fourth-year international development studies student and director of the Asian Pacific Coalition, spoke at Monday's rally. (Justin Chang/Daily Bruin)
The original version of this article contained an error and unclear information and has been changed. See the bottom of the article for additional information.
This post was updated at 6:50 p.m.
Students and faculty held a rally Monday to protest racial and gender discrimination on campus in response to a racist and sexist flier sent to UCLA's Asian American Studies Center last week.
"It's not a political issue, it is personal," said Jessy Nguyen, a third-year psychobiology student who is part of the Vietnamese Student Union.
About 80 students crowded in front of Kerckhoff Hall for the event, which was organized by the Asian Pacific Coalition at UCLA, the Vietnamese Student Union and numerous other student groups.
On Wednesday, the Asian American Studies Center received an anonymous flier filled with racist and sexist slurs directed against Asian women, Mexican men and women, and white men and women.
"The flier may be the work of a cowardly individual or a misguided set of individuals, but the larger notions of race, gender and sexuality referenced in the flier speak to their enduring significance as core points of contention in this nation," said David K. Yoo, director of the Asian American Studies Center, in a speech during the protest.
The students who spoke at the rally claimed that the recent flier was not an isolated incident, but an example of recurring acts of discrimination against students of color on campus.
On Feb. 1, a similar flier was sent to USC's Asian Pacific American Student Services.
The anonymous flier was filled with "racist and sexist slurs directed at a number of communities," according to a statement from Mary Ho, the director of Asian Pacific American Student Services at USC.
The university's Department of Public Safety was notified about the flier and will keep the organization updated on further developments, according to the statement, which was released on Friday.
UCLA students at Monday's rally referenced a Youtube video posted in 2011 by former UCLA student Alexandra Wallace called "Asians in the Library" that included what many perceived to be racist commentary. They also referred to the vandalism of a Vietnamese Student Union sign in 2012 with racial and sexist slurs.
"This was just one of the many events that have happened at UCLA in the four years I've been here, and it may seem like a joke, but it really is a threat to our communities," said Christine Chu, a fourth-year sociology student and a staff member of the Vietnamese Student Union.
The student groups released a press statement on Thursday after receiving the flier, calling the administration to support an inclusive community at UCLA. The statement was signed by the Asian Pacific Coalition, Pacific Islands Students Association, Samahang Pilipino, the Vietnamese Student Union and dozens of other student groups from UCLA and other universities.
Students at the rally said they were disappointed with the UCLA administration's responses to past incidents of discrimination on campus and called for the implementation of a diversity-related general education requirement. UCLA is currently the only school within the UC that does not have this requirement.
"It's a shame that UCLA is a university that prides itself on diversity, yet have such things happen on campus," Nguyen said.
Janina Montero, vice chancellor of student affairs at UCLA, also spoke at the protest, condemning the discrimination and expressing the school administration's support for the minority community.
"This is a painful and frustrating incident that affects all the communities at UCLA, and I understand that these hateful experiences affect students' perception of their place in the university," Montero said.
"What really matters is that everyone has a strong and full academic and personal experience on campus, and it is the university's role to ensure every student fully belongs and is respected," Montero said.
For Live Maluia, the president of the Pacific Islands Students Association at UCLA, the hateful slurs on the flier remind her of experiences with racial profiling near her home in Compton, Calif., where she said she was routinely stopped on the streets and bullied by police for being Samoan.
"UCLA was supposed to be my safe haven, that's why I left home to come here," Maluia said. "I shouldn't have to worry about my safety on campus."
A police investigation is underway regarding the flier incident. UCLA is also working to address the unpleasant experiences based on issues of race on campus by providing avenues for dialogue and support, Montero said.
Protesters said the racial discrimination also extends to the faculty on campus.
"Unlike the previous vandalism incident, this time the racial slurs were posted directly to faculty at the Asian American Studies Center, and it is an attack on the most respected of our community," said Anh Nguyen, president of the Vietnamese Student Union.
In his Asian American Studies class, Nguyen recalls students complaining about the accent of a Vietnamese professor, commenting that the professor "can't teach" and "doesn't belong here".
A report released last year found UCLA's policies and procedures for responding to incidents of perceived bias, discrimination and intolerance involving faculty to be inadequate. In response, the University announced plans to hire a full-time discrimination officer, and to look into its policies.
Correction: Live Maluia, the president of the Pacific Islands Students Association at UCLA, said the slurs on the flier remind her of occasions when she was stopped and bullied by police for being Samoan. UCLA students at Monday's rally spoke about a Youtube video posted by former UCLA student Alexandra Wallace called "Asians in the Library."