Group at UCLA law school helps students suppress stress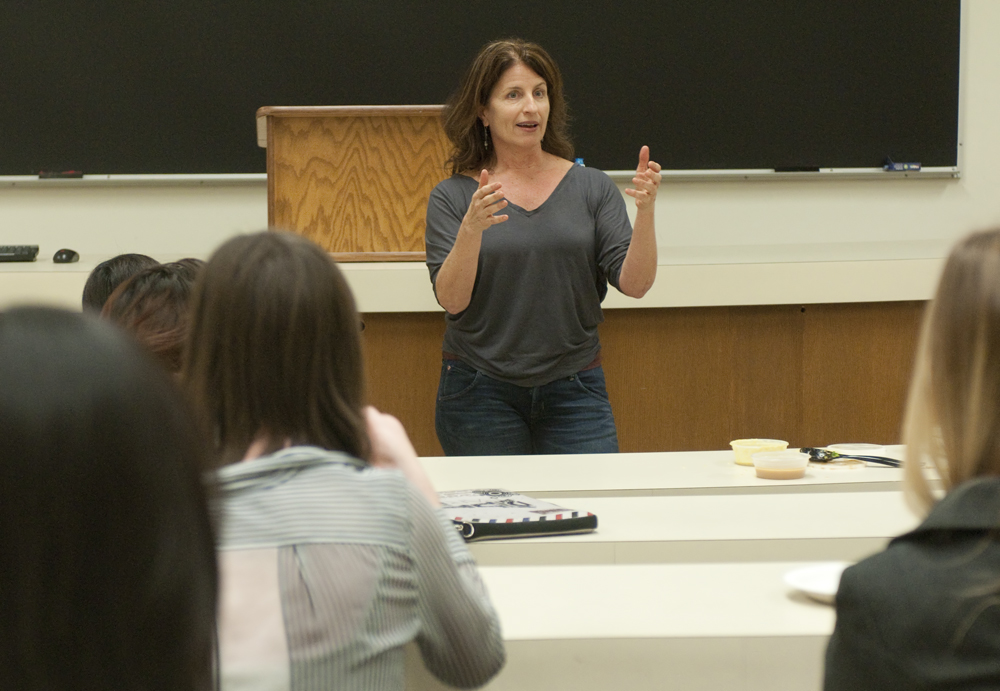 Marcela Widrig leads a workshop at the UCLA School of Law on the Grinberg Method, a relaxation technique.
(Lexy Atmore/Daily Bruin senior staff)
Starting law school as a father to a newborn baby, first-year law student Ben Bernard struggled to find time in between classes to do his work.
Because he usually heads home to his wife and newborn at 6.30 p.m., Bernard said that the lack of flexibility in his academic schedule means he is under great pressure to balance his schoolwork and family life.
Bernard is one of about 30 students who went to a Law Students in Balance workshop to learn how to manage the stresses of studying law.
The workshop, held on Thursday at the UCLA School of Law, was the first in a series organized by the Law Students in Balance student group, founded this semester by second-year law student Tatiana Pavlova-Coleman.
The group aims to introduce students to a number of different stress-relieving practices through workshops that feature weekly talks on relaxation techniques and a 15-minute group meditation session every Wednesday.
UCLA Healthy Campus Initiative, which offers financial support to student groups working to improve student well-being, gave the group $2,000 to fund the workshops. The group also received $750 from the law school. However, many speakers have agreed to offer their time for free, Pavlova-Coleman added.
The group was inspired by a popular course called "The Law and Your Life," taught by law professors Kenneth N. Klee and Judith Gordon. The class teaches students similar stress-management strategies.

Pavlova-Coleman said the class often has a long waitlist and is only available to second- and third-year law students. She therefore felt it was important to create a supplementary program accessible to all students.
Pavlova-Coleman also said she saw one of her classmates drop out of school because of overwhelming stress and she wants to help other students avoid being in a similar situation.
Professor Taime L. Bryant, who attended the workshop Thursday, said law students especially have many reasons to be anxious about academics and finding a job.
Teaching both first-year and upper division classes, Bryant said her own students get anxious about public speaking, failing exams and an uncertain job market.
Bryant said she noticed anxiety is contagious with her students, rippling out to other students who are exposed to it. When the issue is not addressed, it leads to an increasing number of students not wanting to come to class, she added.
For Bernard, the law school's system of grading on the curve is especially stressful for students and creates a competitive atmosphere among his colleagues, he said.
Mahfam Sadeghi, another law student who attended the workshop Thursday, said she will come back and attend next week's session.
Sadeghi said the breathing exercises taught at the workshop really helped her, adding that she could feel the physical results straight away.
Out of all the extra courses offered at the law school – most of which are career-related – Sadeghi said the Law Students in Balance workshop was the most helpful to her well-being. She added she thinks more funding should be invested into such programs.
"It doesn't matter if you pass the bar if you're an unhealthy, unhappy person," Sadeghi said.
Ironically, Sadeghi said many of her friends were too busy and stressed to come to the workshop series.
Pavlova-Coleman and Gordon, a co-teacher of the "The Law and Your Life" course, are currently looking for funding to eventually set up a wellness center just for the law school.
Pavlova-Coleman said she thinks more stress-management programs integrated into the law school's curriculum would have a very positive effect on student well-being.
Law Students in Balance will hold workshops every Thursday for the next eight to 10 weeks at the law school, depending on funding, Pavlova-Coleman said.