No. 9 UCLA gymnastics to host No. 20 Arizona State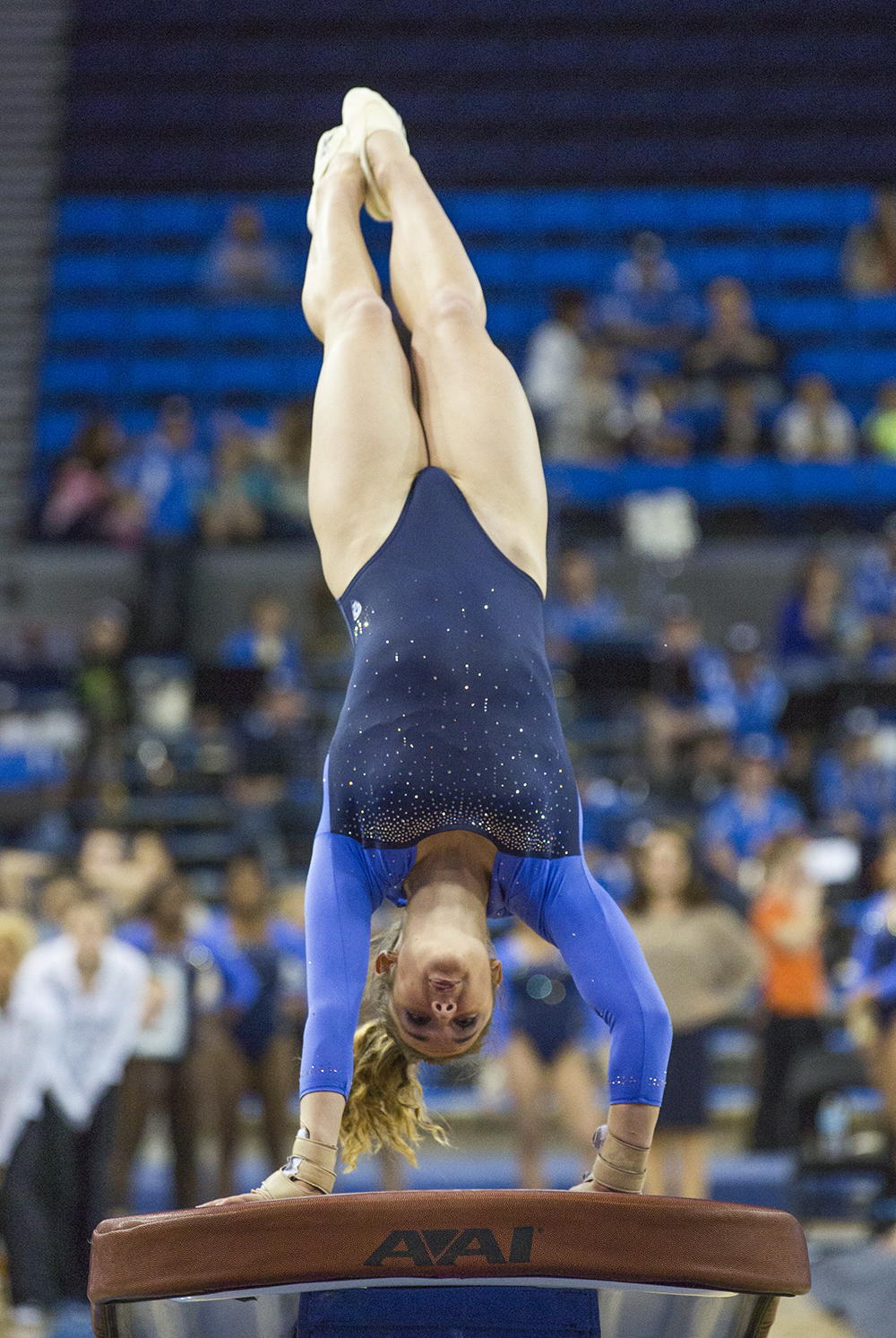 Freshman Jennifer Pinches will have an expanded role this weekend filling in for her injured teammates.
(Austin Yu/Daily Bruin)
In the first half of its season, UCLA gymnastics has seen its ranking steadily fall, to the point that it goes into this weekend's competition in Pauley Pavilion barely holding onto a spot in the top 10.
The team has steadily slid away from its No. 4 preseason ranking and, despite being originally picked to win the Pac-12, already has a loss to Utah marring its record.
Those preseason expectations, however, assumed the team would have redshirt freshman Christine Peng-Peng Lee healthy – she underwent ACL surgery in November and will not compete this season – and did not anticipate redshirt junior Samantha Peszek suffering a stress fracture.
To make matters worse, this weekend's competition against Arizona State will likely see injuries bench senior Olivia Courtney and junior Dana McDonald, the latter recovering from surgery on her wisdom teeth. This means that that No. 9 UCLA will have to lean on its depth if it hopes to stymie its sliding rankings.
One athlete the team will be turning to is freshman Jennifer Pinches, who had retired from the sport before coming to UCLA and is only now getting back to her pre-retirement fitness.
But coach Valorie Kondos Field said she has noticed rapid improvements in the freshman gymnast's performance to the point that, in addition to her typical vault routine, Pinches will likely compete on floor exercise on Saturday for the first time this season.
"(Pinches) has come in on vault and floor and has proven to be a really great competitor," Kondos Field said. "It's interesting watching her get her skills back. She struggles with two or three of them and then all of a sudden muscle memory kicks in and she just gets it."
In previous years, an athlete like Pinches might have only been given an opportunity to step into an event she was less polished on if the team were closer to the top of the rankings. Kondos Field said she only starts strategically resting her athletes when the Bruins are ranked in the top five. But injuries mean that this year some athletes have to rest whether or not Kondos Field wants them to.
Putting less consistent competitors on an event, Kondos Field said, leads to a lack of confidence for other athletes on that event and can lead to a more conservative mental state that ends up snowballing into even more inconsistency for the Bruins (2-2, 2-1 Pac-12), which could be a problem against the resurgent No. 20 Sun Devils (5-2, 2-1 Pac 12).
"When you put up six people on an event, and you know five of them are going to hit, it makes everybody better," Kondos Field said. "Right now we're putting people up and we may know that three or four people are going to hit and that creates a bit of anxiety."
But freshman Jessy MacArthur said that the team's confidence is affected by the strength of each athlete's warm-up just as much as it is by having less consistent competitors on each event.
"Warm-ups show if your head is in the game, where you are mentally along with where you are physically, and if you're 'on' that day or not," MacArthur said.
She said the team always has seven athletes warm-up, even though only six can compete for a score, which allows a teammate with a calmer warm-up to take the place of a Bruin with a particularly wobbly one.
And with three of the team's upperclassmen unlikely to compete, the Bruins will need every bit of confidence possible to come out of Pauley on Saturday with a win.