UCLA gymnastics recovers, readies for championship season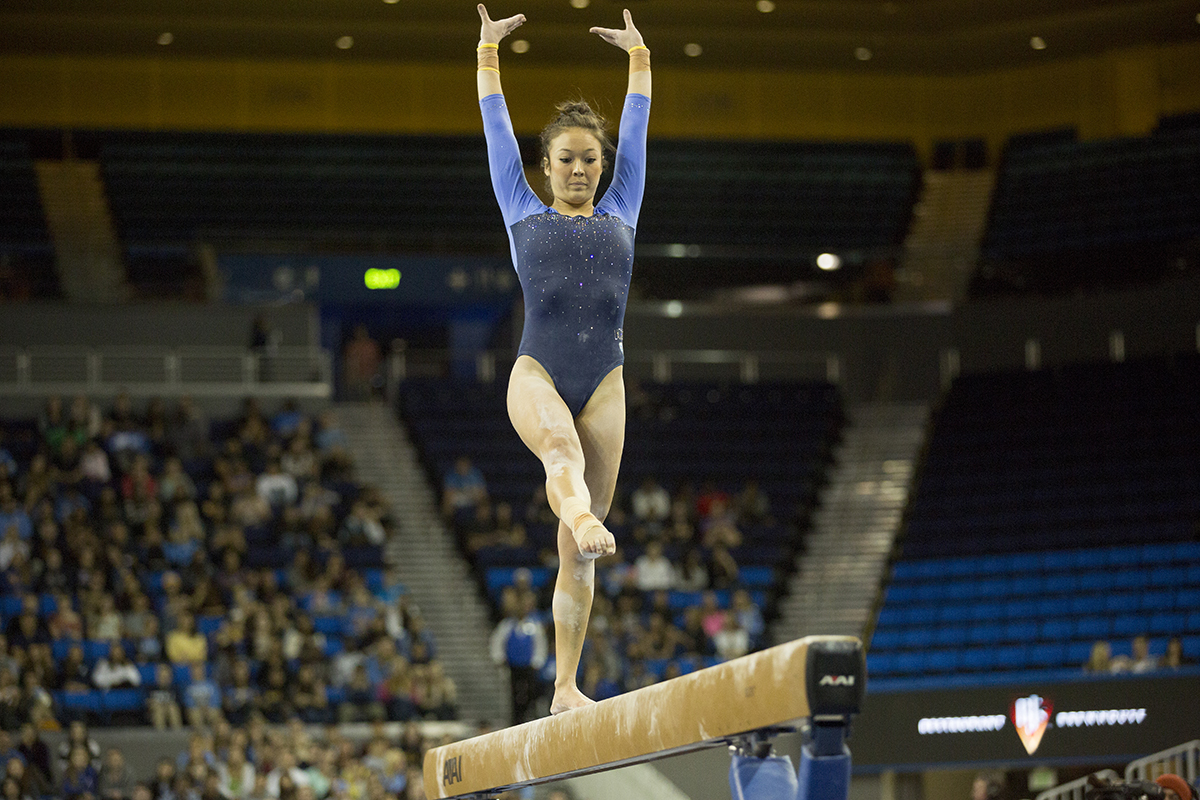 Redshirt sophomore Ellette Craddock earned a 9.825 on the beam against Cal, contributing to UCLA's season-high beam score at the meet.
February 5, 2014 12:00 am
The UCLA gymnastics team is progressing through its season with spring in mind. The team hopes to be at its best by the end of the winter season to contend for a national championship in the spring, according to assistant coach Chris Waller.
Through new lineup changes, returning athletes and improvements to routines, the team is gaining the momentum to propel itself into championship season.
"The bottom line is, we're all getting better," Waller said. "The intensity is getting better."
The Bruins are not just improving their skills, but also recovering from preseason injuries.
Freshman Jennifer Pinches, a former Olympian who came out of retirement to compete in college, said she is no longer feeling pain in her toe after breaking it in December. Her vault performance at the Oregon State meet was her first time competing since she represented Great Britain in the 2012 Summer Olympics.
Pinches vaulted and performed an exhibition floor event at the meet against Cal last Friday.
"I can't wait to like actually compete floor because I just did an exhibition, but it felt really good and I feel like I'm getting fitter again," Pinches said. "Now I'm at the stage again where I've almost got all my skills back that I had before."
Redshirt junior Samantha Peszek is also recovering from an injury to her Achilles tendon. She said she is close to attaining her desired level of health for competing.
"I'm … not too concerned, just a little bit anxious to get out there," Peszek said. "The hardest thing is just being patient in the whole process."
Gymnasts toe the lineup on beam
Last week at Cal, No. 9 UCLA earned a combined 49.050 points on beam, its highest score of the season.
Waller said the team has responded to the high bar the coaches have set for the gymnasts.
"We kept raising the bar for what we expected of them, and they keep doing it. They keep getting better," Waller said.
Redshirt sophomore Ellette Craddock started off the rotation with a 9.825 on beam and said that she has felt confident as the first performer of the lineup.
"On beam, I think that we feel like Ellette is a great lead-off for us, and she was excited about being the lead-off," Waller said of Craddock. "It's not very common for people to like to be the first one up. That is a really important place."