UCLA gymnastics bests California in high-pressure meet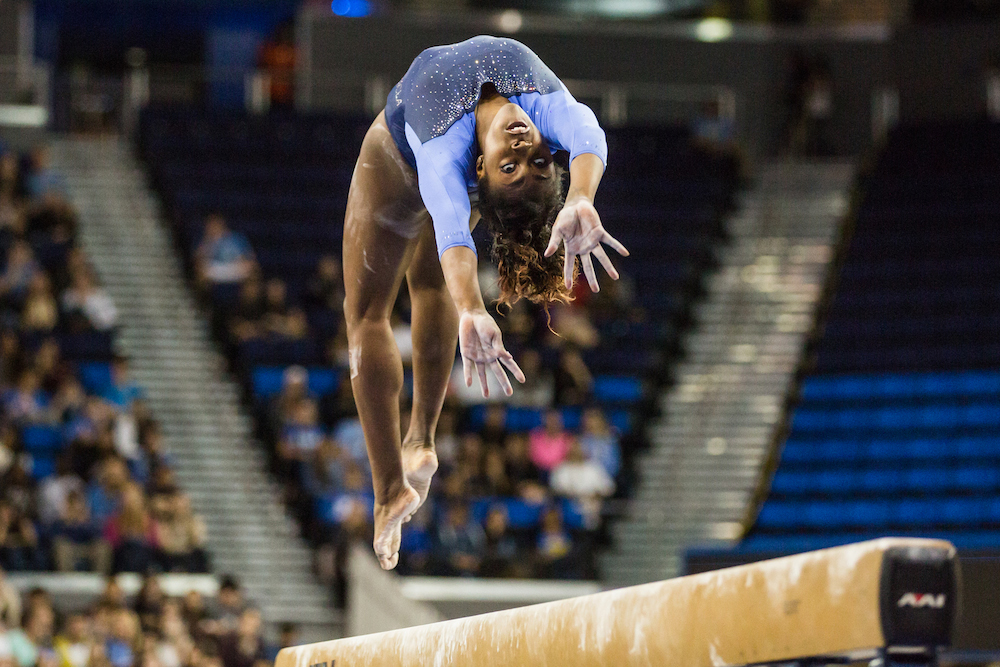 Senior Olivia Courtney had a season-high score of 9.875 on beam, clinching the win for UCLA over Cal and winning the all-around competition.
February 3, 2014 12:07 am
In two of its past three meets, UCLA gymnastics' lowest event total has come from beam. Performances on that event have been plagued by mistakes and falls to the point that coach Valorie Kondos Field doubled the amount of time each of her athletes spent on beam in practice.
So when the team faced beam as the last event of Friday's competition against California and held only a narrow lead going into the final rotation, the Bruins knew their performance would need to be virtually mistake-free to allow them to escape with a win. Then, an early fall by freshman teammate Angi Cipra meant senior Olivia Courtney, who was anchoring the event, could not afford a single mistake if the Bruins were going to hold off the Golden Bears.
But when the pressure was at its highest, Courtney performed, throwing up a season-high – and meet-clinching – 9.875 performance as the Bruins put up 49.050 on the event.
"It was more just focusing on doing the gymnastics I had been practicing than seeking to seal the win – it was just doing what I know I can do," Courtney said.
With her performance, the No. 9 Bruins pulled off the win, edging out No. 22 California in Berkeley, 196.575-195.550.
In addition to clinching the meet, Courtney had arguably her best performance of the season, competing in the all-around competition for the first time this season – and winning it.
"I was in the gym last week and I focused on a lot of small details and I think I brought them out on specific events like on beam and on bars. I think I got better on those events," Courtney said.
Senior Sydney Sawa, who put up the highest score of the day on floor exercise, attributed the day's success to attention to detail in practice.
"This week we worked a lot on small things, like legs on bars and trying to get the vault even bigger," Sawa said. "On vault, I stuck the landing which was a goal of mine but I'm still working on the little things to get that 10.0 vault."
Kondos Field said she saw detail improvements come out for everyone on the team, even those who made mistakes, and noted that the team looked the least nervous they have all season.
"There's a calm throughout the whole team; there's not this energy of panic. Even with Angi's fall (on beam), they knew they had it," Kondos Field said. "You can tell they're calm just by their faces – there was a lot of smiling up on beam."
Ultimately, the coach was just pleased to come out of the day away from Pauley Pavilion with a win.
"It's always great to go into someone else's house and win," Kondos Field said. "If the ball is going to bounce a certain way, it's going to bounce towards home court advantage so it's a big deal to come out of a road trip with a win."