'Do It in the Dark' returns to the Hill for annual sustainability contest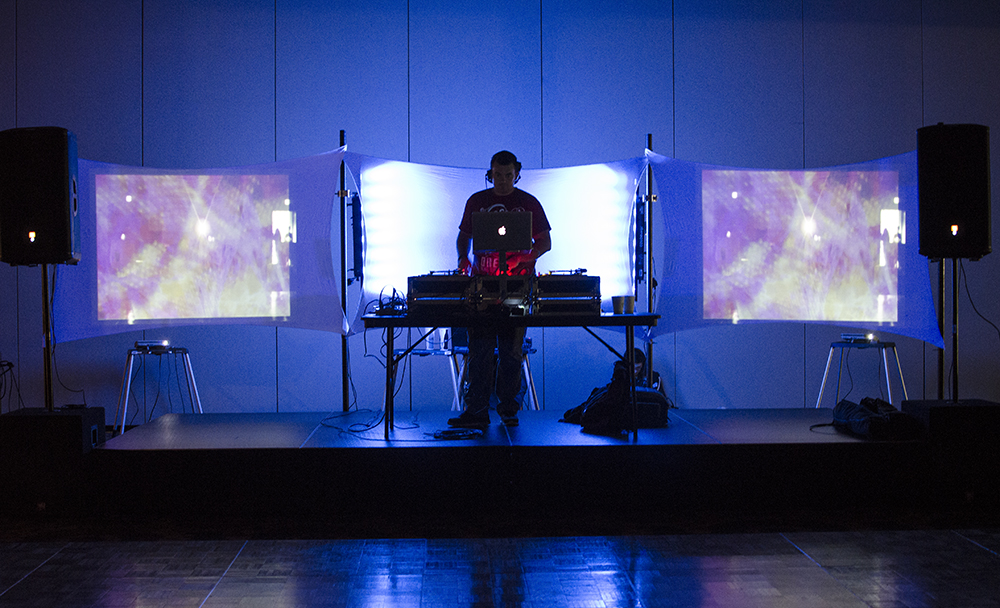 DJ DG plays to an empty room during the Hill's sixth annual "Do it in the Dark" launch event on Thursday.
UCLA "Do It in the Dark" and Water Action Plan
29
Percent of students who pledged to reduce their energy consumption last year
20
Percent the University of California aims to reduce its water usage by 2020
$500
Prize for building with the most residents who pledge to reduce their energy for the month of February
$300 to $500
Prize for the building with the greatest reduction in energy after the month of February
$170,000
Cost of energy-efficient fixture replacements
4.3 million
Gallons of water to be saved annually through the upgrades in the Water Action Plan
2.5 million
Killowatt-hours of electricity UCLA will save annually with its new energy-efficient fixtures Compiled by Yael Levin, Bruin senior staff.
Organizations on the Hill are beginning to institute a number of water and energy saving initiatives this month in connection with the annual energy-conservation competition, "Do It in the Dark."
The contest is organized by Team Green on the Hill, a group of residents aiming to make residential housing more sustainable. The competition encourages residents on the Hill to pledge to reduce their use of electricity and water, said Ganeev Singh, a first-year psychobiology student and member of Team Green.
Twenty-nine percent of students on the Hill pledged to reduce their energy and water consumption last year, but Joshua Coward, the sustainability and program coordinator of the Office of Residential Life, said he hopes Gov. Jerry Brown's recent declaration of California's drought emergency may give this year's competition new momentum.
University of California President Janet Napolitano announced Jan. 16, one day before Brown's declaration, that the University aims to reduce water usage by 20 percent per person by 2020.
These recent announcements have helped Aliana Lungo-Shapiro, sustainability manager of UCLA Housing & Hospitality Services, to push UCLA's water conservation projects – including the "Do It in the Dark" campaign.
"The announcement of the drought has definitely expedited the need to have discussions on water," said Lungo-Shapiro, who helps lead Team Green. "We are now looking at ways that we can have a quicker impact."
Lungo-Shapiro also helped create the UCLA Water Action Plan, which the Campus Sustainability Committee Water Task Force published in December to set out a series of water-saving initiatives.
It's unclear whether UCLA will receive more funding for sustainability efforts following Napolitano's announcement, Lungo-Shapiro added.
Although building renovations are effective, Lungo-Shapiro said educating students to change their behavior has the quickest and largest impact.
Each residential building competes for monetary prizes, Singh said. The building with the highest number of pledges will receive about $500, while the building with the greatest reduction in energy will receive between $300 and $500, Coward said.
As part of the Water Action Plan, residential buildings on the Hill will see several changes, such as the replacement of many toilets, faucets and shower heads with low flow fixtures, said Lungo-Shapiro. The fixture replacements are expected to cost about $170,000, according to the Water Action Plan proposal.
Housing will save about four million gallons of water each year through the upgrades – enough to fill a standard Olympic-sized swimming pool six and a half times every year, Lungo-Shapiro said.
UCLA Housing and Hospitality Services also plans to install energy efficient LED light bulbs to save electricity and decrease utility bills in the long-term, Lungo-Shapiro said.
UCLA is estimated to save about 2.5 million kilowatt-hours of electricity annually, enough to run more than 200 homes for a year, she added.
Despite these conservation efforts, many students remain apathetic.
"On the Hill, people don't think about water bills," Coward said. "They use what they want."
About 30 students attended the competition's launch event Thursday, a glow-in-the-dark dance in the Sproul Palisades Ballroom.
Several students at the launch said they did not know about the event before entering the venue and came on a whim while coming back from the dinning halls.
Singh said he thought the combination of rain, upcoming midterm exams and insufficient publicity explained the low turnout.
The "Do It in the Dark" contest will last one month, ending March 1.