UCLA medical student, Project RISHI treats leprosy patients in India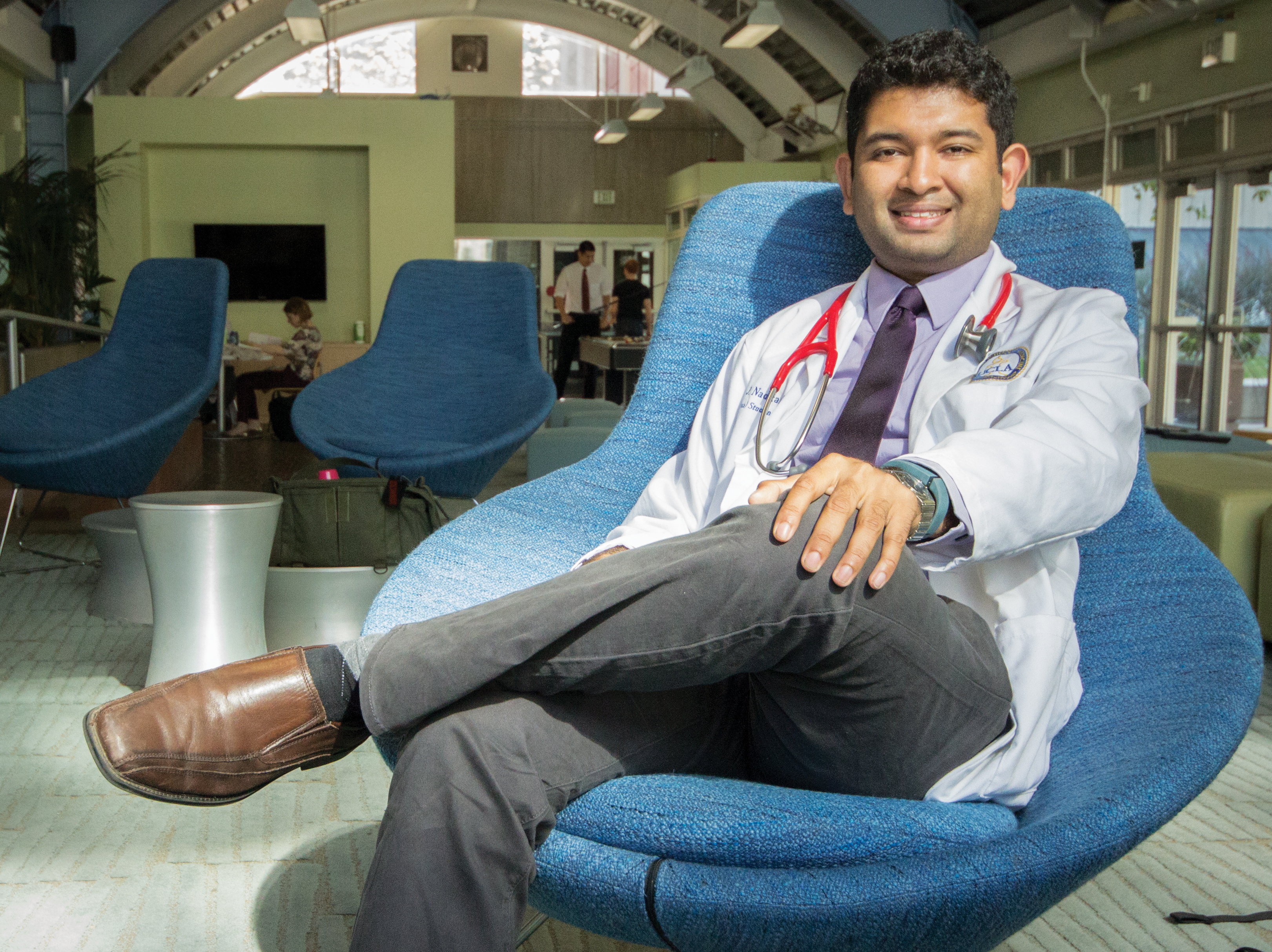 Nikhil Nadkarni, a UCLA medical student, is currently the adviser for Project Rural India Social and Health Improvement chapters at UCLA, UC San Diego and UC Davis.
A patient climbed onto the table in the Indian village clinic and began unwrapping his bandages in front of UCLA medical student Nikhil Nadkarni.
As the bandages came off bit by bit, Nadkarni began to get uneasy. It was his first time dressing a leprosy wound and as he continued watching the bandages unravel, he became motionless with fear.

"As soon as I got over my fear and did it, there was only a split second before the next villager hopped onto the table, and 15 more were waiting for me outside the door," he said.
Nadkarni's experience working with patients with leprosy in the village is one of many that led him to found a chapter of Project Rural India Social and Health Improvement, or Project RISHI, at UC San Diego in 2009.
Project RISHI does research on the problems Indian villages face in order to develop solutions, Nadkarni said. He is currently the adviser for chapters at UCLA, UCSD and UC Davis.
Some of these issues include muddy roads, malaria and open sewers, said Dr. Eri Srivatsan, a surgeon at the UCLA David Geffen School of Medicine who helped found the organization's UCLA chapter.
By partnering with local non-governmental organizations and through on-the-ground volunteer work, the program helps raise villagers' standards of living, said Ishanee Dighe, president of Project RISHI at UCLA.
The first Project RISHI chapter was founded at UCLA in 2005 when three of Srivatsan's research assistants approached him with the proposal to create the organization.
The student assistants, Ravi Menghani, Daniel Choi and Grant Lee, wanted to develop an organization that would promote the development of Indian villages, Srivatsan said.
The program has grown since its beginning and has spread to other campuses including UC Berkeley, UC Irvine and Northwestern University, Srivatsan said.
Nadkarni joined Project RISHI after traveling in India after his second year at UCSD.
In the summer of 2009, Nadkarni, a biology and philosophy student at UCSD at the time, decided to spend 10 weeks visiting villages all over the Indian countryside.
"It was part of my process of self-discovery. I had never really known the (Indian) culture and wanted to find myself," said Nadkarni, who is of Indian descent.
Nadkarni spent the majority of his time in the village of Anandwan, in the Indian state of Maharashtra.
The Indian social activist Baba Amte founded Anandwan, which means "forest of joy" in English, as a leper colony and social rehabilitation center in 1949. Amteintended for Anandwan to give those with leprosy an opportunity for both social and medical rehabilitation. Nadkarni's grand-uncle and Amte had been close friends. Their ashes are buried together in the same garden in Anandwan.

Currently, the village is run by Amte's son Vikas Amte and provides permanent housing and treatment fornearly 1,500 patients with leprosy, a bacterial disease that numbs nerve sensations in the body.

Despite his nerves, Nadkarni said heconsidershis experience wrapping a leprosy wound for the first timeto be themoment he realized he had the emotional capacity to practice medicine.
"Medicine is a really hard field and is a really huge commitment," Nadkarni said. "I needed something to prove to myself that I loved it enough to commit."
Nadkarni has visited Anandwan three times since his first trip in 2009. In 2013, he took a group of students from Project RISHI at UCSD with him to volunteer.
While there, Nadkarni provided volunteer medical services to the villagers through hands-on treatment of leprosy wounds, which he cleaned and wrapped daily.
Because the scars from their wounds stay long after they're cured, it is difficult for those with leprosy to reassimilate back into society, Nadkarni said.
Some people in India still hold onto traditional notions of social stratification and those with leprosy are often ostracized from society, he said.
Project RISHI volunteers at the village to provide students with an interest in global work and medical exposure to areas that need medical and financial assistance, Nadkarni said.
Harrison Wu, co-director of initiatives for UCLA's chapter of Project RISHI and a third-year molecular, cell and developmental biology student, said he visited Anandwan last December to test water conditions. He also conducted surveys on the local population to gather data on social mobility and the quality of education in the region for the colony.
A typical day volunteering at Anandwan involved working from 5 a.m. to 7 p.m. helping former leprosy patients wrap villagers' wounds, Wu said.
"I grew really fond of these people because they never let their disabilities affect their way of life," Wu said.
As an adviser for Project RISHI, Nadkarni said he wants to continue mentoring students like Wu who have an interest in global work and the lives of Indian villagers.
Nadkarni is considering specializing in physical medicine and rehabilitation after medical school because it involves the same work he has done with leprosy patients in India.
"Give (people with leprosy) a chance, not charity," Nadkarni said."This program helps people recognize the humanity of those who are forgotten by society."