UCLA women's basketball struggles down the stretch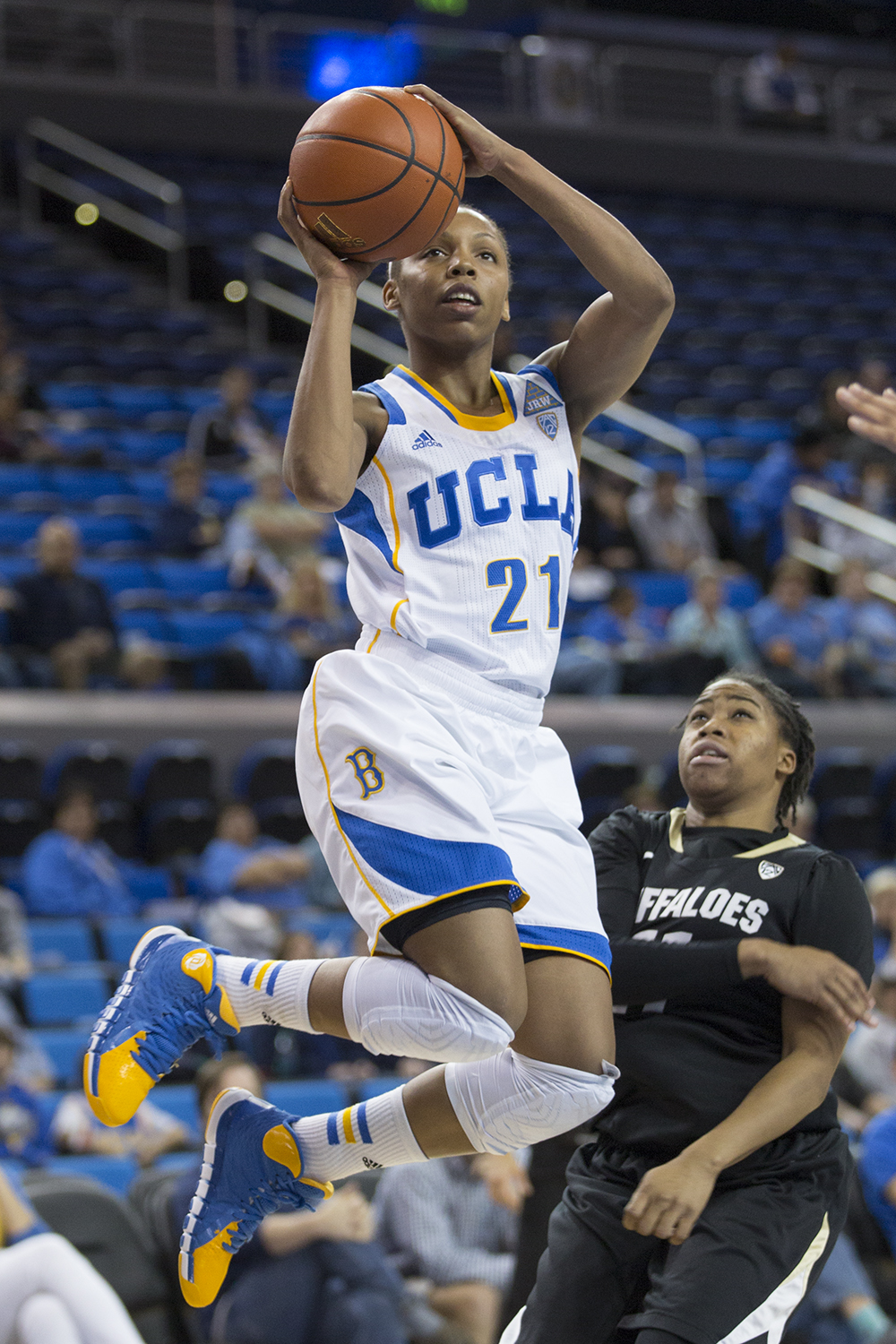 Sophomore guard Nirra Fields scored 26 points in UCLA's loss to Cal Sunday
January 27, 2014 12:21 am
In both of UCLA women's basketball's games in Northern
California, there were clear points where everything just went south.
The Bruins began the weekend by facing the Stanford Cardinal on Friday, and the Bruins fought against the label of underdogs by finishing the first half only down a point.
But No. 4 Stanford (19-1, 7-0 Pac-12) managed to up the ante in the second half to pull off yet another victory against a conference opponent, and the Pac-12 leaders took the contest 72-55.
"It's a tough loss," said sophomore guard Nirra Fields. "We really fought and competed.We just needed to be more consistent and bring up the same fight as we did for the first half."
Although the team was unable to leave Stanford with the win, coach Cori Close said she saw a silver lining in how her teamed played defensively, specifically how her the team were able to keep the nation's third-highest scorer, Stanford forward Chiney Ogwumike, to 6.3 points below her average, while her guards were able to limit the production of Stanford's spot-up shooters.
"I thought (redshirt junior forward/center) Corinne (Costa) and (junior center Luiana Livulo) and (redshirt junior forward/guard) Rhema (Gardner) did a great job against Chiney, and our players on the perimeter made them do what we wanted them to do, so there's a lot of positives there," Close said.
The second of the weekend's two games took place Sunday in Berkeley, as the Bruins (10-11, 4-5) took on the No. 19 California Golden Bears (14-5, 6-2).
The Bruins once again started the competition by showing that they were able to match up against another team that outranked them, even taking the lead late in the first half.
But the Golden Bears put a stop to the Bruins' momentum by closing out the half with a 12-1 run, putting Cal ahead by six.
It all started to go downhill for UCLA in the second half; the team's deficit against Cal grew wider by the minute, and the home team won 69-53.
It was another loss to another Northern California team, but this time Close was not as forgiving of her team's performance.
"I've been very proud of this team all season for their resiliency, for their toughness, for their ability to control the things that are under their control. That's what's been so fun to watch in their growth, but tonight I could not do that," Close said. "We did not execute our game plan, we did not play with consistency and toughness; therefore Cal was able to play to their strengths."
It was the same story separated by two days; UCLA showed its potential with good starts against ranked opponents, but began trailing off as time passed. And according to sixth-year senior forward Atonye Nyingifa, it's a familiar trend they want to eliminate.
"It's really the second half that's killing us," Nyingifa said. "We have to work on sustaining our energy for 20 more minutes. I don't know if it's complacency, or fatigue, or lack of mental focus, but we are not able to put together a 40-minute game.