Robart Page leads UCLA men's volleyball in height, digs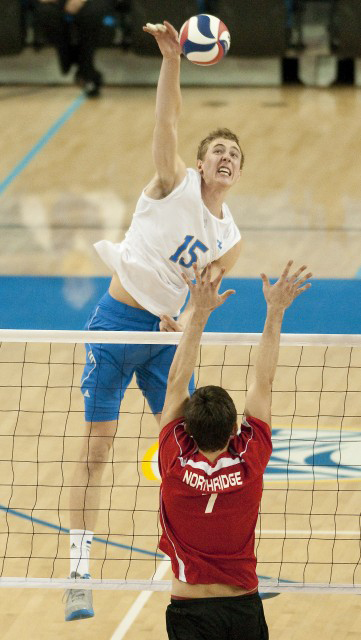 Though Robart Page stands at 7 feet tall, the senior outside hitter leads the team in digs.
It defies common sense to see the tallest person on the men's volleyball team playing closest to the ground.
Senior outside hitter Robart Page, who stands at a solid 7 feet for the No. 6 Bruins (3-1), is currently leading the team in digs – a stat typically given when a player stops an opponent's hard-hit attack from touching the court.
Page is known for racking up numbers on the offensive side of the score sheet, but he describes digging to be his favorite part of playing the game.
"I know how it feels to get dug when you're a big swinger and you're trying to get the kill, so it's just awesome to do it to somebody else," Page said. "I love it – it makes (opposing hitters) mad."
Digs are traditionally accumulated by relatively shorter and more defensive players, but Page does not see his towering height as a liability when it comes to going low to keep his team from losing a point.
"I never really thought of myself as being super tall," Page said. "I've always thought I'm a little person in a big-person body; I like doing little-people things."
Coach John Speraw offered an explanation for Page's unlikely digging ability: beach volleyball.
"He's been playing all summer on the beach and so he's gotten really good at reading the game," Speraw said. "When you play on the beach you're required to cover the entire court by yourself sometimes and you learn to anticipate where the ball's going."
Although it's against the odds that Page will remain the team's digs leader by year's end, Speraw said he would be happy to see the improbable take place.
"If he can lead the team in digs by the end of the season, we'll be doing alright," Speraw said.
O'Dell earns honor
Sophomore Steve O'Dell has the starting setter position all to himself, and he's making the most of it.
O'Dell earned recognition this past weekend by being named to the Outrigger Hotels Invitational All-Tournament team. Despite the individual plaudits, O'Dell was quick to shift the attention toward his team's performance.
"That was an exciting award to win, but it's not really about that. I'm just happy the team won," O'Dell said. "I've got an easy job; I'm surrounded by a lot of great hitters that make me look good."